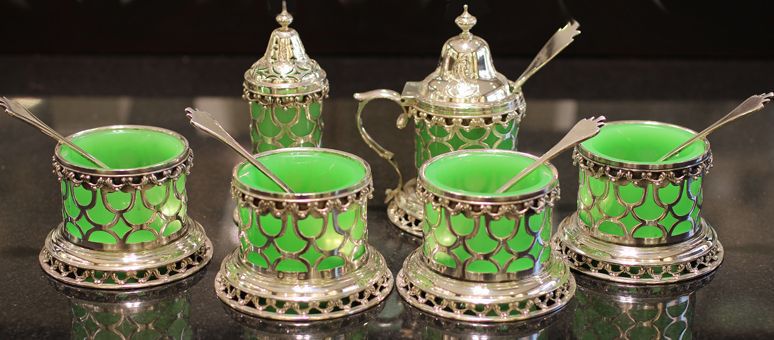 As several mustard pots and a couple of cruet sets have been uploaded to the ACS website recently, I was asked …
"What's the difference between a condiment and a cruet?"
The fact is – the facts/definitions of condiment and cruet appear to vary, not necessarily over time and use, but between countries i.e. its a cross cultural conundrum!.
Here's an amalgamation of what I can find looking up dictionary definitions:
Condiment
Derivation – From Latin condimentum 'seasoning', from condire, 'to pickle, preserve'
Definition – A substance, such as a relish, vinegar, salt, pepper, mustard or spice, used to flavour or complement food.
Condiments are food substances used to heighten the natural flavour of foods, to stimulate the appetite, to aid digestion, or preserve certain foods.
There appears to be some discussion (especially between American English speakers and British English speakers) as to whether salt and pepper are truly 'condiments'…..
………..but that, I believe, is a discussion for another day.
Cruet
Derivation – from Anglo-Norman French, diminutive of Old French crue 'pot', and/or from Old Saxon kruka; related to 'crock'
Definition – a small container or set of containers for salt, pepper, oil, or vinegar for use at a dining table. OR (in church use) a small container for the wine or water to be used in the celebration of the Eucharist.
HOWEVER, on further research, here are a few definitions relative to countries:
British: A cruet is a small container, or set of containers, for salt, pepper, or mustard which is used at meals.
American: A cruet is a small glass bottle that contains oil or vinegar and is used at the table at meals.
French: Cruet – petit flacon (small bottle), and Cruet Set – service á condiments (condiment set).
From this, may I suggest it's the French who have set the cat amongst the pigeons?? Using the word cruet and condiment synonymously….or has this (mis)interpretation of 'cruet/condiment set' occurred through poor / literal translations?
To Conclude
For me, I would suggest from my very basic research, a condiment is a seasoning, either liquid or grain, and the cruet is the vessel in which a condiment is held.
……………..Anyone any alternative suggestions??
View our range of condiment and cruets, it may help you make your own mind up.