A Cannibal is a person who walks into a restaurant and orders a waiter – Morey Amsterdam
This may look like a tenuous start, but this sparked in my head when a lovely gentleman walked into the shop requesting to buy a waiter; with my humour I think it was appropriate that our Shop Manager was there to assist him.
After a sale was completed our Marketing Manager approached this topic by sending me an email stating "I still don't get it, a waiter?!" This progressed into a conversation about silverware being used to serve people and dressing items up in a tux and passing them off as human was nothing out of the ordinary; or at least that is what Disney has taught me.
A Waiter (human version)
Waiters, waiting staff, waitstaff are those who work the service section in hotels, restaurants, anywhere food or drink would be served. They not only serve the food but take orders and deal with any specialist requests, the ultimate buffer between a customer and the chef.
Put the word silver into the mix and we get Silver Service, which is the technique of transferring food from serving dishes to the diner's plate, serving food from the left and drinks from the right.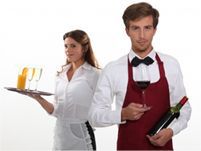 The Waiter (silver version)
Quick answer: "A small salver"
Riddle answer: "A waiter will carry a waiter, which is lower weight, to wait on someone waiting."
The best answer: "A single drink serving tray"
Ok, so the accurate answer is a mix between the first and third answer. Visually a waiter is a small salver, due to its size it becomes perfect for carrying small items. Their stature also means these items will weigh less than a full sized salver or tray, making it easier to carry, once encumbered, with a single hand.
Size however isn't everything; a waiter would be out amongst guests and needs to look presentable (much like their bearer). With this in mind the embellishment of waiters varies, with a plain well suitable for engraving the house coat of arms, crest or initials, and a raised border in a variety of styles to reflect an era or to suit differing occasions.
The Conclusion
Previously stated as a riddle answer, but a waiter is carried by a waiter, and taken to someone waiting; I suppose the easier way to say that would be "a sterling silver waiter could be carried by waitstaff to provide someone with their requested item".
If you wish to propose a riddle of your own, or request any further information, please do not hesitate to contact us.
Rachel O'Keefe-Coulson – Multimedia Executive
Rachel O'Keefe is our 'silver lady' spending her days handling silverware and processing these items for the AC Silver website. Amazingly, Rachel's favourite items of silverware are spoons, for which she has developed a true affinity.