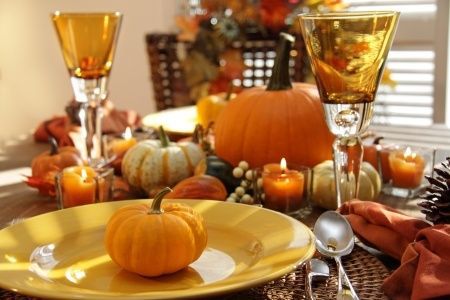 The Stereotype
"After a good dinner one can forgive anybody, even one's own relations." – Oscar Wilde
Thanksgiving Day for the Americans is the last Thursday of November and is used to give thanks for the preceding year. It is a national holiday and a time for families to come together, no matter what their shape or size; each holding their own traditions, whether group made centerpieces or hosting duties, the day is one to celebrate.
"I like football. I find it's an exciting strategic game. It's a great way to avoid conversation with your family at Thanksgiving." – Craig Ferguson
One thing that I have come to learn is American football is as much a tradition on Thanksgiving Day as turkey and pumpkin pie. Here in the UK we don't celebrate the holiday, but I do know that the football will be aired for us to join the merriment; most don't realise this as it won't start till 2am on the morning of Friday 29th November.
"Even though we're a week and a half away from Thanksgiving, it's beginning to look a lot like Christmas" – Richard Roeper
By the time the clock strikes twelve in America, the celebrations stop and the run up to Christmas begins, starting with Black Friday; an early starting promotion enticing shopping experience. Here in the UK that mania starts on Boxing Day.
The Differences
We traditionally think of Thanksgiving as an American holiday but let's not forget the following who also observe a variation of this holiday:
Canada – Thanksgiving/Jour de l'Action de grâce takes place on the second Monday of October and used to celebrate the harvest.
Germany – Harvest Thanksgiving Festival/Erntedankfest which also takes place in early October and usually incorporates the more common celebration and beer festival Oktoberfest.
Japan – Labor Thanksgiving Day is a national holiday that celebrates hard work and takes place annually on 23rd November.
Liberia – Thanksgiving has taken place at the beginning of November since 1820 by the previously enslaved African Americans.
The Similarities
No matter where in the world you are, even if there is no national holiday or special day laid aside, there is always a chance to give thanks, for family, for the harvest and for each other. Let us all give thanks with our grateful hearts, and look forward to what the New Year will bring.
"Thanksgiving Day is a jewel, to set in the hearts of honest men; but be careful that you do not take the day, and leave out the gratitude." – E. P. Powell
Happy Thanksgiving to all from the team at AC Silver
Rachel O'Keefe-Coulson – Multimedia Executive
Rachel O'Keefe is our 'silver lady' spending her days handling silverware and processing these items for the AC Silver website. Amazingly, Rachel's favourite items of silverware are spoons, for which she has developed a true affinity.