For the past ten years I have worked in retail, and after listening to the same songs played over and over, and had alternative employers trying to make me to wear festive headgear, to get customers in the 'Christmas Spirit', I am the first person to say "I dislike Christmas". My current colleagues find this statement a little obscure due to the fact that I am a proud Christian, but I stand by my dislike of the commercialised Christmas.
Christmas Displays
In the shop we change the window display to reflect winter and Christmas themes, but for the two years I have been here, there have been no overstated tinsel or foil streamers hung from the ceiling. Just a discreet Christmas tree in the corner, some strategically placed baubles in the display cabinets and a mulled wine air freshener (which was quickly disposed of as it flared up my allergies). The shop air instead is filled with staff inspiration and anticipation as they admire the stock, make their wish lists and plot the perfect subtle place to leave the note for Santa in their homes.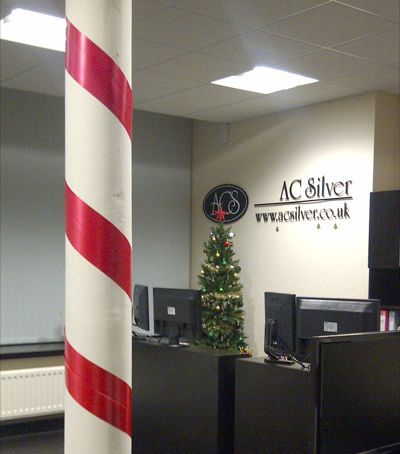 Last year I had a change of scene and worked in our back-room offices, and decided that I would be a jolly Christmas person and embraced the season (as much as I felt I could). With one member of staff actually liking the festive season the effort was made to decorate the room after work hours so it would appear the elves came and did it. Myself and our Business Manager Jane Henderson can hardly be described as elves, but needless to say together we put up the tree and after a few confusing moments (mostly by me) it was up in no time and decorated with the superfluous shop baubles. After the tree was completed, I stared down the column positioned next to my desk, and with floral ribbon in hand I was determined to 'candy cane' it. Considering the height of the column and the vertigo diagnosed employee wobbling on the top of a step ladder the office was transformed into a magical land that Santa would be proud of.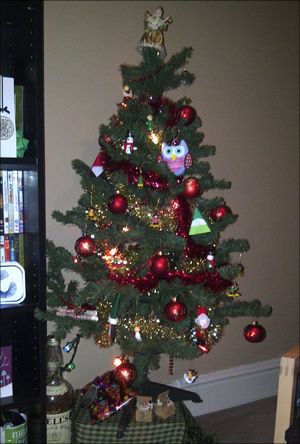 After the success at work the new challenge for my 'home' tree, was lights, but I was informed this was simple and didn't need any explanation. I will point out now that you turn the lights on to check they work, turn them off, wrap them around the tree, and then turn them on again. Well, I didn't embrace this process and with my first ever Christmas guest's arrival imminent I rushed home and put up my borrowed tree (complete with baubles tinsel and lights). Unfortunately by the end of the night I was lying on the floor with a half decorated tree wedging me down whilst the remaining lights were entwined around my legs as I was illuminated with a multicoloured glow.
Quick health and safety announcement: Don't try it at home, those things get hot!
Next day at work and I would love to say that the effort in the office was appreciated by all, but my pride was chipped at once more as while I nursed my burns Mr Campbell came in to sort the Christmas dispatches and asked who decided we should advertise ourselves as a barbers…… And people wonder why I have NO Christmas spirit.
All I can say is this year I have left over ribbon for the office, a house mate (who incidentally was my previous Christmas guest, so I can't have made too bad an impression) to help decorate my once again borrowed tree, and a determination to get it right.
If you have any inspirational Christmas decorating stories to share, especially those that could make me feel better, please contact us or comment below.
Rachel O'Keefe-Coulson – Multimedia Executive
Rachel O'Keefe is our 'silver lady' spending her days handling silverware and processing these items for the AC Silver website. Amazingly, Rachel's favourite items of silverware are spoons, for which she has developed a true affinity.