Have you ever watched a film and thought 'Ooh that dress is fantastic' or 'I wish I could have James Bond's car' (and maybe James Bond himself)? Well, I do this with jewellery. I love all that glitters, and I always notice what someone is wearing in a film, usually longing for it for myself.
I often wonder if the piece is real, or an immitation made for the film, so I thought 'wouldn't it be nice to do research about real jewellery used in films – and how certain movies have inspired new creations?' So, I did.
Moulin Rouge
One piece in particular that I was amazed to learn was the 'real deal' was the stunning diamond necklace worn by Nicole Kidman in Moulin Rouge. This piece was designed by Stefano Canturi, inspired by the Louis XVI style, and aptly named 'Satine'. (For anyone who has not seen Moulin Rouge, Satine is the name of the character portrayed by Nicole Kidman – and shame on you for not watching it!). This incredible necklace contained 1,308 diamonds, totalling 134 carats. The necklace is worth an estimated $1 million, and was recorded in the Guinness Book of Records for the most expensive piece of jewellery ever used in a film at the time.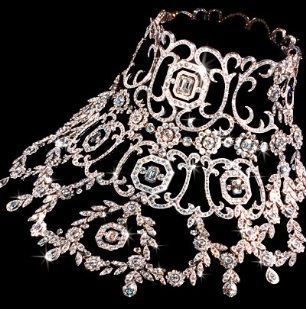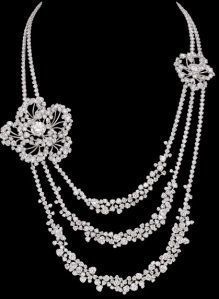 Anna Karenina
Another film I recently came across and thoroughly enjoyed was Anna Karenina, set in Russia during the 19th Century. The director, Joe Wright, was not fastidious in his film's historical accuracy, however, and the Chanel jewellery used did not reflect traditional 19th Century jewellery (but I think he can get away with it, considering amazing pieces such as the triple-tiered diamond necklace worn during the ballroom scene when Anna and Vronsky first dance together). This particular item shows Chanel's signature motif – the Camilla – and the necklace is subsequently called the Camélia Poudré. In total, more than $2 million worth of jewellery from Chanel was used in the film.
Twilight
Okay, so we have covered a couple of stunning necklaces, but what about rings? Rings can be quite an important piece of jewellery, and as we all know, rings most strongly symbolise love, especially when presented as an engagement ring. With this in mind, I wanted to know if the movie buffs had ever recreated a ring in genuine precious metals and gems. I was not disappointed. I can only assume most people have at least heard of Twilight, and again if not, you need a film night. In Twilight: Eclipse – the third instalment of the saga – Edward Cullen (the vampiric hero) proposes to Bella (his human heroine) and gives her his mother's Victorian engagement ring. The ring was designed by Twilight author, Stephanie Meyer, along with Infinite Jewellery Co. It displays thirteen diamonds totalling 1.06 carats set in 14ct gold, and has now also been recreated for sale to all die-hard fans.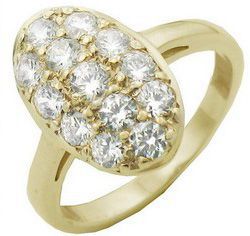 Inspiration
So, maybe not all jewellery used in the movies is the real deal, but some items have gone on to inspire designers to replicate them, such as the blue hope diamond in Titanic, which was reproduced using a large blue cubic zirconia. The One Ring from Lord of the Rings has also been replicated using genuine metals, enabling fans to own their own version, even as a wedding band complete with the 'dark language of Mordor' inscription.
So, next time you're watching a film, keep an eye on that little bit of bling and ask yourself 'is it real, or just another bit of costume jewellery?'
Images:
Image of Nicole Kidman's necklace in Moulin rouge is courtesy of Thread by Thread Costumes on Screen
Image of necklace from Anna Kerenina is courtesy of Boulu blog
Image of Bella's ring in Twighlight is courtesy of fanpop
Claire Hall – Senior Sales Assistant
Claire is the Senior Sales Assistant at AC Silver. Claire commenced her career in 1999, undertaking various roles within the jewellery industry in addition to successfully gaining qualifications in the field.