Gold? Yellow, glittering, precious gold?…
This yellow slave
Will knit and break religions, bless th' accursed,
Make the hoar leprosy adored, place thieves,
And give them title, knee and approbation
With senators on the bench.
– WILLIAM SHAKESPEARE, Timon of Athens
If you are familiar with our stock you will know here at AC Silver we only stock jewellery that is either gold or platinum.
Recently we procured a Cartier tri-colour gold bangle, an unusual piece to be sure, but with this new arrival we find it is the perfect time to have a closer look at the different types of gold and compare them to platinum.
Despite possessing a different set of chemical elements; the carats for gold are universal. So 18ct white gold will contain 75% gold, as would 18ct rose gold, and 18ct yellow gold. It is the remaining percentile of element in the gold that gives it its colour.
While gold is rarely found 100% pure, 24ct is gold in its purest state. This means white or rose gold could never be a full 24ct, always having to be mixed with something else to create their colour.
Yellow Gold
Yellow gold is far the most common and most well-known gold, despite the increase in popularity of white gold jewellery. Yellow gold is often mixed with zinc or copper at lower carats.
Rose Gold
Rose gold was immensely popular in the Victorian era but has since dropped out of fashion. Rose gold is gold mixed with copper, and its hues vary from lightly rose to a darker reddish gold.
White Gold
White gold has become increasingly popular over the last decade, and it is currently a preferred choice for wedding and engagement rings for many people. White gold is gold mixed with silver, nickel, or palladium and coated in rhodium. With white gold the rhodium needs to be reapplied every 3-5 years or the 'yellowish' hue of the metal underneath will begin to show through.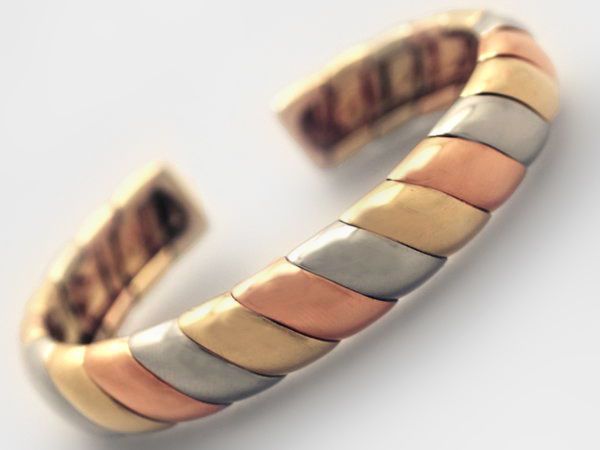 Platinum
Platinum is a different element to gold and has some major differences. For instance it is always used in a pure form (typically 95% platinum) and it is more expensive than gold, due to its rarity.
Unlike white gold, platinum is naturally white and extremely hard wearing, thus requiring no coating. Platinum is a much harder metal than gold, making it ideal for easy cleaning, with scratches being quick to buff and less likely to occur than gold