Loss And Recognition
Loss is an inevitable part of life and has been cause for ceremony throughout the course of human history. No matter how far back you go those with the resources to do so have always honoured their dead. The ancient Egyptians built gigantic pyramids and mausoleums to bury their kings. In China shrines to generations upon generation of family still remain, kept and cared for. In Britain we have the burial mounds of the Celts followed by the churches and graves of Christianity.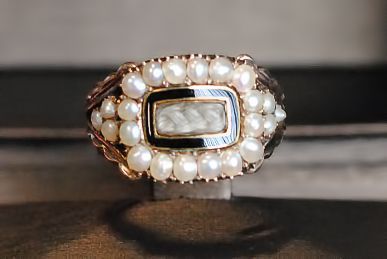 During the 16th and 17th centuries mourning jewellery was primarily a 'memento mori', a reminder to the wearers of their own death. The jewellery was generally in the form of coffins, skulls, and skeletons. It was only later when jewellery came to be worn in memory of specific individuals. This came about especially after the time of the execution of Charles I when Royalists wore brooches or rings with the initials CR, or even enamelled portraits of their monarch.
Mourning rings tended to be given out at funerals, the hoop engraved with the name of the deceased.
From the 18th century coffins and skulls disappeared in favour of sentimental depictions of romantic grief. Examples include: enamelled weeping willows, broken tombs and angels on brooches and pendants.
The particular culture we are looking into today is the Victorian one, as they honoured their dead with elaborate mourning traditions often deeply entwined with outward appearance, and thus, clothing and jewellery.
Mourning jewellery came in all size, shape, and form; rings, brooches, pendants, and watches were often decorated with black enamel, jet, agate, or other dark gemstones with only a few exceptions. For instance white enamel was used to mourn a woman who was unmarried and a virgin. In the 'deepest' time of mourning only black would have been appropriate for clothing and jewellery, with darker colours such a blue, purple, and red filtering back into the wardrobe toward the end of personal mourning time.
Queen Victoria was the figurehead of these mourning customs and traditions, and she was known for spending the rest of her life in a state of mourning after the death of Prince Albert, the husband she so adored.
In Remembrance
Another frequent trend was to have hair of the deceased woven or incorporated into the jewellery, personalising it and immortalising their dearly departed. Later, along with the rise of Victorian 'death photography', a locket would contain a picture of the deceased instead.
This trend was unique to the 18th and 19th centuries, in that human hair and even bone were used, but the thought behind it, of needing something physical in remembrance of a loss, has been constant. There are even earlier example of mourning jewellery from as far back as the 15th century, though it certainly was not as aesthetically pleasing as its Victorian descendent.
Moving With The Times
Even now we still horde the ashes of a loved one, or perhaps keep a possession of theirs, or visit their graves. Some people even choose to have their ashes transformed into diamonds or used in a 'bio urn' which will grow into a plant of their choosing.
Better To Have Loved And Lost…
As love and loss will always be a part of our existence, mourning and our culture that stems from it will also continue to play a part. How we wish to hold on to precious memories through tokens of remembrance will always be a uniquely personal testament.