From a young age we are taught to honour out mothers, acknowledging them not only on their birthday but on a day dedicated to them: Mothers' Day. The latter celebrating not only your own mother but also motherhood and other maternal bonds.
Around the world Mothers' Day falls on many different dates. In the UK Mothers' Day occurs on the fourth Sunday in Lent, and the resounding prayers for sunshine on this spring day can be heard from each corner of the Kingdom.
Mothering Sunday Traditions
Each family has their tradition for Mothering Sunday, from a sun filled walk and picnic, to a meal out to save any work in the kitchen.
For my family Mother's Day involved a meal around the dining table, serving food prepared with not much experience but plenty of love (with crackers and cheese on standby as the emergency plan). My brother and I presented our handmade cards along with a bunch of daffodils, and with my stare upon him, my father would contribute his words consisting of "What?! She's not my mother!"
Mothers' Day Gifts
In today's commercial world there are so many varieties of gifts available for Mother's Day, including colourful teddies grasping a potted plant and heart shaped cushions that say "I ♥ Mam". My favourite to look upon, is the array of large cookies that can be bought and embellished with your own personalised icing inscription; but now I am a little older, I ask what is left once all is eaten and gone?
As always I put my head to the silver test to try and figure out a gift of love that will last the challenges of time; an item that shows such grandeur of craftsmanship, in such a delicate way, that the mere piece will show how cherished the recipient must be.
That Special Something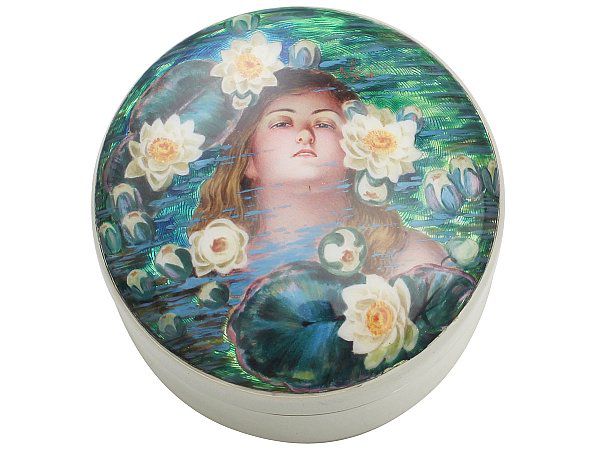 Within our vast inventory we have many treasures and I have selected just a few of the staff favourites, which have caused many a second glance:
An elegant boudoir box with a luscious enamel lid that dances in the light. It is such a shame that the images do not replicate the beauty of this piece, but in an eye catching place in our shop window with the spring sunshine reflecting on the engine turned design, I am sure the box will not go un-noticed, and soon take pride of place in someone's home.
'Everlasting' Flowers
Whilst discussing Mother's Day with my colleagues I learned that most of us are able to reminisce about the gift of flowers, and as it saddens me that they do not last forever, I present you with some that have come a very long way already:
Thinking of You
So what are your plans for this Mother's Day? Whether it's a reoccurring family occasion or you have something special up your sleeve, we here at AC Silver hope you have a memorable day.
Rachel O'Keefe-Coulson – Multimedia Executive
Rachel O'Keefe is our 'silver lady' spending her days handling silverware and processing these items for the AC Silver website. Amazingly, Rachel's favourite items of silverware are spoons, for which she has developed a true affinity.