We have recently acquired a pair of square and compass Masonic cufflinks (pictured), when I saw the symbols present on the piece I simply had to find out more … What do they mean? … What are they?
My research has revealed, as with most Masonic symbols, the square and compass conceal multiple layers of meaning, and are therefore open to many interpretations. I thought I'd share my simple interpretation; though accept there are many more unique, individual, and spiritual ones.
The square and compass have been the calling card of the Freemasons for as long as they have been known. The masons, founded on a deistic and socialistic system of beliefs, tell the esoteric meaning of the square and compass as it being the 'doorway' to parts of human nature otherwise unknown.
Soul and Body
The idea of a soul is central to the above belief, with the compass representing the soul and the square representing the body. The two combined are said be a union of body and soul.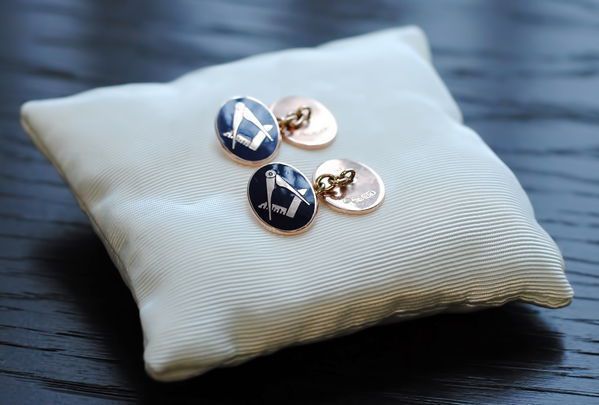 Taking a deeper look at this symbolism, it's easy to be confused at how a compass could represent a soul, but the compass can draw a perfect circle, and the circle has no beginning and no end. This gives us the concept of eternity, and thus the eternal soul. For this reason the compass is pictured above the square. The soul being regarded as being at a higher level than the body.
Onto the square, the square represents all that is physical and temporary. It is the finite counterpart to the infinite soul. The four sides of the square are also symbolic of the material world, such as the four cardinal compass points, the four seasons, four elements, and the four states of matter.
In Masonic belief the two combined gives thought to the idea that humans are more than their physicality.