Retro and Retro…
Whenever you think of "Retro Jewellery" you picture big, bold, statement jewellery (or at least I do…) and then you think, "but what period can Retro Jewellery be associated with?", " Isn't retro just the same as vintage?", " Is retro really a specific trend or art movement?".  I quickly realised there were different meanings associated with the word retro.  As a matter of fact, retro was originally a specific art movement dating from the 1940s to the 1950s. 'Retro' was a genre of pop art developed to satisfy a need for bold and eye-catching designs that would be easy to reproduce.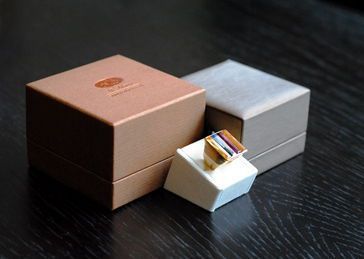 That said, retro now has different meanings and that is where the confusion starts…  retro
style
is basically anything that is vintage of at least fifteen or twenty years, but that is mainly employed when talking about clothing. But, most commonly "retro" is simply used to describe anything, objects or attitudes of the recent past that no longer seem "modern".  It does make complete sense considering that the word comes from the Latin prefix "retro" which means "backwards, or in past times" (hence why the word retrograde implies a movement towards the past instead of a progress towards the future).
Retro Jewellery
Now let's get serious and focus on what is important here, jewellery.
The term "Retro" as applied to jewellery is credited to François Curiel, the head of the jewellery department for Christie's Auction House in New York in the early 1970's. So, as I said Retro Art marks the 1940s to 1950s – the period of massive, voluminous, sculptural, sumptuous pieces of jewellery; signet rings, tank rings and their geometrical forms were very popular.
During the Second World War, jewellers had to find a way round to overcome the lack of gemstones.  Importing coloured gemstones was partially prohibited, therefore many jewellers used synthetic ones for the most part, and diamonds would be second-hand diamonds that would have been removed from existing pieces of jewellery.
Originated in France….
You are going to think I am doing this on purpose but… Retro jewellery originated in France!  Van Cleef & Arpels were the first to exhibit any Retro jewellery designs; they indeed created a collection that was exhibited at the 1939 World's Fair in New York. Moreover, when World War II broke out, these exact pieces of jewellery were retained in New York thus influencing contemporary American jewellery designers for the next 5-10 years.
A period of crisis jewellery
So, Retro jewellery appeared during a really difficult time of war, the main idea being to distract individuals from the tough reality of everyday life. Hollywood, the movies universe and a fantasy life were also hugely influential and jewellery became oversized, bold, colourful, and full of life (one could almost say cheerful) in those sad times! The jewellery was glamorous and really eye-catching.
In addition to all the synthetic stones that were used, a variety of semi-precious stones that were previously not quite as fashionable were now employed. Very vibrant examples would be: amethysts, citrine and aquamarines, swiftly becoming the "It Thing". Really bold cuts were extremely popular too: emerald cuts, baguette cuts… We have a great example of its genre in our inventory. This ring sure is eye-catching, playful and colourful, a perfect example of Retro style jewellery with its citrine, topaz and amethyst baguette cuts!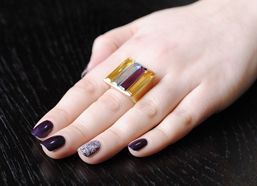 What is really interesting about this movement is that it truly came as a way to escape the dark reality of the 1940's.  The harder times were becoming, the more "enchanted and lively" jewellery became. After the bombing of Pearl Harbour in 1941, the United States entered World War II and strangely enough pieces of American Retro jewellery of this time were whimsical and enchanting:  birds, flowers, dancers, ballerinas, hearts and bows were recurrent designs of the period.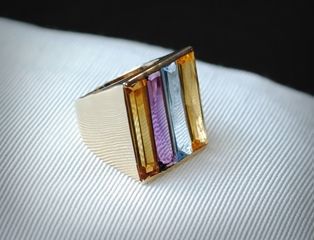 Personal Touch
I cannot help but find it so interesting and heart-warming to understand the reason behind the boldness and playfulness of Art Retro jewellery, it almost makes me respect and appreciate these pieces of jewellery even more.  As to why the Retro Jewellery movement ended I will leave it to the French jeweler Mauboussin to explain: "The jewellery of the Forties was the jewellery of an age of crisis, so it is only logical that it should come to an end with the crisis itself"
For me Retro is everlasting and not bound to a limited period of time.  I for one am happy to wear Retro jewellery in the 21st Century (as shown on picture!)
Marushka Frandgie – Sales Assistant / Digital Content Editor
Marushka joined AC Silver in 2014 bringing hands on experience in jewellery retail and management in addition to a Master's Degree in Media and Journalism.