Summer is nearly here…
Summer is almost here, the sun is shining, the birds are singing, sun dresses and sandals are out… Well, if you live in the North East of England you may know that I am being very positive when saying "Summer", but ANYWAY, even if we may not get as many sunny days as anywhere else, we know for sure how to make the most of these special and precious days! So whatever you are doing this Summer, going to beer gardens with friends, going to festivals, enjoying a lovely BBQ with your family or even going abroad to a sunny land you must be prepared to enjoy these next few months. Your summer wardrobe is coming out and with that should come the summer accessories, and this includes some summery jewellery.
Summery?
But you may ask what types of antique and/or vintage jewellery should be considered as "summery"? Well for a start I think that you should go bold with colours. Go for very playful jewellery. Just wear whatever you usually would not dare to wear, turquoises, coral, jade, bright amethysts, to name just a few, can be wonderful!
When looking at this season's trends, I have picked out a few inspiring antique and vintage pieces, several of which may be found in our inventory here at AC Silver.
Electric Colours…
As I said go bold with colours: electric colours happen to be the IT thing – so no shame to go with the trend! Also, bold colours look fantastic and amplify a nice summer tan!
Making a Statement
Statement necklaces with pop colours should most definitely be included in your outfits this summer, this bad boy would look amazing with a little summer dress. It even comes with matching earrings, so it is clearly a win win situation!
And Pastels Too
If you want more of a discrete, daywear alternative, maybe when at the office, pastels are the way to go. They can be a wonderful and a very appropriate choiceas they perfectly match neutral colours. Gemstones such as blue topaz and aquamarines top the option.
A Cut Above…
As for the cuts, rough cuts and raw stones would complement the boldness of the colours and give you that edgy, boho chic look!
Seasonal Colours
Blue is clearly a great summer colour, reminding the wearer of cloudless blue skies or the ocean; so all shades of blue, from cobalt to turquoise are a definite yes! But blue is not the only colour that will be trendy this season…
Green also comes as a strong colour for spring/summer 2014 collections. It is bright, fresh and when blue reminds you of these , green will remind you of picnics, freshly cut grass and of the outdoors in general. So if you go for really pop, bright green then peridots are your best option (as it turns out peridots are also considered as one of the birth stones for August so it works out quite well.)
But if you want to go for a deeper, more intense green, emeralds are obviously the answer. Emeralds have been extremely popular recently and Mr Campbell has managed to source some truly exceptional antique and vintage examples.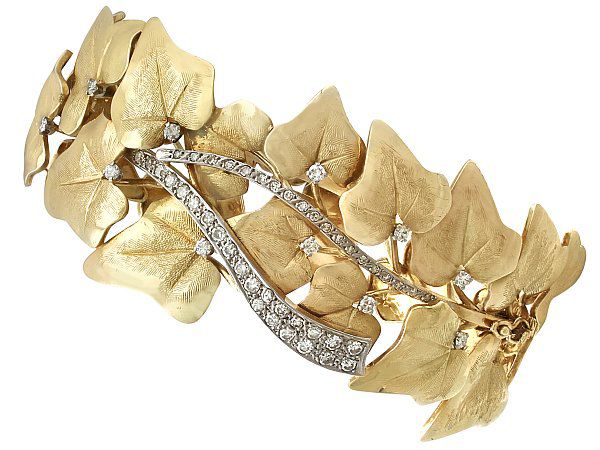 Don't forget the cuffs…
Another trend of this season that shall not be ignored is cuffs: cuffs are indeed all over the fashion industry, they are bold, dimensional and dramatic. Cuffs are very present in the Alexander Mc Queen collection for instance. We do not have cuffs as such but some really broad silver bangles that could definitely be considered as cuffs too. Silver looks great with a tan too! – so here is another way to include some antique jewellery in your summer wardrobe!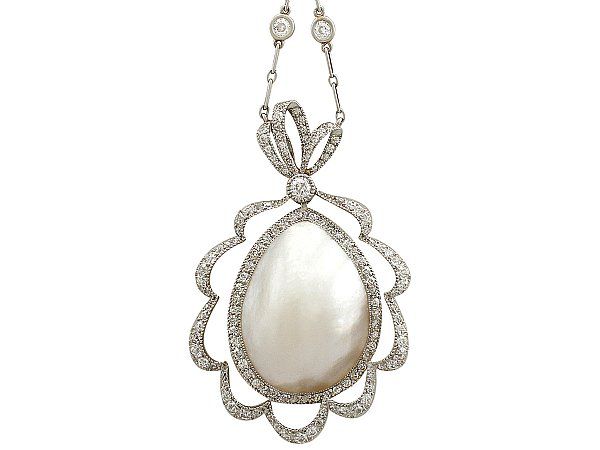 Or the Pearls!
Before I finish this blog I MUST add one of my personal favourites: pearls.
I see pearls as quite summery because they remind me of the beach AND during summer you do not wear as much perfume as you usually would (it is said that perfume can stain your skin when exposed to the sun). As perfume is not good for pearls, a perfume-free season = pearl season! (But then that is probably just MY way of thinking…) But anyway, pearls happen to also be trending this season (and they are the birthstone for June). Pearls are elegant but edgy and fun at the same time, so why not treat yourself to one of our ever-so pretty pearl necklaces?
Summer Is Nearly Upon Us
So, as summer is fast approaching, think about those items rarely worn, lurking at the bottom of your jewellery box, which might just provide that 'summer statement' you're looking for!
Marushka Frandgie – Sales Assistant / Digital Content Editor
Marushka joined AC Silver in 2014 bringing hands on experience in jewellery retail and management in addition to a Master's Degree in Media and Journalism.