A quick (really quick) history of birthstones
A birthstone is a gemstone that has been chosen as linked to the month in which you were born.
It is quite an old tradition that has been "updated" over the years.
At first the association between specific gems and particular months was only based on the colour of the stones. But as you probably know, the fact is different gemstones are actually the same colour!(rubies and garnets for example) So, in order to avoid any confusion in 1912 the Jewellers of America (which were known at the time as the "American National Association of Jewellers) created a recognised birthstone list. And in 1937 the Gemmological Association of Great Britain established a uniform list that included some variations for the most expensive gemstones. Peridot was then designated as the birthstone for August (lucky August babies!)
Peridots, these "magical" gemstones…
Peridots truly are wonderful gemstones, generally displaying a beautiful bright green colour. To be more precise and "technical" I must add that they have an olive or bottle-green colour due to the presence of iron, in addition to a distinctive oily or greasy lustre.
Peridots can be found in a limited number of regions (less than fifty) such as St John's Island (Egypt), China, Burma, Brazil, Arizona, Australia, South Africa and Norway. The most beautiful peridots are said to come from a mine in Suppatt located in the North West of Kashmir. These peridots are a very vivid and intense green and display an impressive sparkle.
Peridots were first discovered and mined in Egypt 4000 years ago, it was at that time believed to protect from diseases and physical harms. Miners that were working during night thought that these stones had a stronger glow in the darkness than in the daylight. This could explain one of the potential origins of the name; the word peridot may come from the word of old English "peridote" that means "luminous point" or the Arabic word "Faridat" that means "precious stone". Peridots were considered by the Egyptians as "Sun Stones" and allegedly, it was one of Queen Cleopatra's favourite gemstones (she sure had good tastes!)
Myths and beliefs
Peridots have a very strong and interesting history indeed. They are even mentioned in the bible under the old name (Chrysolite) as one of the jewels present on Aaron's armour and one of the twelve jewels that were used during the foundation of Jerusalem. All this fascination has led to many myths and beliefs about this gemstone. It is believed to favour friendship, free spirits from envy, make its wearer more eloquent, heal liver diseases and even increase the efficiency of certain medicines. The Victorians (we LOVE Victorian jewellery here at AC Silver) used to wear peridots to prevent sorrow and sadness. All in all, peridots are very often associated with magic, power and influence!
And today…
Nowadays peridots are still very desirable gemstones and if you are looking for the perfect birthday present this month, how about one of our peridot items? It is a great way to give a personalised present that anyone would love to receive!
For instance have a look at this amazing Art Deco peridot and diamond pendant. I am pretty confident this would make any jewellery lover happy (it sure would make me over the moon!)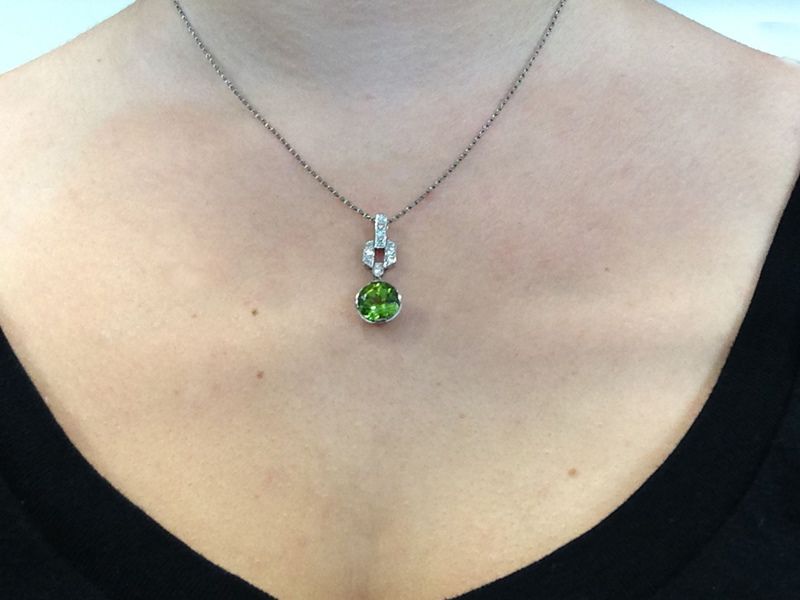 Marushka Frandgie – Sales Assistant / Digital Content Editor
Marushka joined AC Silver in 2014 bringing hands on experience in jewellery retail and management in addition to a Master's Degree in Media and Journalism.