September's birthstone is very special to me, (and no I was not born in September), but it just simply happens to be my favourite gemstone: the wonderful sapphire. Yes, the ring is mine but items similar to this stunning pendant are still available here; and also yes, working in a jewellery shop is way too much temptation!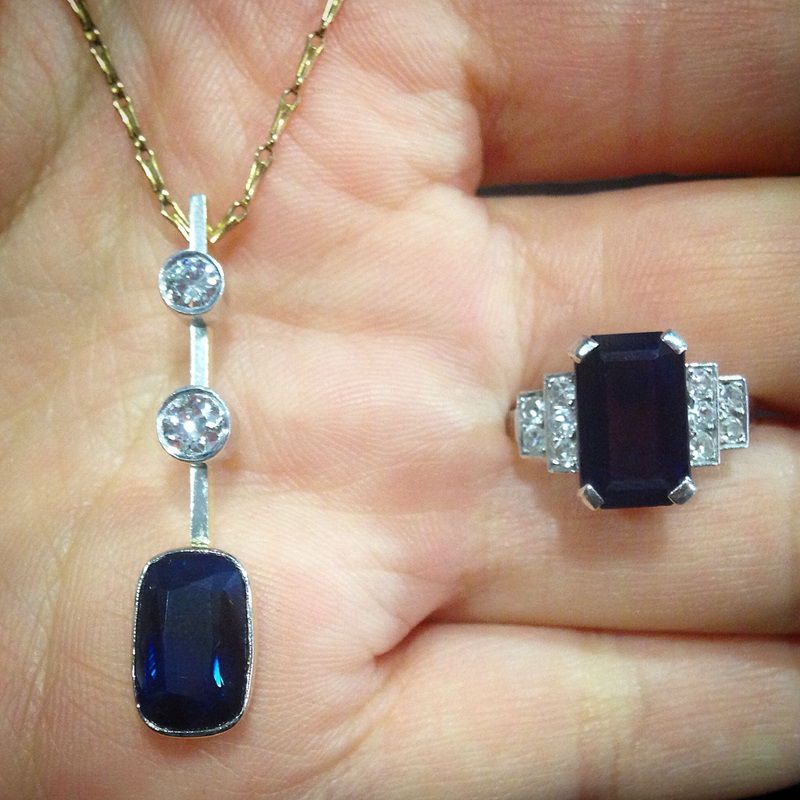 The reason why the sky is blue?
The word sapphire comes from the Greek word "sappheiros" meaning blue, pretty self-explanatory etymology here… This stunning gemstone has a very interesting history too. It was indeed believed to be the reason why the sky is blue (nothing less!)
Let me explain this a bit further: in many ancient cultures the Earth was believed to be an entity that rested on a big sapphire that then reflected and gave the sky its blue colour. The legend also says that when God sent the Ten Commandments to Moses they were inscribed on tablets of sapphire, making sapphire the most sacred gemstone.
A sacred, exceptional gemstone
So, as you may have realised by now sapphire was considered a pretty big deal by ancient cultures. In the ancient Mediterranean world priests and wizards used to honour the sapphire as it was believed to help predict the future. Considering its status of "divine" stone it was the gemstone that was associated to kings and high priests. It is then pretty logical that sapphires symbolised truth, sincerity and constancy. Sapphire engagement rings are still offered today as an expression of loyalty and commitment. The fact that it is the second most hardwearing stone (after the beloved and popular diamond) makes it perfectly suitable to symbolise an indestructible love and faithfulness hence why it has been such a popular engagement ring gemstone choice (hello Kate Middleton!)
Blue sapphires were associated to intellect in general and were believed to bring wisdom to their wearers. A sapphire was also believed to favour nobility of the heart, spirit, and moral qualities, making its wearer happy and brave.
Beyond its moral properties the September birthstone was also believed to have some medicinal and almost magical powers too, chasing curses and bad spirits away!
A healing stone
There is yet another legend about sapphires and according to this one if a venomous snake was on a boat next to a sapphire then the gem's rays could kill the beast (wow pretty impressive, right?)Sapphire was then seen as an antidote against poisonous insects and reptiles.
This was not sapphire's only perceived "power". It was indeed also believed to have healing properties: in ancient times, doctors ground the birthstone into a powder and used it to treat rheumatism, depression and eye problems.
Now, I do realise these are only legends, superstitions and beliefs and the most skeptical of you are probably thinking "That's nice, but where are the ACTUAL facts?"
Well, here they are:
Let's get factual!
What exactly is a sapphire then?
Sapphires come from a mineral called corundum, and despite what you might think they do not only come in a blue colour, sapphires can be any colour apart from red. Why not red then you may ask? Well simply because red corundum is actually known as ruby!
When it comes to blue sapphires the colour can vary quite a lot, from the palest blue to dark navy. The most desirable colour is a strong medium blue colour, but then obviously it is up to personal tastes.
Sapphires are generally more affordable than emeralds, rubies or diamonds. As I previously mentioned, sapphire is the second most hardwearing stone, it has a hardness of 9 on the Mohs scale. They are very durable stones and can be cleaned with mild soap / washing up liquid (such as Fairy) in warm water (not too hot!), gently cleaning them with a soft toothbrush.
Another funny 'fact': in ancient culture it was believed that light blue stones were male sapphires and dark ones were female… (ok I may be the only one finding this funny…)
….Or fashionable….?
So if they were a piece of clothing sapphires could be described as an easy wear, a little bit like that ubiquitous black dress – a safe, efficient yet classy option. That makes it the most suited gemstone for use in jewellery, it is then no wonder it is so popular to everyone… and when I mean everyone I do not only mean you and me everyone, I mean famous people everyone too!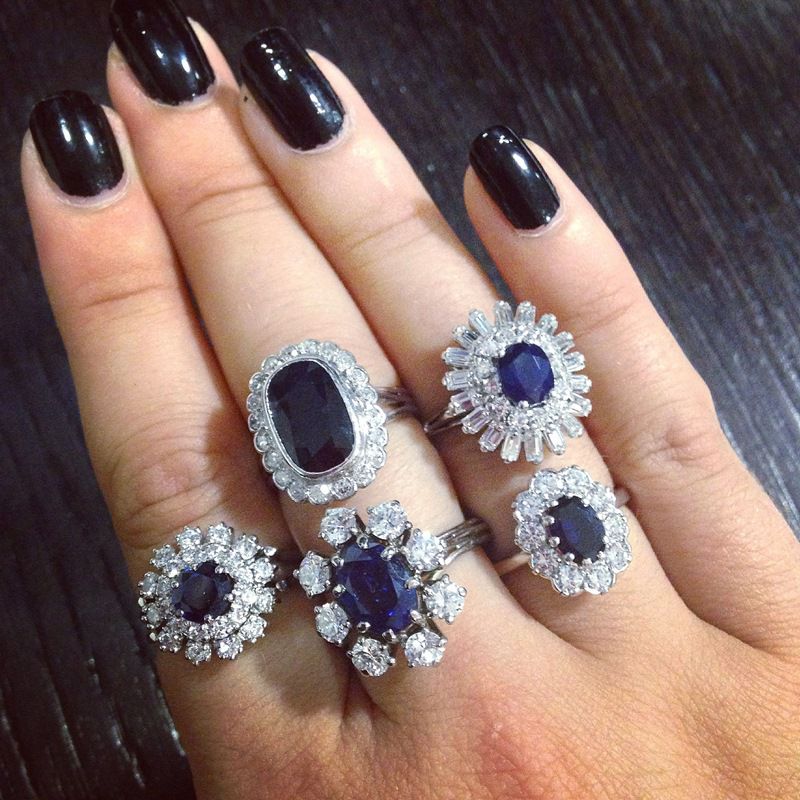 A truly royal gemstone
So, as mentioned, sapphires have been associated with royalty in general, and funnily enough it was chosen as engagement rings by some of the most famous "royal" people in the world. Napoléon himself chose a sapphire and diamond Toi et Moi ring for his beloved Joséphine (see the full blog here.) I know that technically Napoléon was not a king because he was an emperor but he was just as important and powerful as any king, even more so on some levels…
And when it comes to more recent history we all know Kate Middleton's beautiful sapphire cluster engagement ring, it has been all over the media for the past two years and it truly is a wonderful piece. It was originally William's late mother's engagement ring. Prince Charles indeed proposed to his beloved Princess Diana with this stunning ring. These are definitely among the top sapphire ring designs with yellow gold.
As Kate Middleton is such a style icon, sapphires have become even more popular than ever!
I think I have said enough now. I could sum up by saying, sapphires are amazing and every woman deserves to own at least one piece of sapphire jewellery.
Long live sapphires!
Marushka Frandgie – Sales Assistant / Digital Content Editor
Marushka joined AC Silver in 2014 bringing hands on experience in jewellery retail and management in addition to a Master's Degree in Media and Journalism.