Last weekend was a great weekend, so I have decided to share it with you… Although not all of it as I believe Beyoncé's concert may not be relevant here (but if you must know, she was amazing!) What will be of interest is my visit with work colleague (and friend!) Naomi to the fabulous Biennale des Antiquaires in Paris.
The Location
This year's edition of the Biennale is held in the Grand Palais from the 11th – 21st September. The Grand Palais is located in the centre of Paris, right next to the famous Champs Elysées, and across from the Petit Palais. (Here is the "Petit" Palais, leaving you to imagine if that's "petit" what the "Grand" Palais is like…)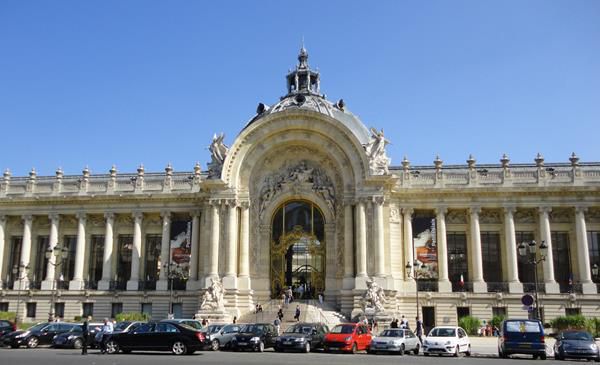 The impressive Grand Palais was built in 1897 for the Exposition Universelle of 1900. It is truly a magnificent building, with its impressive domes and cupolas made of iron, steel and glass. To give you an idea of how great the Grand Palais is, its construction involved the same amount of metal as the Eiffel Tower's (about 6000 tons).
A Quick History Of The Biennale
The first idea of an antique dealer's fair arose in the 50s and its purpose was to create an exhibition where the beauty of the objects would compete with the beauty and the elegance of the ladies who would come and visit. In 1962 the First Biennale Internationale des Antiquaires opened its doors, concentrating the most famous antique dealers, decorators, jewellers and booksellers in the world under one roof. The setting was enchanting, composed of gardens, fountains and pavilions. Throughout the years some very glamorous and talented personalities have been involved in the making of the Biennales: André Crivelli, Jean-Raphaël Millies-Lacroix, Pier-Luigi Pizzi, Jean-Michel Wilmotte, Christian Lacroix and Karl Lagerfeld just to name a few…
This Year's Edition
2014's edition is/was just as fantastic as we had expected: here is a little logbook of the important moments of our day trip:
1 PM: We walk from the Champs Elysées to the Grand Palais and our first impression is a big "WOW!" this building is one of the most magnificent we have ever had the chance to see! We buy our tickets (€30 each, but honestly well worth it!) and enter the Grand Palais for our second "WOW!" of the day; the setting is absolutely stunning; there is a fountain in the entrance, the glass domes let in so much daylight and sunshine. The colours are beautiful and truly breathtaking!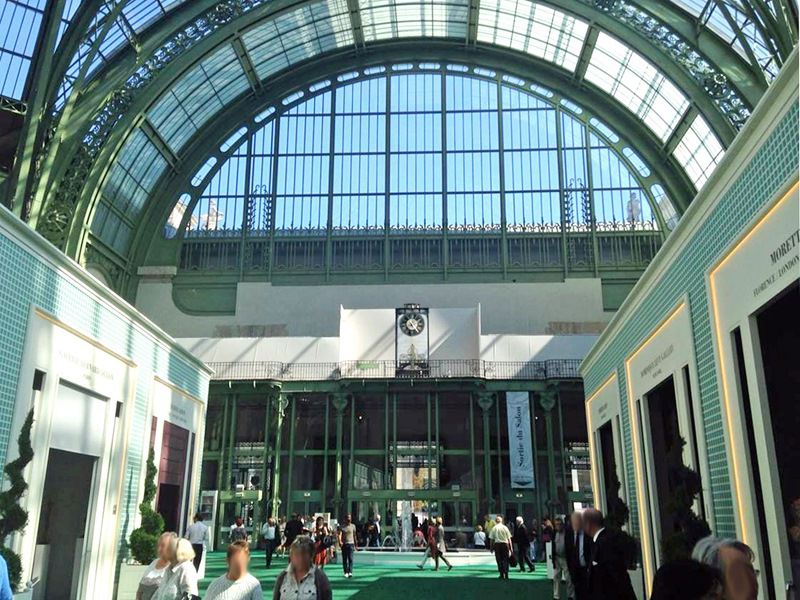 1.20 PM: The first jeweller we go to see is Piaget – I must admit I knew of Piaget mainly for their watches – so I was impressed when I realised they also have a stunning high jewellery collection. A lovely lady who has travelled all the way from their Hong Kong shop takes us on a tour and tells us more about the pieces. We can see that there is a very 60s theme going on, and also some Art Deco 'style' pieces. The watch that Piaget is most famous for is omni present – even in their jewellery pieces; at times, very subtly disguised so that you have to really inspect the pieces to see them.
1.45 PM: Our next stop was Chanel and it was another big "WOW!" A definite Art Deco theme throughout. The gentleman there shows us a collection that has some very round pieces, he explains that these symbolise bubbles of champagne, iconic of the prolific years of the Années Folles.
2.30 PM: We are then off to see David Morris, the London Jeweller and I must say I love the soft baby pink theme of their visual merchandising, it compliments their lovely yellow diamond collection as you can see here with this fabulous dress ring.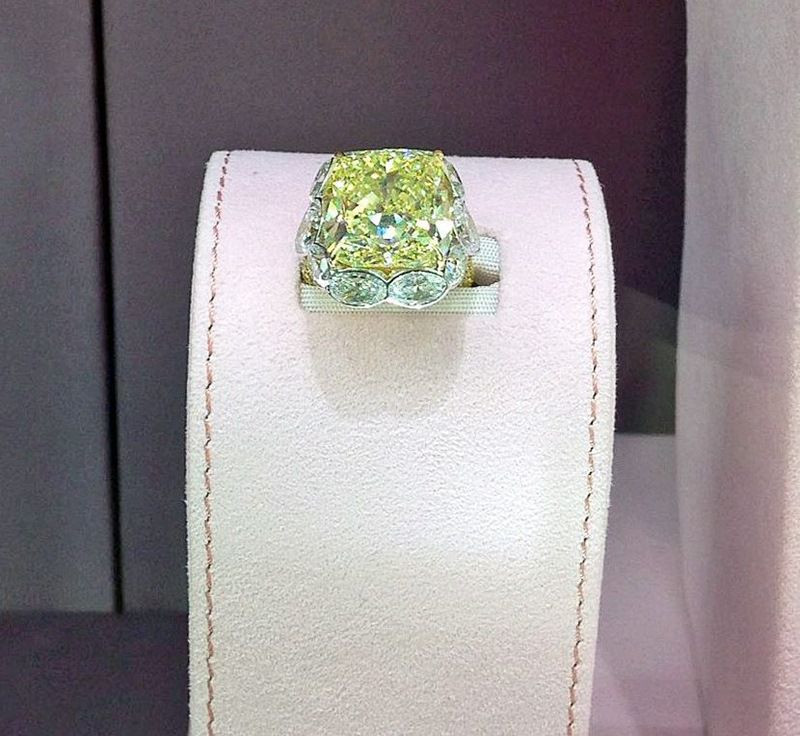 3.00 PM: We are now off to see a jeweller I am particularly excited about: Van Cleef and Arpels. I have been looking at (and obsessing over) their new fairy tale inspired collection. And oh my, was it as good as I expected? … No! It was much better! Everything from the visual merchandising to the pieces was absolutely remarkable. Van Cleef and Arpels have really made an effort to create a defined theme and 'aura', and for that they stand out! I also notice they are social media inclined with a #VCApeaudane on their walls. With my media head on, I ask the lady if we are allowed to take pictures and use them for our Instagram and blog and she says we are; she even helps us further by giving us some great catalogues that I will cherish for a very long time!
I will tell you more about their new collection in a next blog but here is a sneek preview of some of my favourite Van Cleef and Arpels creations.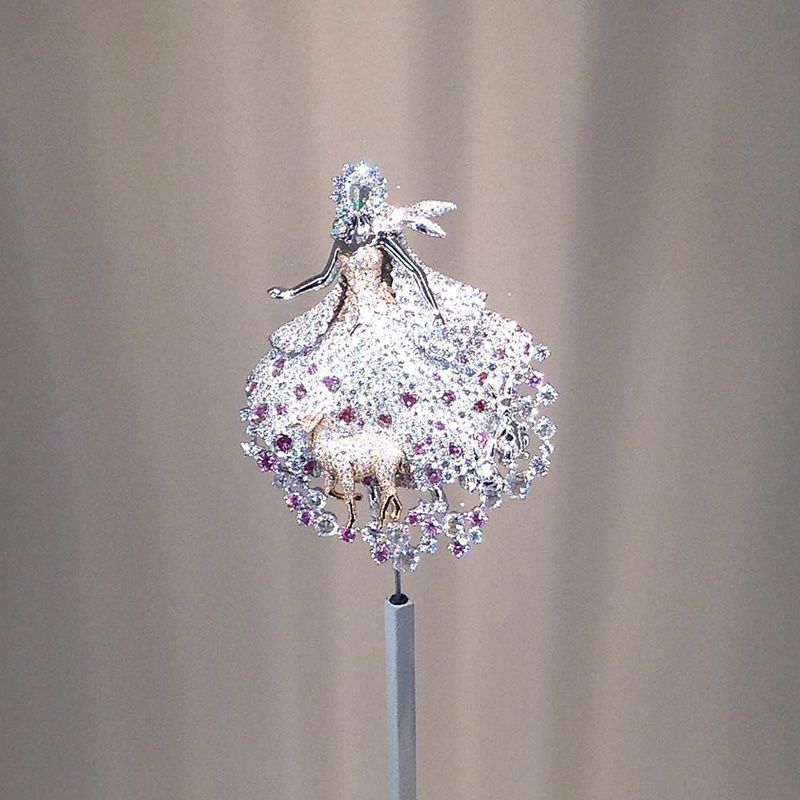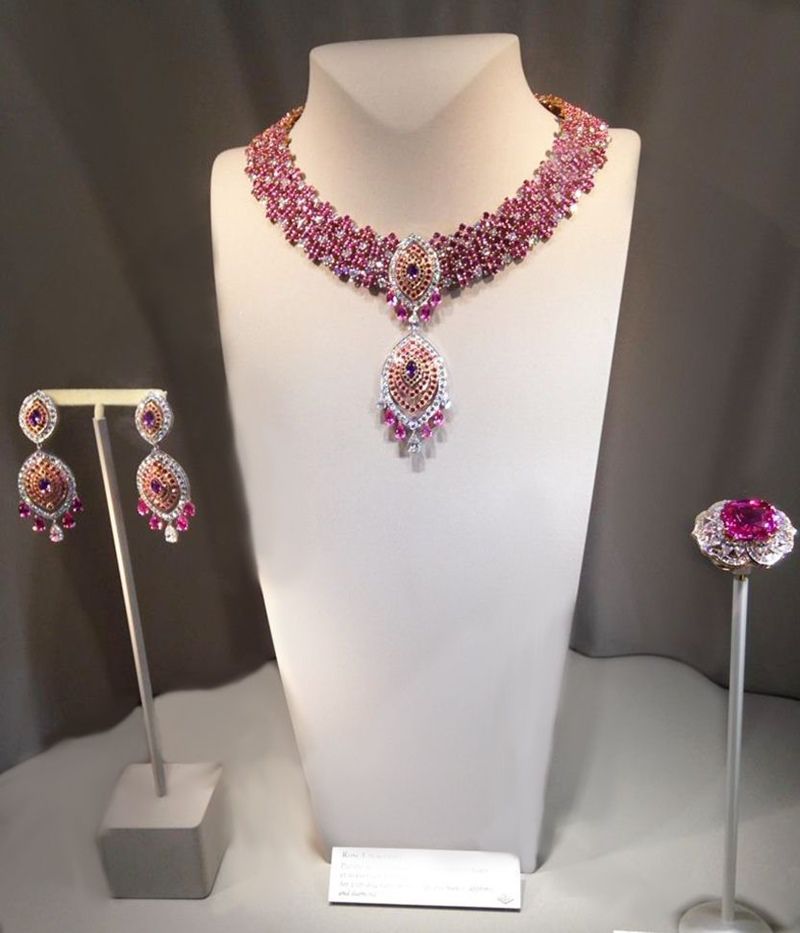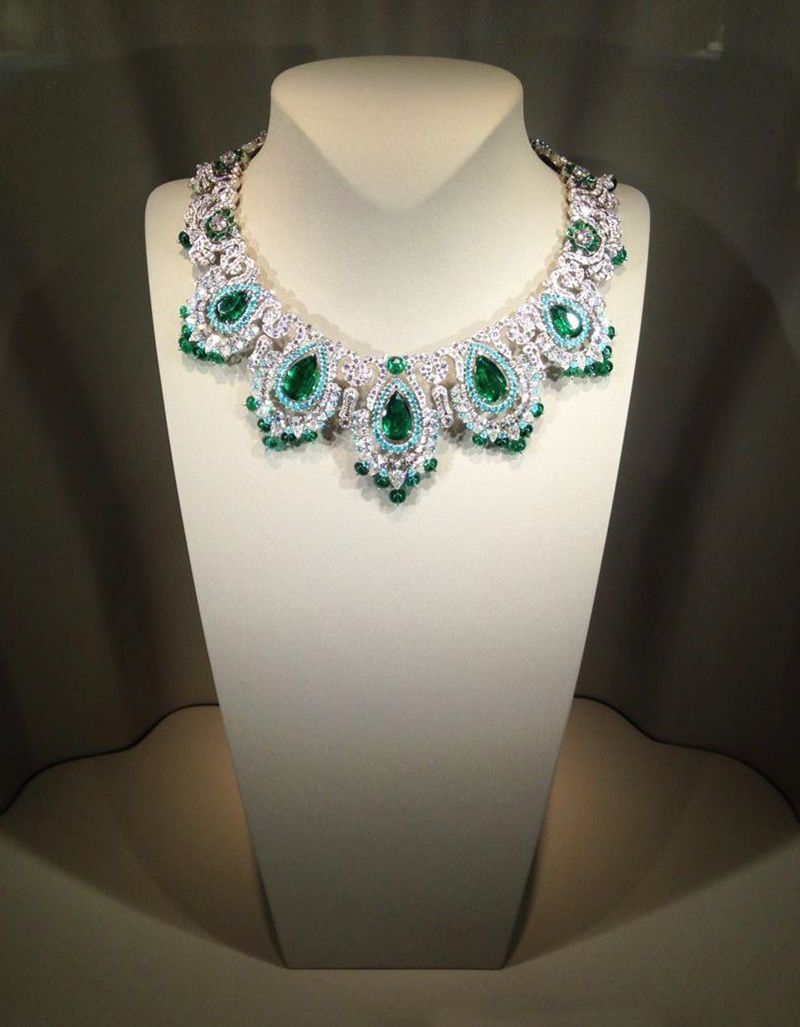 4.30 PM: Next stop is Dior. It looks like they have already sold a few pieces as there are a few spaces in the windows. I can't say I am surprised, as it is a wonderful collection, and Dior being Dior has incorporated iconic 'Dior' clothing in their displays. The compilation looks fabulous!
5.00: We decide to finish our visit with perhaps the most recognised jeweller around the world: Cartier. Unsurprisingly Cartier has the biggest floor area, filled with antique, vintage and contemporary pieces. It almost feels like we are in a museum because some of the pieces on display are so iconic! The panther is omnipresent – incorporated into the new collection as well as in the well known vintage pieces. We talk to a lovely security guard who tells us more about the mechanism of a piece, and we are truly amazed that all Cartier staff are so involved and passionate about the pieces.
5.30:Here ends our Biennale adventure. We have had a great time and will definitely go back! I would recommend this exhibition to any antiques or jewellery lover. It is well worth the money and you will leave with a great sense of awe and some special memories!
(I'm now working out a way of convincing Mr Campbell it would be worth him taking all the staff at AC Silver to next year's Biennale…)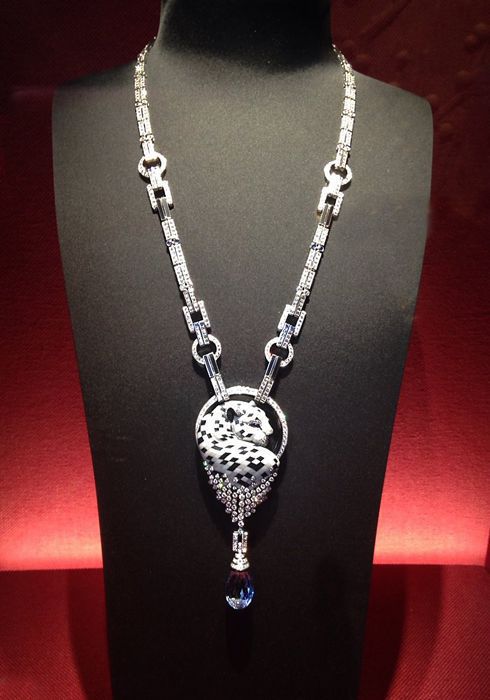 Marushka Frandgie – Sales Assistant / Digital Content Editor
Marushka joined AC Silver in 2014 bringing hands on experience in jewellery retail and management in addition to a Master's Degree in Media and Journalism.