The need for a solution to the challenge of getting one's hand through shirt sleeves without the cuffs being excessively wide gave way to the development of various types of cufflinks we see today.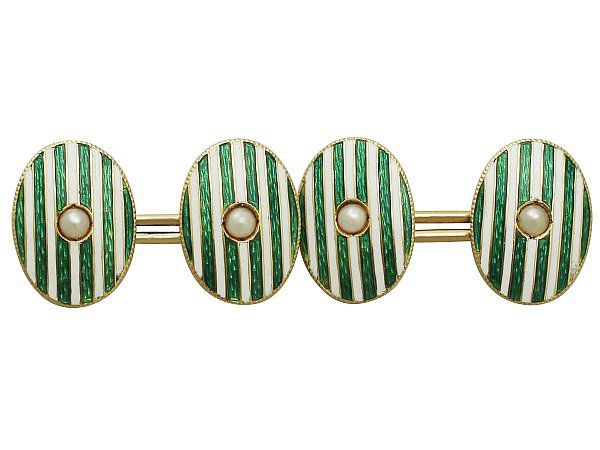 History of Cufflink
Prior to the 17th Century, a cufflink referred simply to a ribbon that tied the cuff. However, the 1600's saw the introduction of the French cuff, popular among royals for the status it suggested, rather than for its functionality.
The next century saw the decorative cufflink embraced by the upper classes, where the adorning of them became a characteristic mark of a true gentleman.
The industrial revolution in the late 18th Century gave way for cheaper enamelled and glass cufflinks to be manufactured, making the cufflink accessible to lower classes.
Whilst cufflinks were previously made of silver, gold and pearl, at the end of the 19th Century Edward VII popularised the colourful Fabergé style made with enamel. The introduction of these saw cufflinks become a fashion accessory that was finally acceptable for men.
Gatsby's Roaring 20s
As a lover of the Great Gatsby, it is no surprise to me that the 1920s saw the popularity of the cufflink soar. Well known as the decade where there was no such thing as over-extravagance, gemstone adorned design became all the rage.
Coco Chanel rose to fame in the 1920s and it was her influence that made fashion jewellery more desirable than ever. Cufflinks began appearing in every colour, pattern and shape imaginable.
Post-World Wars
The evolution of the man's shirt saw the popularity of the cufflink dip between the 1930s and 1950s, with the go-to shirt choice now being one with unstarched cuffs secured with a simple button.
However, the Post-WW2 'gentleman' was one who invested in a number of accessories; cufflinks being just one of them. The decades (minus the 1970s*) that followed saw the cufflink cement itself as one of the most popular pieces of men's jewellery.
*Unsurprisingly, the 70s man was not one that wore cufflinks. This Woodstock generation instead had many heirloom cufflinks reworked into earrings instead.
The Modern Gentleman
Today's cufflinks are made from a variety of materials, and this makes them a piece of jewellery accessible for everyone. For many, a cufflink is an accessory to be worn on a special occasion and is looked upon as a sign of sophistication. However for 'suits' or city workers the cufflink is a staple of their everyday wardrobe. Cufflinks are therefore an excellent present to buy for your loved ones and have become a timeless piece of men's jewellery that can be passed down through generations.
Katharine Biggs – Sales & Digital Content Contributer
Katharine joined AC Silver as part of the retail team, and almost immediately became actively involved in the numerous internet media used to support sales. Katharine brings a young and fresh approach to the business and this is reflected in her blog writing style.