Christmas is upon us, only 27 days to go guys!
Here at AC Silver we are very excited about this… Well most of us are! Christmas is all about spending time with your loved ones while enjoying extra special food and drinks, what's not to love? Oh I almost forgot, it's also about giving and receiving presents.
When working with such lovely items on a daily basis you can imagine that temptation is always round the corner, even more so when you are close enough to Christmas that you can start writing your list for Santa. We just thought we would give Mr Claus a little bit of help this year and give you guys some inspiration by sharing our list.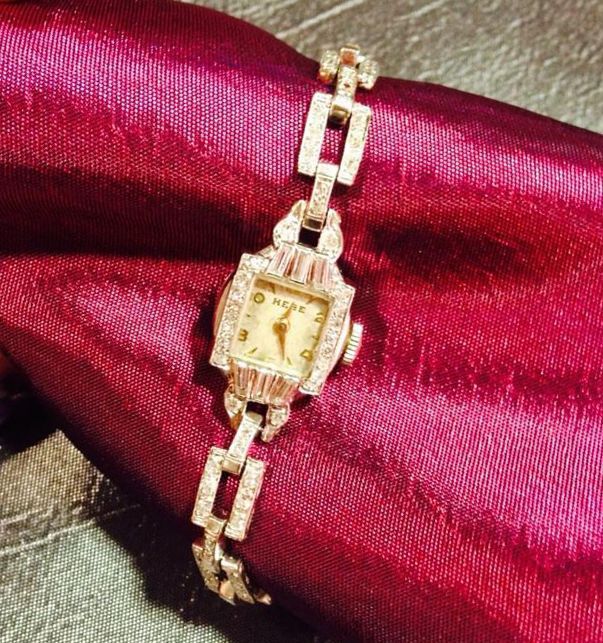 Our ever so lovely Business Manager Jane Henderson would like this little beauty for Christmas: a vintage 1.88 carat diamond 'Hebe' ladies' cocktail watch. She says she loves how small, delicate and understated this watch is and how it truly made her feel special when she wore it. Coming from the lucky lady who gets to try ALL our jewellery on for stock image purposes (yup – it's her hand in the majority of the photos), I think it says a lot! And as I've also tried it on since (sorry Jane) I must say I completely understand where she's coming from.
Look at how happy our Online Marketing Manager Gemma Tubbrit is! And this is all thanks to this wonderful antique Russian silver gilt and polychrome enamel scent flask. Gemma really would love to have this for Christmas; here are her reasons: "I adore this delicate Russian scent bottle, to me it oozes beauty. My favourite element of the flask is the intricate decoration, the craftsmanship is fabulous. The enamelling also adds so much to the piece with its various shades and colours covering most of the flask. I also struggle to understand how an item which was created around 1900 can be in such impeccable condition. I simply love it!" Well Gemma, if this doesn't convince Santa to bring you this scent flask for Christmas, I don't know what will! And to be honest, I may be more of a jewellery lover than silverware but this scent flask is so beautiful I am a little bit in love with it too…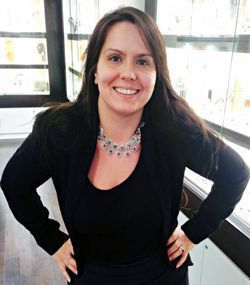 Our Shop Manager Claire Hall is looking pretty happy too! She has a very good reason to be smiling: this AMAZING antique emerald and diamond statement necklace. Claire says: "The workmanship and craftsmanship in this piece is SO impressive, it amazes me to think how much time someone has spent on creating this beauty, and this over a century ago. I also love the weight of this piece which makes it feel even more grand. This necklace makes me feel so elegant and special, I LOVE it!" Trust Claire, our resident gemstone expert to be choosing an amazing item – this one is not even on our website yet but it is already one of our favourites.
Another stunning piece for another super special lady, our very own Naomi Jenkinson, Web Content Editor. Now you can trust her too to pick a unique piece. Naomi is responsible for uploading items of jewellery onto the website on a daily basis so she pretty much SEES all our jewellery items, and can therefore make a very informed decision. And what a great pick: this antique 2.59 carat tourmaline and 1.95 carat diamond dress ring is a stunner. This fabulous dress ring has just been included in our inventory but it has been receiving a lot of attention already. Naomi told me "I just love the Art Deco feel to this ring and am amazed by how vibrant the stones are. The diamonds display such a good sparkle and the tourmaline is just the perfect green; such a great combination! This ring makes me feel super glamorous and if I do say so myself ab fab!" Well Naomi, we all know you do not need anything to be glamorous but we can only agree with this choice, and if you are the lucky recipient of this ring this Christmas, trust us all to be borrowing it…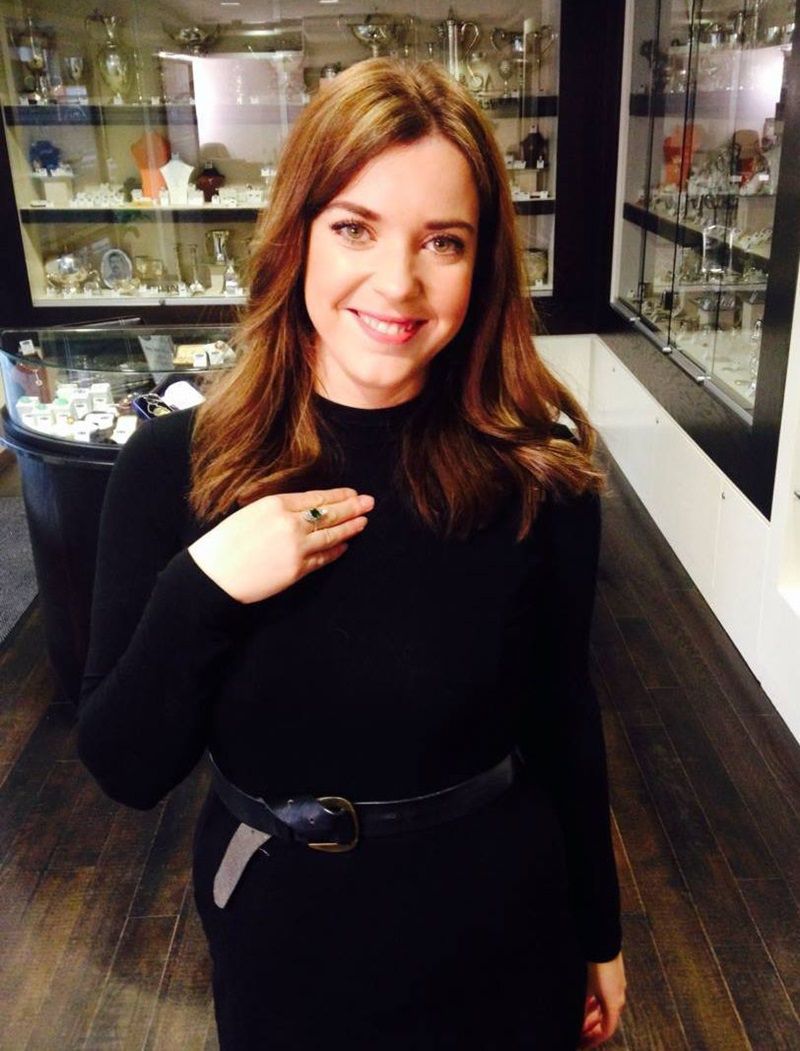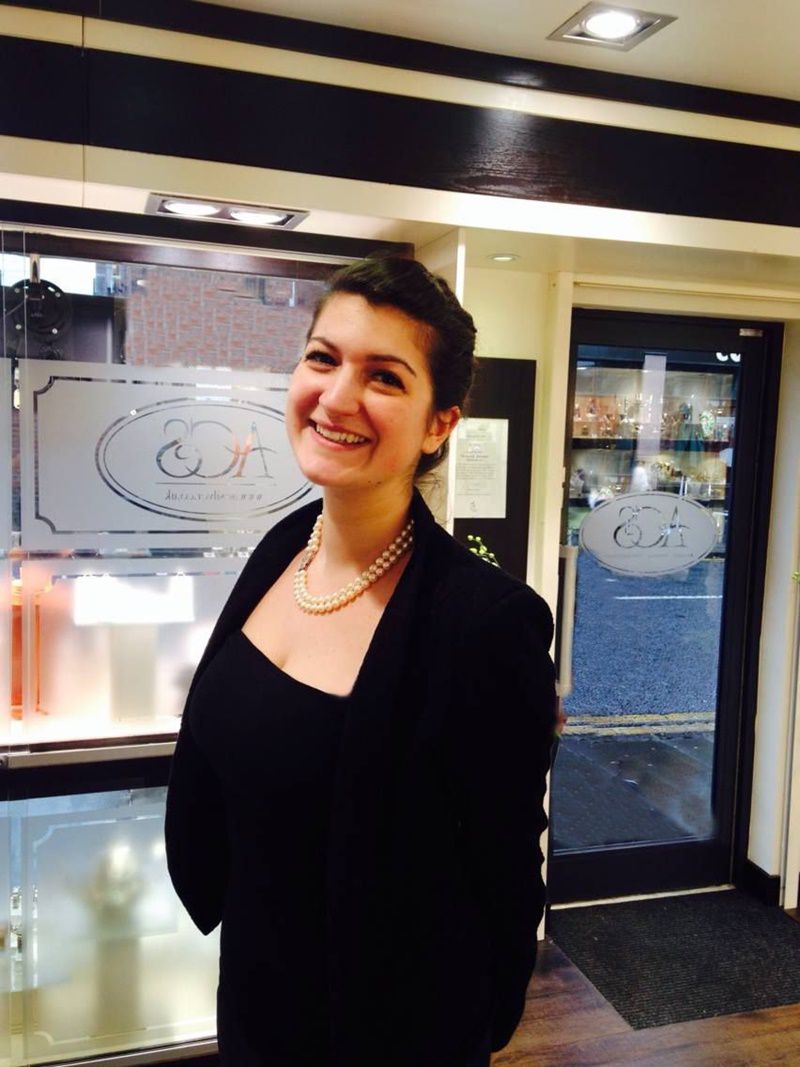 My perfect Christmas present would be this incredible double strand pearl necklace with a 1.78 carat diamond set clasp. I adore this item because I love pearls in general, I think they are such timeless classics and they always make you feel so classy. A real pearl strand makes me feel like a lady, and this one is extra special because of its high quality. The pearls are a lovely colour and lustre, all perfectly matched and a nice size. I also love how the pearls sit so naturally when worn. This necklace is the perfect length because it can be worn on so many different occasions, dressing up or down. And last but not least I LOVE the antique diamond clasp which gives this necklace that extra wow factor. It is a lovely Art Deco design (again a timeless classic) and it gives the necklace so many possibilities, wearing it with the clasp on the side to show it off, or wearing it with your hair up and a cocktail dress to have that subtle je ne sais quoi. So yes, THIS necklace would make my Christmas the BEST EVER for sure!
Enough dreaming for one day, let's all go back to work and pray for our special 'Santa' to see this list… I hope this has inspired you, and we promise not to be too heartbroken if you decide to go for one of our special picks this Christmas.
I shall leave you with a link to our Christmas gifts for some further ideas. Happy Christmas shopping!
Marushka Frandgie – Sales Assistant / Digital Content Editor
Marushka joined AC Silver in 2014 bringing hands on experience in jewellery retail and management in addition to a Master's Degree in Media and Journalism.