First things first, a little bit of history of the princess cut
The princess cut is the second most popular diamond cut just after the modern brilliant round cut; this can be explained by the fact this cut shows the brilliance of a diamond just as effectively as the round cuts. They are a particularly popular choice of engagement ring (any "Friends" fans here? No… Ok I'm on my own…). In the vast majority of cases the princess cut is square in form; it can however be rectangular.
Here are a couple of examples, A5423 contemporary five stone ring and A5813 contemporary solitaire ring, all set with some beautiful princess cut diamonds.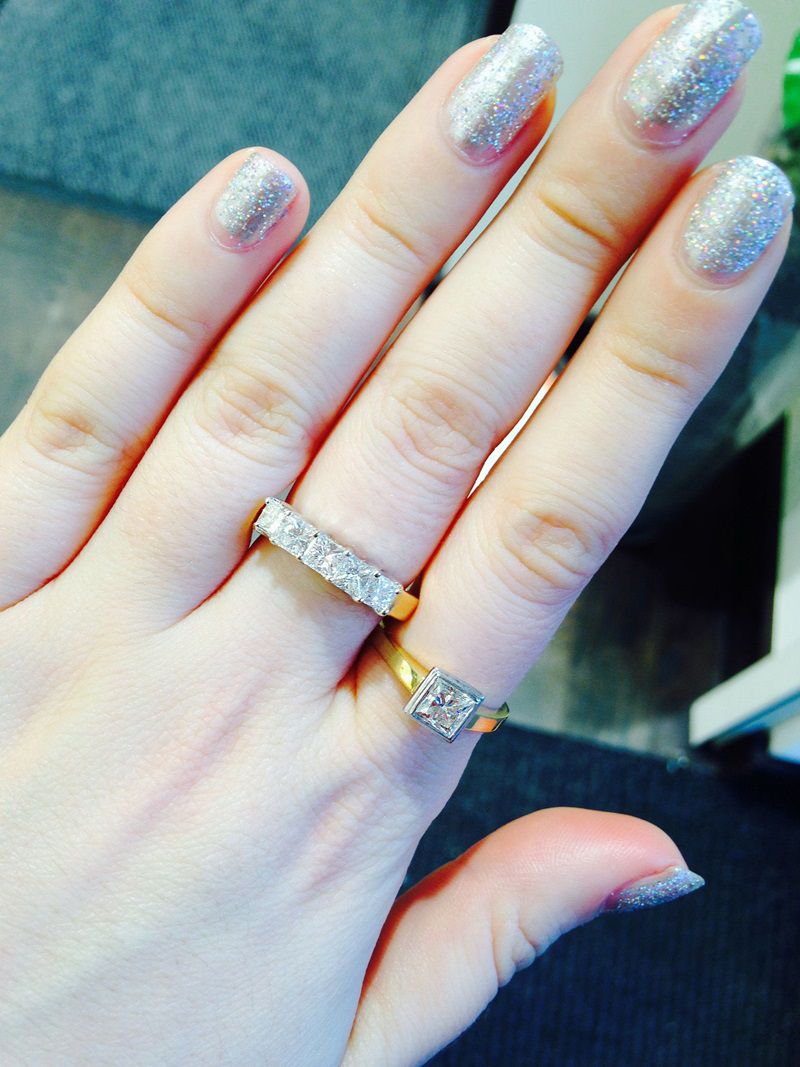 The princess cut is what we call a "brilliant" cut. It is a relatively modern cut, first developed in the 1970s. A couple of its notable precursors are the barion cut, which was a square with rounded corners created in 1971 by South African cutter Basil Watermeyer, and the quadrillion cut, developed by Yggar Perlman, Betzabel Ambar and Israel Itzkowitz. The latter cut is more similar to the princess cut as we know it, but only has fourty-nine facets.
It was in 1979 that the subject of this blog got its definite name of "princess cut". It was introduced by the same Betzabel Ambar and Israel Itzkowtiz of the Ambar Company in Los Angeles – with Israel Itzkowitz actually working from Israel, I kid you not! (note that in GIA reports and most lab reports and grading certificates princess cuts are still referred to as "square modified brilliant")
The princess cut was created in order to have a square cut that would be just as brilliant as a round one, the previous traditional square cuts being non-brilliant cuts: step-cuts, emerald cuts and square cuts. (They are still lovely cuts mind you, it just depends on personal taste and desired effect.)
The princess cut was absolutely revolutionary when it was first introduced and it quickly became very popular, with its clean, modern lines. It is a cut that is not only loved by customers (who are our priority; obviously!), it is also loved by diamond cutters for a very simple reason: it is the cut that creates the least waste possible. With a princess cut, most of the raw gemstone can be used. It does indeed have the highest yield from the diamond rough… And 'why is this important to me as a potential buyer?' I hear you ask. Well, this means the final 'cut' version is generally better value than their round equivalents, as around 80% of the raw gemstone can be used as opposed to 50%.
What makes a "good" princess cut?
The ideal princess cut is square, with a length-to-width ratio comprised between 1 (which would be a perfect square) and 1.05. This ratio is calculated by dividing the length by the width. With such a geometric cut, what is also really important is the symmetry and the depth of the stone. An "ideal" princess cut diamond would have a table between 62% and 68%, a depth of 64% to 75% and a symmetry either "really good" or "excellent". The symmetry is determined by how the facets are aligned; a good position of the facets optimising the diamond's brilliance and fire.
Princess cut diamonds should have between 57 and 78 facets with 78 facets being the most ideal and most common presentation. Princess cut diamonds have sharp, pointed (un-cropped) corners.
Settings and designs that compliment a princess cut diamond
As I have previously mentioned princess cuts are a very popular choice for engagement rings. This preference can be explained by all the benefits already discussed, but also by the fact that, thanks to its shape, a princess cut diamond will "fit" with a large choice of bands. They are also very popular when it comes to wedding bands because again, thanks to their shape, the two rings can be comfortably arranged side by side without any gaps. They are therefore the perfect candidates for eternity rings too.
Engagement style rings that compliment a princess cut diamond are solitaire settings, including "plain" and simple solitaires, which only feature a single gemstone, like this beauty.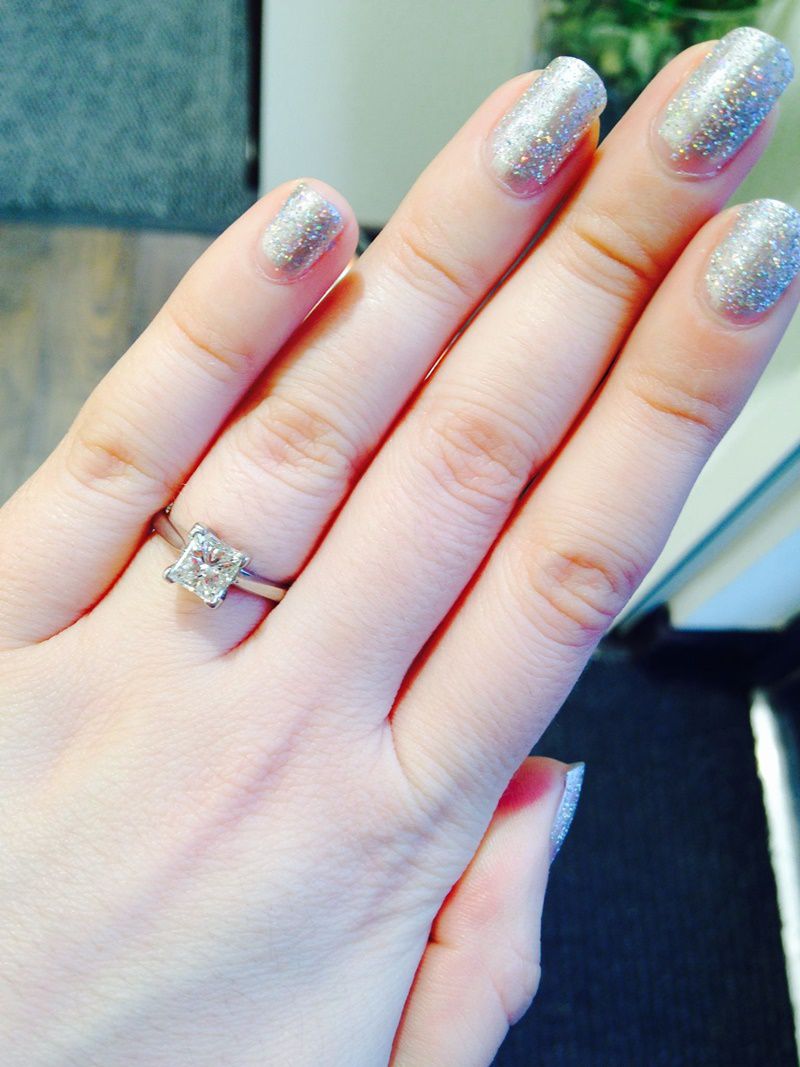 Almost one hundred years ago, Tiffany introduced the solitaire design as we know it today. The Tiffany solitaire "model" is ideal for princess cuts because of its open or pierced decorated setting which allows the light to travel freely through the diamond, making it as sparkly and brilliant as possible!
Princess cut diamonds also work well as solitaires with embellished shoulders e.g. a feature princess cut diamond in a pierced decorated setting with additional diamonds positioned on the ring's shoulders. The supporting diamonds can be trillions, tapering baguettes or smaller princess cuts for instance.
Be square – be different!
So, if you feel like saying to someone "you truly are my princess" how about a princess cut diamond? (Yes, I just went there and I regret it a little bit…)
No, but on a more serious note, princess cuts most definitely are a great option, especially if you want something a little bit outside the box but still as 'brilliant' as a more classic round cut diamond.
Here's a link to our stunning diamond rings. Enjoy!
Marushka Frandgie – Sales Assistant / Digital Content Editor
Marushka joined AC Silver in 2014 bringing hands on experience in jewellery retail and management in addition to a Master's Degree in Media and Journalism.