When you have worked for a little while in the jewellery industry, you quickly realise customers ask recurring questions. This is why today, with the help of Claire-Louise Hall, our Shop Manager and Gem Specialist we will share our answers to these frequently asked questions:
1. What's the best gemstone for an engagement ring?
If you consider that an engagement ring is going to be worn daily for many, many years to come then it is safe to say that durability may be the most important point. The most hardwearing gemstone, or even mineral, on earth is the diamond (hence why it is so desirable and sought after), it indeed has a hardness of 10 on the Mohs scale. Diamond is the most popular engagement ring choice and we tend to agree with the "trend": diamonds are sparkly, hardwearing gemstones that never fail to have a great impact. Diamonds also are timeless classics which match any outfit.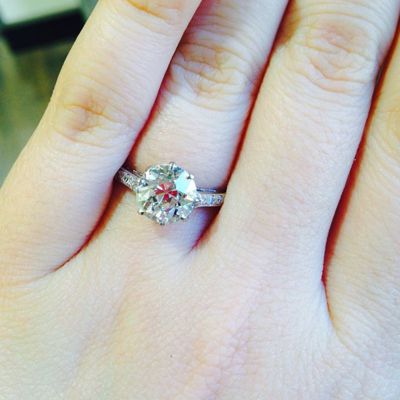 Then there are all the other gemstones, with rubies and sapphires (which are actually from the same corundum family) having a hardness of 9, proving to be very hardwearing too!
So, if we had to pick three gemstones to wear as an engagement ring it would be 1. Diamond, 2. Sapphire or Ruby. (This is obviously a personal opinion; other gemstones can make fabulous engagement rings too)
2. What would you advise to buy, a modern piece of jewellery or an antique/vintage one?
You all already know my opinion on the question, thanks to this blog so I will share with you Claire's opinion: "I like modern jewellery for its precision; its very "clean" and "neat" cuts… BUT I adore antique jewellery because it has more character. It has this unique and ageless look about it. The fact that it is better value for money is just the icing on the cake! I also like the fact antique and vintage gemstones are more ecologically sound."
3. What's the difference between a synthetic stone and a natural one?
The difference is that a synthetic stone is man-made in a laboratory, whereas a natural one is just what it says – a gemstone produced over millions of years by nature! There is a significant price difference between the two explained by the rarity of a natural stone as opposed to a potentially mass-produced (less unique) synthetic one, making the natural option more desirable. The costs involved in the discovery, mining and shipping of a natural stone also have an impact on its price.
4. What would you say is the most sought after "style" of jewellery?
Again, there is not one "correct" answer to this question, but what we would define as the most requested style and therefore "safest" investment is the Art Deco style. Click here if you want to learn a little bit more about it! Art Deco and its iconic geometric lines has proved to be a classic look. This fabulous style always uses a gemstone to its advantage.
Art Deco is definitely still on trend, and to be honest we don't think it will ever be "out"!
We hope this has helped answer any queries you may have. If you have any more questions please feel free to comment on this post and we will be more than happy to reply!
Marushka Frandgie – Sales Assistant / Digital Content Editor
Marushka joined AC Silver in 2014 bringing hands on experience in jewellery retail and management in addition to a Master's Degree in Media and Journalism.