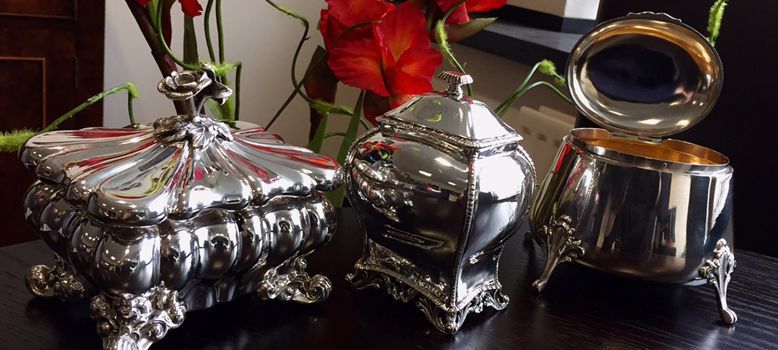 'What is a Tea Caddy?'
Yes, the big question on your mind when you sprung out of bed this morning – we guessed! Don't worry, we'll help you answer this one…
A caddy – 'A small storage container, typically one with divisions.'
So believe it or not, when you put two and two together, a tea caddy is 'a small tin in which tea is kept for daily use.'
In literal terms, I could wrap this blog up and leave it at that. However, when becoming familiar with items of such quality through work here at AC Silver, I feel there is plenty more to be discussed.
What is a tea caddy?  In my opinion, an (antique) tea caddy is more than just 'a box';  it represents an era, the period which it was first produced and all the associated history. A  good-quality tea caddy has a strong aesthetic appearance, achieved through the  attention to detail and craftsmanship.  Not forgetting its function of storing the ingredient behind the nation's prize possession – a good old brew!
First Things First…
The word 'caddy' is believed to be derived from the term 'kati', the Malaysian term for approximately 1lbs in weight. The earliest examples of the tea caddy to arrive in Europe were similar in size and  shape to the ginger jar and were made of Chinese porcelain. They had lids, (to keep the tea leaves dry), and were most commonly blue and white. Until the 1800s, 'tea canisters' was the preferred term, rather than caddies.
'The Tea Boom'
Although tea was introduced to England in the early 1600s, it was the 18th century that saw the tea boom. As you can imagine, tea leaves were an extremely precious cargo as they had to be transported thousands of miles by sea before arriving in the UK.   The perceived value and high demand for tea leaves meant that it was only fitting that the expensive cargo should be stored somewhere special once transported. Yes, you guessed it, tea caddies provided the answer to this dilemma. They were the ultimate solution. Their intricate designs and depictions provided a fitting home for the exotic leaves…  Caddies were often fitted with locks, ensuring that the highly priced leaves were kept safe.
Although the practicality and function behind the tea caddy is no longer an issue due to developments in mass production and transportation, it appears that the character of a tea caddy and the collectable nature  is enough to secure its spot in the homes (and hearts) of many, no matter the value of the container or its contents.


<
You can view the full AC Silver tea caddy collection here or learn a little more about the history of the tea caddy
Marc Henderson – Social Media Executive
Our Social Media Executive – Marc will continue to keep the followers of the business entertained on our social media outlets and will assist with developing the brand online.