Being based at the retail premises of AC Silver I have the pleasure of cleaning all the silver we have on display. This gives me a great opportunity to admire these fabulous pieces and imagine the previous homes they had. My favourite items to do this with are cups and trophies, trying to guess which tournament they were awarded for and who might have been the winner.
One of the most famous sports competitions in the world is of course Wimbledon. There's nothing that reminds me more of a British summer than this tennis tournament. The strawberries and cream, the Pimms, and of course the scones; and how lucky are we this year with the gorgeous weather?
The most iconic Wimbledon trophy is of course the Men's Singles one, which was first awarded in 1887. This impressive piece of silverware is made of silver gilt and stands 18 inches high, with a diameter of 7.5 inches. The current value of the trophy remains a mystery in the sporting world, but we do know that it was originally bought for a mere 100 guineas (approximately £105). I asked Mr Campbell to estimate its current worth and he gave me an eye watering figure in the thousands. This trophy is a true symbol of the investment potential of silver
For the Women's Singles winner, a sterling silver partly gilt Salver is awarded, known as the Venus Rosewater Dish. This fine piece measures 18.75 inches in diameter and has a mythological design to it. Ovolo moulding makes up the rim of the salver.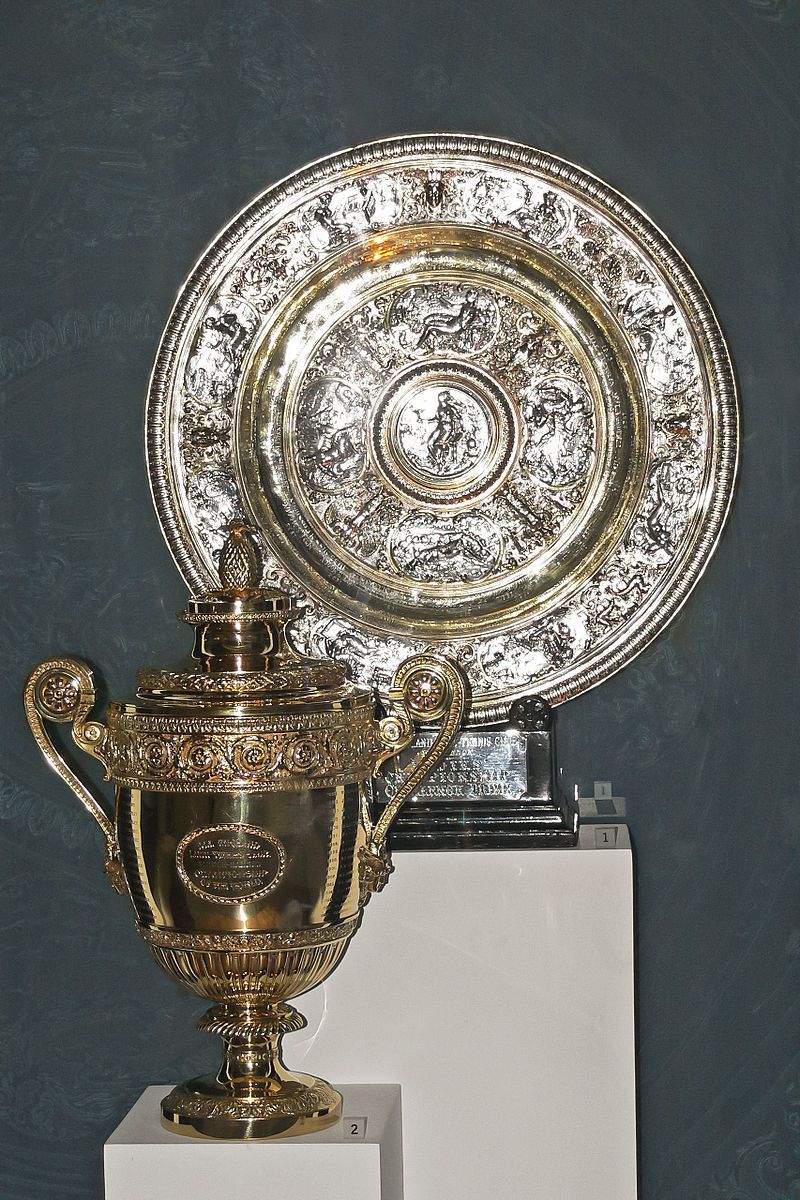 These two different trophies are a great example of the shapes and sizes these pieces can come in. We have an extensive collection of trophies and cups here at AC Silver, some which are designed especially for a certain sport, and others which can be used as prizes in any competition. Below is a selection of my 'winning' pieces.
This fine Racing Presentation Cup with a modelled horse on top would be the perfect trophy for a riding event such as Royal Ascot or Burghley Horse Trials.
A trophy to rival the Wimbledon one; this impressive Victorian piece is 15 years its elder, but would definitely make the perfect prize.
This stunning Victorian presentation jug features scrolling leaf designs that elevate it to any formal occasion. This trophy has a majesty to it that makes it the perfect winner's prize.
Hosting a country show this summer? This modelled Bull presentation piece would definitely make the perfect prize.
The above pieces are just a fraction of our wide range of Cups and Trophies and I'm sure there is one to suit every occasion. Now time to enjoy Wimbledon; will you be sitting on the edge of your seat hoping Andy Murray takes home the title again? Or are you more interested in the Pimms? I know which one I'll be picking.
"Murray Wins Wimbledon" courtesy of Robbie Dale is licenced by CC BY 4.0.
"Wimbledon Trophies" courtesy of Benjamí Villoslada Gil is licensed by CC 2.0.
Katharine Biggs – Sales & Digital Content Contributer
Katharine joined AC Silver as part of the retail team, and almost immediately became actively involved in the numerous internet media used to support sales. Katharine brings a young and fresh approach to the business and this is reflected in her blog writing style.