A new arrival has well and truly swooped into the AC Silver collection… an interesting, intriguing little fella, in the form of a stork.
What is so intriguing? I hear you say… Easy, just take a look… simply a pair of scissors/some sort of cutting device? Maybe, maybe not, we'll get to that soon…
The symbolism of the stork
The stork is commonly seen as a representation of birth (yep, you may have seen Dumbo), but where does this association come from? Well, the natural behaviour of a stork lends a clue to the answer… Storks are a migratory bird; the white storks would fly south in the autumn, returning to Europe nine months later. The white storks can usually be seen heading north and nesting around March and April. Babies born in March and April were likely conceived in June of the previous year… Midsummer's Eve takes place in June, the 21st, a celebration of the summer solstice as well as a pagan holiday of marriage and fertility.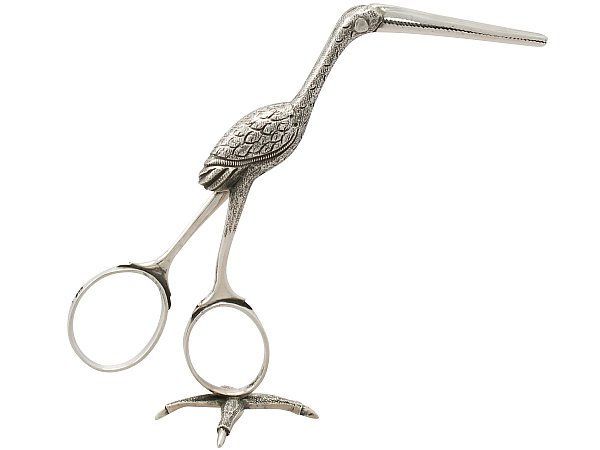 Many marriages, coupling-up, 'etc' would take place during this time, meaning many babies would be born at the same time as the storks were seen flying north, creating the idea that 'the stork brought the baby.'
In some countries it was believed that leaving sweets on display in the window was a way to let the storks know that the family was ready for a baby.
Yet ANOTHER belief was that the stork was a strong symbol of good luck… Storks had a tendency to nest on people's roofs and chimneys, leaving people under the illusion that if a stork was to land on their roof, a child would be born to the couple living in that house, as a result of this.
Getting back to our stork 'scissors'…..
Now that we've established the stork's association with child-birth, it's time to get down to the nitty-gritty and discuss the function of the item in question.
Suggestion One:
Following an item appraisal, this silver stork is listed on our website as a pair of 'antique sterling silver ribbon pullers/threaders' – with the beak/blades being used to grip fine ribbons. 'Functionally used to thread ribbon through the eyelets incorporated in BABY clothing.'
Suggestion Two:
A slightly more 'direct' link to birth than suggestion one… Stork 'scissors/clamps' have also been known as a device used to cut the umbilical cord/tie off the umbilical cord after a woman has given BIRTH. Yep, you heard correctly! To us here at AC Silver they simply don't seem sharp enough for such a task.
Suggestion Three:
The third 'functionality' suggestion for our little friend isn't much brighter if I'm honest! When the nanny of wealthy families was absent, the parents would use the beak/blade of 'scissors' to pick up and dispense of their BABY's used nappies.
Final thoughts…
After carrying out research online, it is safe to say that the internet provides a great range of information and suggestions… What you choose to believe and what you choose to dismiss is personal!
The 'ribbon-pulling/threading' option offered is generally accepted as the most common use.
The link to birth and children is evident, and I hope I've provided a broader understanding of the concept and usage behind our ribbon pullers.
Please share your thoughts with us and comment below.
Marc Henderson – Social Media Executive
Our Social Media Executive – Marc will continue to keep the followers of the business entertained on our social media outlets and will assist with developing the brand online.