November – the autumn season covered in warm, rich tones of gold is a favourite at AC Silver. Here we have hundreds of golden treasures, some familiar pieces, others more unusual or even rare. Let me introduce you to a hand-picked selection from AC Silver's diverse range of beautiful and exquisite pieces.
The Gold Frame
Firstly – a magnificent, fine and impressive antique 14 carat yellow gold photograph frame by Tiffany & Co. Renowned makers, Tiffany & Co. craft highly collectable items that are widely sought after.
Crafted with travel in mind, the four panel frame folds up to close with a push fit catch. The hallmarks of this exceptional item confirm that it was crafted in New York during the 1920s, arguably one of the best periods for the Tiffany & Co. brand.
Perfect for anyone who wants to keep their loved ones close while they're on the move, this frame is priced at £4,750.00, an excellent price for such a valued and collectable item.
SKU: C1067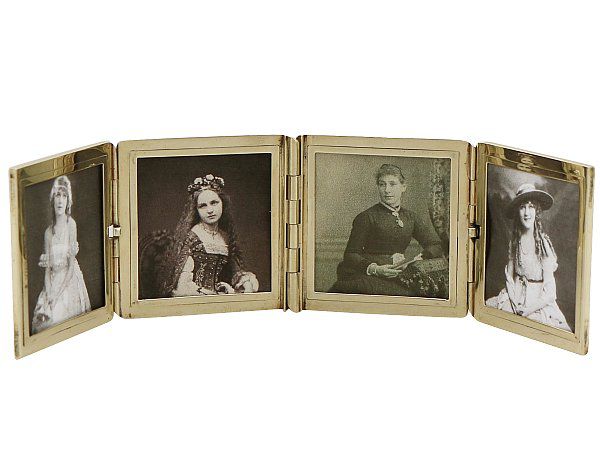 Secondly – an exceptional antique Victorian 2.30 carat Old European cut diamond, 18-carat yellow gold solitaire ring.
The rich colour and substantial gauge of gold compliments the rounded diamond, enhancing its beauty. With an effective scrolling design to the ring shoulders, this ring becomes an original yet timeless piece of jewellery.
At £13,950.00, this ring is a one of a kind investment worth not missing out on.
SKU: W7233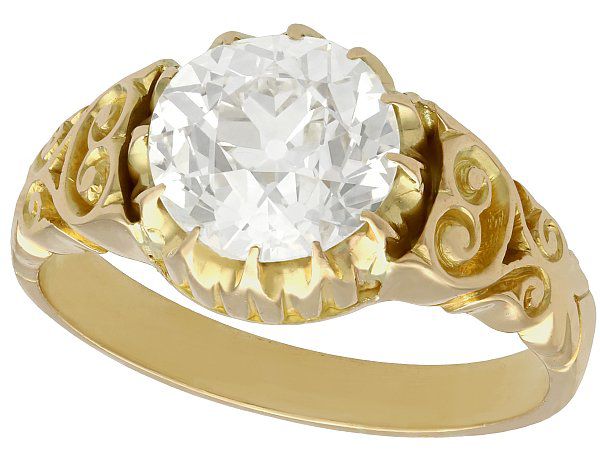 Thirdly – this 3.78ct diamond and 18ct yellow gold bracelet must be seen to be truly appreciated. Which woman wouldn't lust over a bracelet embellished with twenty-seven individual diamonds?
This exceptional piece of jewellery glistens and sparkles with all of the light that the modern brilliant round cut diamonds refract, most definitely catching the eye of others. This stunning and classic tennis bracelet doesn't have to be worn whilst playing tennis, the style was popularised by female tennis players in the 1980s. Today this versatile design can be worn to accent any casual dress or to enhance a sophisticated evening dress.
With a price of £6,950.00, this decadent bracelet is a very special treat indeed!
SKU: C1351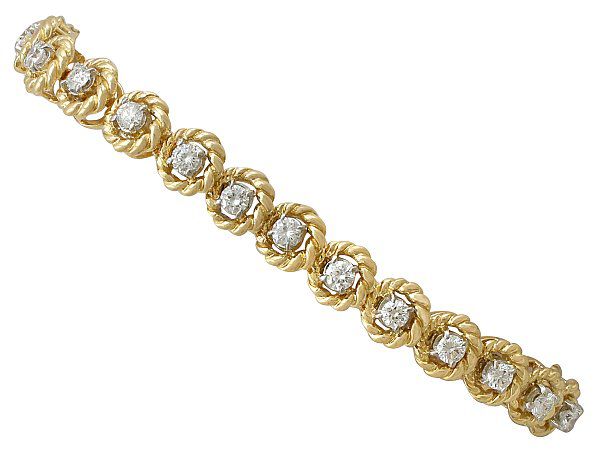 Fourthly – a very fine and impressive antique Swiss 14ct gold snuff box.
Traditionally this snuffbox would be used to store and refresh 'Tobacco' . Today however such a box may have other uses within an office or simply used as an ornament as it is indeed a very beautiful piece to admire. This box is ornamented with chased floral decoration.
A price of £6,950.00 reflects the exceptional gauge of 18 carat gold, offered in prestige condition, dating back to 1840.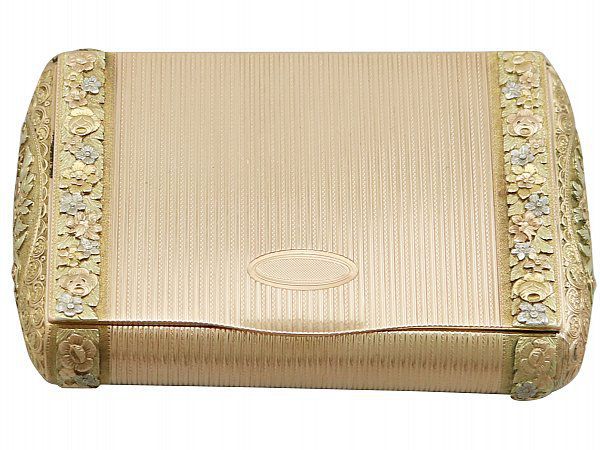 Lastly – a fine and impressive vintage 1.12ct ruby, 1.01ct diamond, and 18 carat solid yellow gold watch. This classic watch reflects the popular architectural styles of the Art Deco period, and dates to the 1940s.
Priced at £2,250.00, this is an affordable vintage watch, decorated with fifteen rubies and twenty-five diamonds. This stunning watch stands out due to the warm, rich tones of 14 carat gold making it a classic timepiece.
SKU: A9590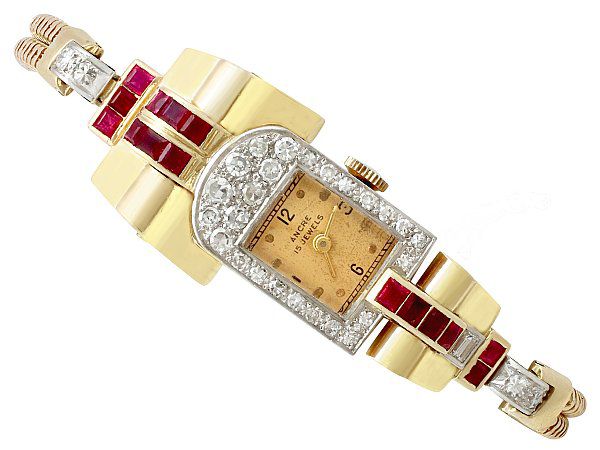 As you can see from the five golden treasures above, the range of items at AC Silver crafted in yellow gold is diverse. Each unique product is a fine example of its type, so rarely duplicated today. Winter may be drawing in, but the warmth of yellow gold may well help to fend off those winter blues!!