November – the autumn season covered in warm, rich tones of gold is a favourite at AC Silver. Here we have hundreds of golden treasures, some familiar pieces, others more unusual or even rare. Let me introduce you to a hand-picked selection from AC Silver's diverse range of beautiful and exquisite pieces.
The Gold Jug
Firstly – a magnificent, fine and impressive antique George V English 9 carat yellow gold claret jug. With an astonishing price of £97,950.00 this beautifully embellished jug is a unique example of high quality craftsmanship.
Attention to detail is taken quite literally here: on one side illustrations of the 19th century painting 'The Birth of Venus' is replicated. With nymphs, musical instruments, children and dolphins, it makes this item truly 'one of kind'.
Found in our wine and drinks collection, this claret jug would be an obvious asset to anyone who appreciates fine wine, served form an elegant decanter. Alternatively, who wouldn't be overwhelmed to receive this as a stunning winner's trophy at a prestigious event.
SKU: A2345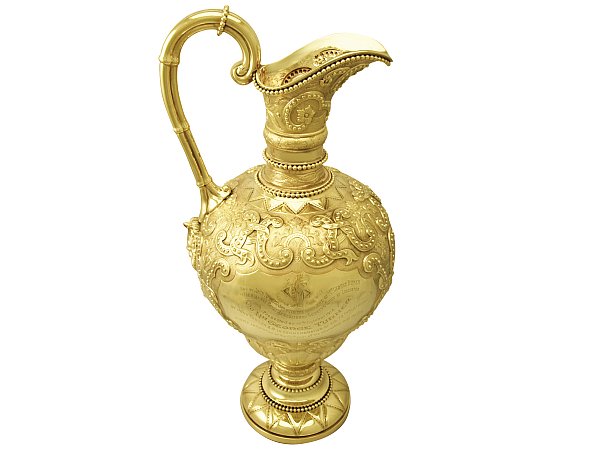 Secondly – an exceptional antique Victorian 2.30 carat Old European round cut diamond, 18-carat yellow gold solitaire ring.
The rich colour and substantial gauge of gold compliments the rounded diamond, enhancing its beauty. With an effective scrolling design to the ring shoulders, this ring becomes an original yet timeless piece of jewellery.
At £13,950.00, this ring is a one of a kind investment worth not missing out on.
SKU: W7233
Thirdly – this dainty but impressive 12-carat diamond, 18 carat yellow gold contemporary tennis bracelet must be seen to be truly appreciated. Which woman wouldn't lust over a bracelet embellished with thirty individual diamonds?
This delicate and intricate piece of diamond jewellery glistens with sparkles, most definitely catching the eye of others. This stunning and classic tennis bracelet doesn't have to be worn whilst playing tennis, the style was popularised by female tennis players in the 1980s. Today this versatile design can be worn to accent any casual dress or to enhance a sophisticated evening dress.
With a price of £11,995.00, two safety clasps have been incorporated into the design to ensure safe wearing!
Fourthly – a very fine and impressive antique George IV English 18 carat yellow gold snuff box.
Traditionally this snuffbox would be used to store and refresh 'Tobacco' . Today however such a box may have other uses within an office or simply used as an ornament as it is indeed a very beautiful piece to admire. This box is ornamented with chased floral decoration.
A price of £8,950.00 reflects the exceptional gauge of 18 carat gold, offered in prestige condition, dating back to 1812.
SKU: A2575
Lastly – a fine and impressive vintage 14-carat solid yellow gold Rolex Oyster Perpetual watch. This classic gentlemen's watch retains the authenticity and originality of a vintage Rolex dating back to the early 1950s.
Priced at £6,950.00, this is an affordable classic watch from a very popular period of Rolex watchmaking. This iconic watch stands out due to the warm, rich tones of 14 carat gold making it a classic timepiece associated with style and success.
SKU: W8480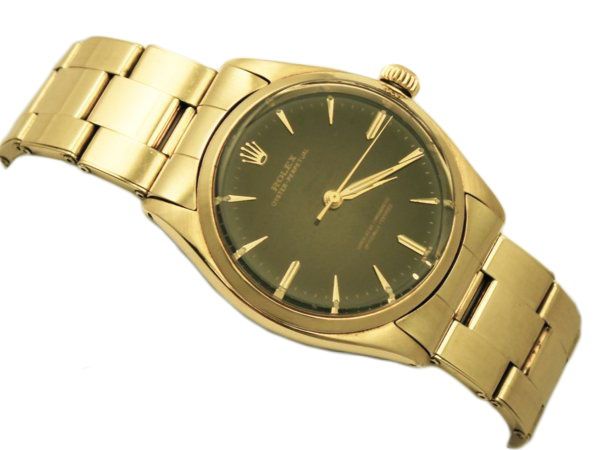 As you can see from the five golden treasures above, the range of items at AC Silver crafted in yellow gold is diverse. Each unique product is a fine example of its type, so rarely duplicated today. Winter may be drawing in, but the warmth of yellow gold may well help to fend off those winter blues!!