Artlessly an argyll/argyle is a clever pot: It's gravy warmer.
You might not realise it, but there's a lot of history associated with an argyll.
The Arrival of the Argyll
These argylls also spelled 'argyle' were famously named after the fifth Duke of Argyll, John Campbell in the mid 18th Century. The duke and his princess wife Elizabeth Gunning, resided in a chilly Scottish castle and disliked the fact their gravy arrived cold at their table during the winter season. To prevent this from happening, the argyll was born along with process of keeping the gravy warm. By heating a small internal compartment initially with a heated iron rod the contents ie gravy were easily kept at an ambient temperature during the meal.
This was only the start of argylls – with imagination and inspiration, different shapes and sizes were created. Several adaptions were made and the heated system improved. "Vessels of double-walled construction, allowing hot water to be poured into a jacket surrounding the interior" superseded the iron rod method. (G. Bernard Hughes, 1952)
Argyles and their use of keeping gravy warm was well understood in the later eighteenth and early ninetieth centuries however previously this was not the common case. As Michael Clayton points out that many 'Argyles were later sold as individual coffee pots' (Clayton, 1971) and Clark himself at first glance described this one as a 'curious little water warmed coffee pot' (Clark, 1926).
Here at AC Silver, our exceptional, fine and impressive antique George III English sterling silver argyle; is an addition to our Georgian dining silverware collection. This design is particularly attractive; it has a plain cylindrical form embellished with a contemporary engraved crest of a dexter hand and arm fessways armed and holding a broken dagger in pale, to one side. This impressive example of Georgian silverware is fitted with a domed push fit cover surmounted with a silver ball style finial.
This simple yet effective design, fitted with the original carved pear wood C shaped handle is a statement in itself.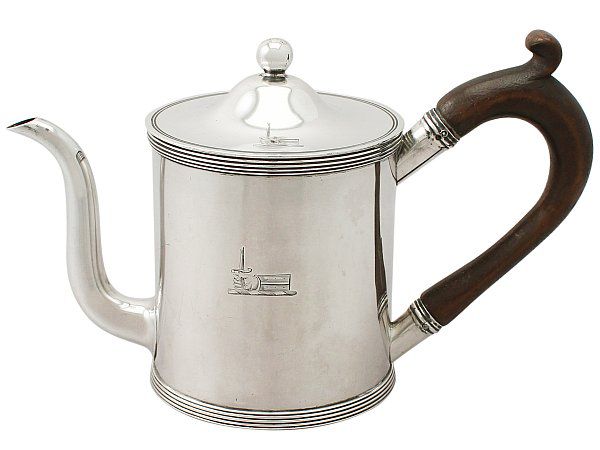 Maker: William Plummer
Origin: London, England
Date: 1787
Price: £3,950.00
Bibliography
G. Bernard Hughes, " Silver Argylls", Country Life III (18 April 1952) 1168.
Clayton (1971) p 15.
Clark (1926) Clark's diary entry, SFCAI archives.