At AC Silver, we are fortunate to have some wonderful examples of antique silver tapersticks. Tapersticks are miniature table candlesticks used to hold a wax taper, and are sometimes referred to as taper candlesticks. They are rarer than regular candlesticks and very few existed prior to the Queen Anne period. They are usually found in singles and pairs of tapersticks retain a much higher value.
Tapersticks are similar to chambersticks, though traditionally chambersticks include the shallow pan at the base of the stick, to catch the falling melted wax. This is because the candle would be lit and then carried to the bedroom, or chamber, from another room in the house.
Occasionally, like the fine example we are able to offer, a piece of silverware can be both a taperstick and chamberstick! This style of taperstick is traditionally mounted to the centre of an inkstand, however this piece also has a wax pan at the base, so that once it is removed from the inkstand, it could then be used as a chamberstick. Although this model was created in 1833, the design is nevertheless stunning, and it sits alongside it's original hallmarked candle snuffer!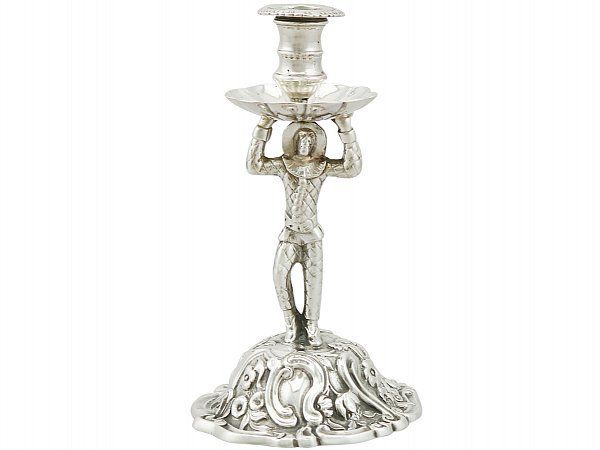 Simply put, tapersticks are designed specifically for holding thinner, tapered candles. These were far more frequently required in daily life during the 1700s, having numerous household uses including melting the wax seals that were used when sending letters – which was certainly much more common during this period as this was the only method of communication available between parties at any significant distance apart! Often the taperstick was created to be part of the inkstand for this purpose, and was therefore integral to the home at the time.
Other uses for tapersticks include the lighting of tobacco pipes as well as for the obvious use of lighting other candles, which were far more crucial and practical in everyday life before electric light.
Tapersticks, like many other items of antique collectable silverware, have their value determined by the level of craftsmanship and skill that was required to produce them. Figural tapersticks can command larger sums if they are of particular novelty value or are unusual in their subject matter.
These pieces are wonderful examples of our range of antique silverware, and are suited alongside contemporary and antique furniture, décor and accessories alike. Due to the classical style these were created in, they fit seamlessly into the modern home. Tapersticks are frequently fashioned in a simple form, however they are benefitted by extraordinary minute details.
Tapersticks are as practical, stylish and beautiful as they were when first created, and maintain their popularity amongst collectors and admirers alike.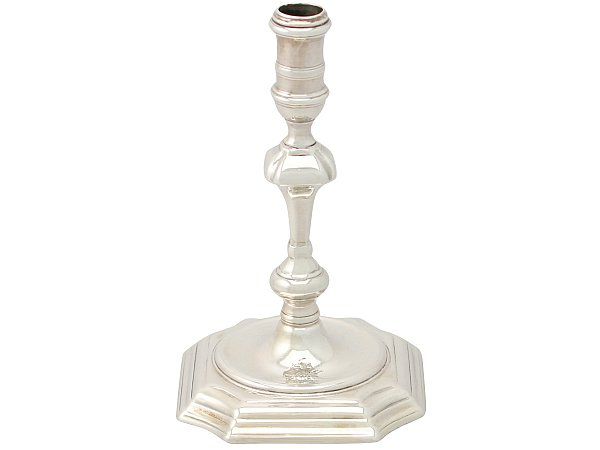 Jodie Smith – Copywriter
Jodie joined AC Silver in 2016 as a copywriter after completing a degree in English Literature, possessing a passion for jewellery and unusual antiquities combined with an interest in blogging.