Gate bracelets came into fashion during the Victorian era, although their exact origins are uncertain. The name 'gate' bracelet alludes to the unusual chain style of interlocked barred panels. These panels are said to emulate the gates and fences of English country estates and castles. The chain style of the gate bracelet is similar to both the fetter link and the belcher link chains.
Gate bracelets are distinguished by a large heart shaped charm with a lock and key- the fastening of the bracelet. It is said that gate bracelets were created in Victorian Britain in order to symbolise love and fidelity. The gate bracelet is a perfect representation of the Victorian obsessions with romanticism and chastity.
Gate Bracelet History
As the legend goes, gate bracelets would be worn by women whose significant others were leaving for an extended period of time. This may have been due to the army or they simply could be travelling afar. The bracelet would be locked on to the woman's wrist by the padlock charm, to which only her beloved would have the key- he would then open it upon his return. The 'gate' style chain is chosen to symbolise strength and security around an especially precious and valuable property.
Victorian gate bracelets were usually crafted in 9 carat, 10 carat and 14 carat gold, as platinum was yet to be created and silver was not as fashionable during the Victorian era.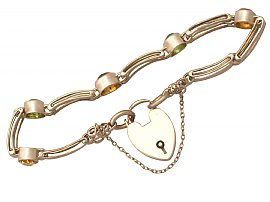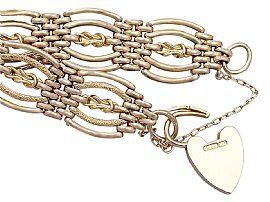 Although it is clear that these bracelets were considered to be a gesture of romantic love during the Victorian era, the assertion of one's lover 'belonging' to them seems a little draconian in hindsight. After all, the style of the gate bracelet does have a lot in common with the chastity belt!
Despite this, it is possible to view the gate bracelet as a wonderful example of Victorian jewellery and appreciate the ways in which the Victorian mindset influenced fashion and accessories. Gate bracelets are still replicated today, and with both charm bracelets and chunkier accessories being back in vogue, gate bracelets are more fashionable than ever!
Most of the surviving antique Victorian gate bracelets are possible to wear and secure without the key which locks the charm, making them more accessible and easy to wear. Nowadays you don't need to wait for your beloved to come back from sea to unlock you!
Here at AC Silver we are fortunate enough to have several examples of gate bracelets, some of which feature the traditional gate link chain as well as the heart shaped padlock charm. For those who prefer the symbolism of the 'gate' chain without the charm padlock, we are also able to offer our customers several gate bracelets which have a simpler fastening style.
Antique Victorian gate bracelets are a fantastically charming homage to the past and a reminder of traditional values in the relationships of a bygone era!
Jodie Smith – Copywriter
Jodie joined AC Silver in 2016 as a copywriter after completing a degree in English Literature, possessing a passion for jewellery and unusual antiquities combined with an interest in blogging.