There is a vast variety of silver designed to hold candles, from candlesticks to candelabras. Chambersticks are distinct because they are designed to be carried. They are shorter in height, with a flat, circular base that was sometimes ornamentally shaped. This was to catch any dripping wax, keeping it from falling onto the floor or coming into contact with clothing.
Other features of the chamberstick are a central socket to hold the candle, a sconce which can sometimes be removed, and a handle to the side. Some examples even feature a snuffer. The name is directly related to the purpose of the item, as chambersticks were mainly used for escorting one to and around their chambers without getting wax everywhere. They can be made from silver, brass, pewter or porcelain. The materials used changed roughly with the centuries, making dating examples easier than with many items.
Chambersticks were typically kept by the entrance hall so they could be used by any family member that was looking to retire for the evening. In the morning, chamber maids collected the chambersticks, cleaned them, and returned them for use again. Wealthy 18th century households had a candle man, employed full time for the explicit purpose of looking after all the candlesticks in the house.
The type of wax used in chamberstick candles was tallow, as opposed to the beeswax that was used for most candles in the home. Beeswax burns 3 times brighter than tallow, which made them useful for lighting entire rooms, as candlesticks were generally placed near mirrors in order to maximise the light achieved. Since the chambersticks were only used to light the darkness from room to room, and then used to light the candlesticks in the room, it would have been wasteful for them to be made of the same wax as most candlesticks.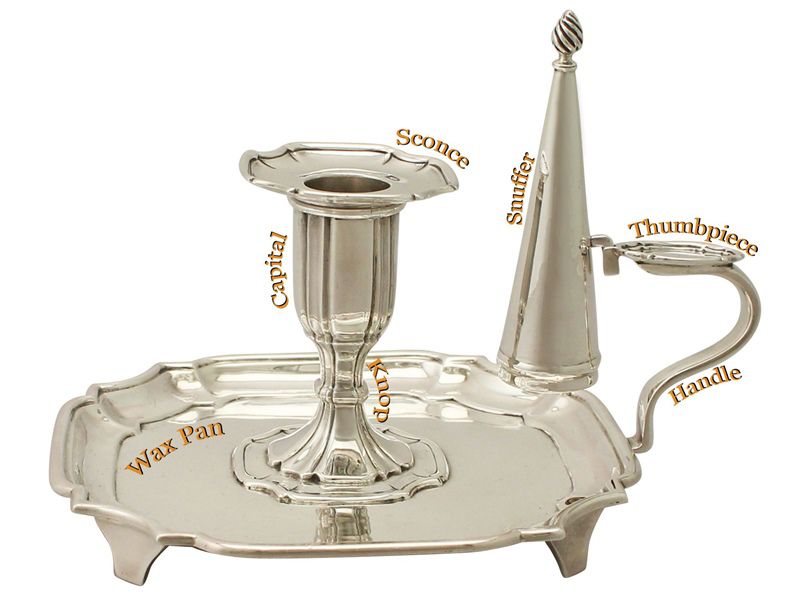 Louise Snowdon – Website Content Contributor / Sales Professional
Louise joined AC Silver with a passion for the world of antiquities and jewellery. Louise also assists the marketing team by representing the business on many social media outlets.