Choosing a diamond as the main stone in an engagement ring became popular in the late 1940s and continues to be a top choice. However, engagement ring trends are constantly changing, this is often down to the influence of celebrities, advertising, or the wider world of fashion.
A recent example of this can be seen in relation to 'royal' fashion. Both Diana and Kate middleton were proposed to with a sapphire cluster ring and, as could be predicted, this style soured in popularity. Despite the passing trends however, some customers choose to swim against the tide and opt for something a little more unusual…
Join us as we look at some of our favourite unusual diamond engagement rings and what makes them so different!
Unusual Shape
I want to start by looking at some diamond rings which have a rather unusual shape. Arguably the most popular shape at the moment is the Modern Brilliant round cut. It's very easy to see why!
The way the stone is faceted gives it an amazing sparkle that will catch with even the smallest amount of light. However, as you can tell from the name, it is a very 'modern' cut and hasn't been around for very long.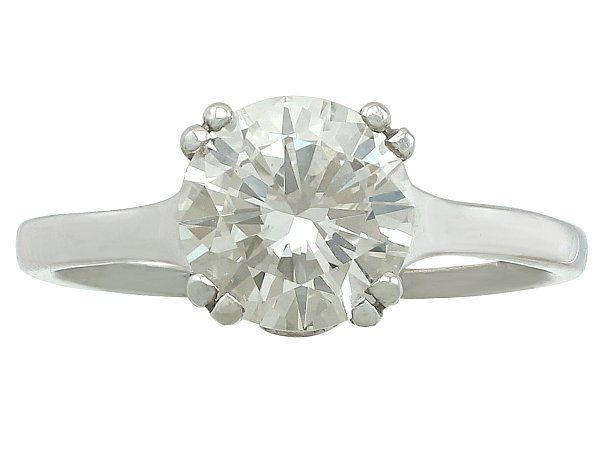 This brings me to my unusually shaped ring, our 0.85 ct Diamond and yellow gold solitaire (circa 1900). Personally I love this ring and feel it has so much character, it also has a beautifully subtle warm sparkle to it. The name of this diamond cut is Old European pear; it is very close in aesthetics to the pear cut, but judging by the age we know that it would have been cut by hand, accounting for the slightly odd shape. Remember the 4 C's were not around in the 1900s!
This diamond has a brilliant grading. It is an E colour and has a clarity of VVS2. It would be the perfect choice for a bride who is looking for something that is subtly unusual and most definitely unique!

Find out more about diamond grading here.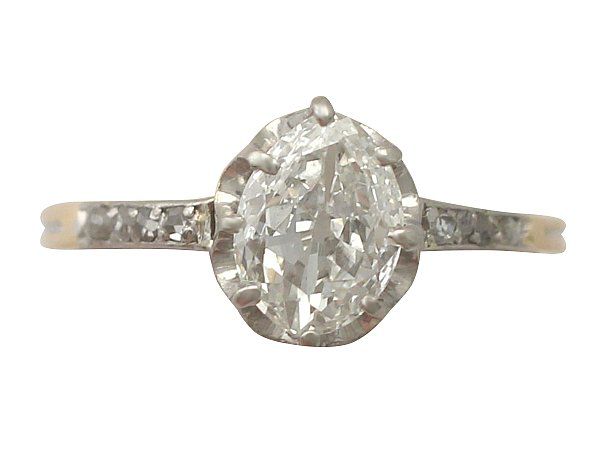 Unusual Design
When you think of an engagement ring most people will picture a diamond solitaire or sometimes a cluster or trilogy ring. One style however, that used to be incredibly popular and have since become more unusual, are two stone rings or 'toi et moi' rings. Personally I really can't understand why this style isn't a more popular choice; not only is it a gorgeous style, it also has a lovely meaning.
Toi et moi rings represent the love and union of two people and the twining of their two souls. I think this symbolism makes a two stone ring a beautiful choice for an engagement ring. This style of ring first became a popular choice in 1776, when Napoléon gave Joséphine a beautiful sapphire and diamond engagement ring. Of course toi et moi rings don't HAVE to be two diamonds, they can consist of any combination of gemstone.

Find out more about toi et moi rings here.

Unusual Colour
Fancy coloured diamonds are becoming more and more popular, however I would still consider them an unusual choice, especially in comparison to the classic colourless diamond. Coloured diamonds look beautiful; the only downside is often you have to pay a bit more for them.
Here at AC Silver we have a few fancy coloured diamonds, but this Fancy yellow diamond and platinum ring would make a gorgeous engagement ring for any bride that wants to add a subtle bit of colour.
Fancy diamonds like all other diamonds can vary in price depending on their carat weight, cut and clarity. Their colour however, is graded slightly differently; the naturally vibrant examples will be more expensive than a paler stone.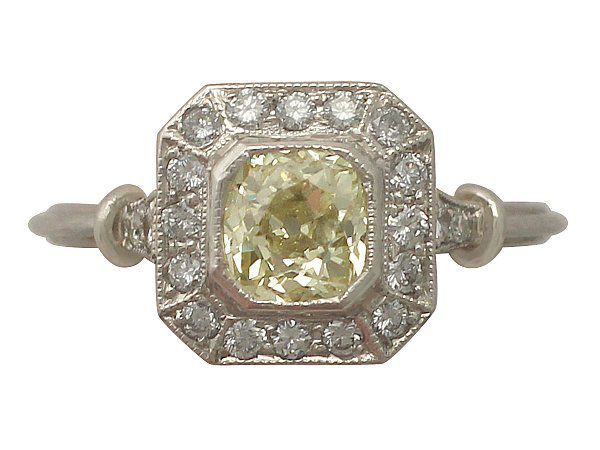 Unusual Theme
This ring would perhaps be the most unusual choice of my selection. Of course, it is a celebrity engagement ring. You may have already guessed but I'm talking about the amazing diamond spider ring Nick Carpenter gave to Bridget Marquardt. I think this ring is amazing and, as Bridget said, she wanted something different and she definitely got it!
Animals, particularly insects, have been used in jewellery for hundreds of years. Queen Victoria herself was presented a snake ring from Prince Albert to mark their engagement. Sometimes unusual animal themed rings can show real thought and personality. They are a great choice for a bride that truly wants to stand out from the crowd. However, it is fairly unlikely to just stumble across something this different and specific, so it is likely that it would have to be specifically designed.
Unusual Age
Finally, my favourite ring of an unusual age… I have chosen our 0.76 ct Diamond ring, crafted circa 1820! This ring is nearly 200 years old now and would still be suitable to wear everyday (as most women like to do with their engagement rings). It is also a very unique design that instantly looks aged and from a different era, which I think makes it feel really special!
Similarly to other rings from this period, the diamonds aren't of the highest quality when it comes to clarity and colour. Back in these days, the stones would have been chosen solely on their look and how they work as part of the ring (rather than their grading, which didn't exist back then).

Find out more about antique and vinatge jewellery here.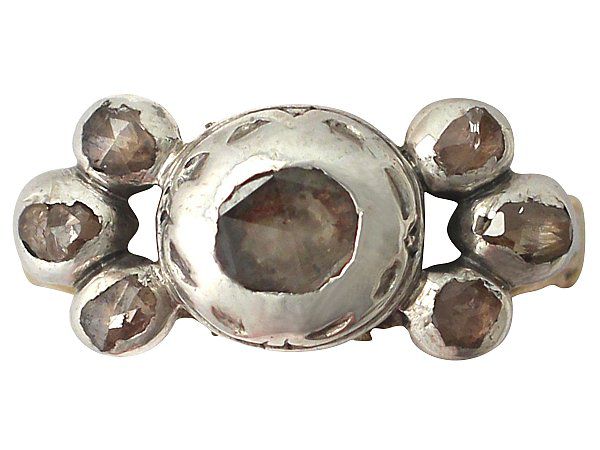 I think all of these rings are special in their own way and would suit a bride that is looking for something out of the ordinary! Which ring is you favourite unusual diamond engagement ring? Would you prefer something more on-trend and traditional, or do you like to stand out from the crowd?
Emma Wright – Website Content Contributor / Sales Professional
Emma joined AC Silver as a website content editor with an interest in luxury goods. Emma represents AC Silver on many social media outlets in addition to creating interesting blogs and articles.