The Early Pocket Watch
Pocket watch history spans from the 1500s through to the First World War. What had once become impractical is now back in fashion once more. One of the earliest mentions of the pocket watch dates back to 1462- in a letter written by an Italian clock-maker mentioning that his pocket watch was superior to that of the Duke of Modena.
While this image doesn't represent what would be considered as a pocket watch today, it is in fact a very early design of one. It is in fact the oldest clock watch that was crafted by Peter Henlein, dating back to 1510, and currently on display in a Museum in Nuremberg, Germany. While a timepiece of this age is impressove, there has been some doubt about its authenticity. This type of watch type is also known as a 'Nuremberg egg' due to its shape and height. There were three types of these clock watches made: high cylindrical drum watches used on tables or carried in purses, flat cylindrical watches, and spherical drum watches which were worn on chain around the neck (popular from 1580s).
Spring-driven clocks appeared at the end of the 15th century in Germany and Italy. This was thanks to the German watch maker Peter Henlein, who – in the 1520s – took his spring-loaded watch design to Britain. Due to this, by the 16th century the rest of Europe started manufacturing pocket watches. The minute hand was then tentatively used along with an increased number of wheels, introduced through Henlein's inner spring design.
At this time, jewels – usually rubies – were used as bearings within the watch, as they helped make the time pieces run more with smoothly. This was when pocket watches were fashioned from precious metals such as gold.
The pocket watch is designed to be carried around in a pocket, usually attached to a watch chain. The chain was secured onto a waistcoat, lapel, or belt loop which prevented the watches from being dropped. Watch chains were often decorated with a pendant which held a coat of arms, along with items such as a winding key, cigar cutter, and vesta case. If a watch chain was considered too cumbersome, the pocket watch was often mounted to a leather strap or fob. Only the hour hand was featured on these early watches; the minute hand wasn't regularly seen on watches until the late 17th century. Used by the upper classes and the working classes, pocket watches were an essential tool for all. Blacksmiths in particular frequently fashioned designs for the pocket watch. These earlier models were mainly made from steel rather than precious metals.
Pocket watch history shows us that they were the most common watch type from the 16th century until wrist watches took over after World War I in the early 20th century. The development of wrist watches began from the fact that pocket watches were impractical for combat, hence the trench watch was born. It is not known who specifically was the first to create the trench watch; the first series of watches that were produced were for the German navy in 1880. Brand names we know today such as Omega and Longines produced wrist watches for the military also. Until the 1930s, they were called 'wristlets', which was later replaced with the name 'wrist watch'.
Revival
In recent years, there has been an increase in people adopting vintage and antique styles, both in fashion and design. The pocket watch – particularly combined with the waist coat – is the epitome of this popular style.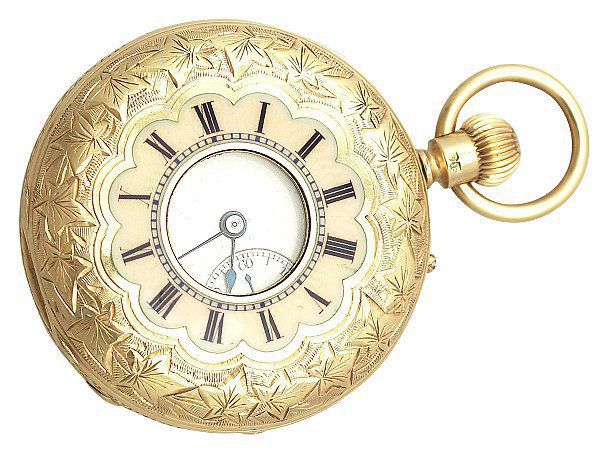 Pocket watches are a unisex accessory also, and though women's pocket watches aren't as common, there are still plenty of vintage and antique examples to be found.
Watch chains are an excellent way to accentuate a pocket watch if you already own one or have recently inherited one. Albert watch chains and double Albert watch chains are frequently the most common and popular options in this category. Each of the rounded curb links that compose this Albert watch chain are individually hallmarked with the 9 ct gold fineness mark. The chain is ornamented to the other end with an ornate chased decorated watch fob, modelled in the form of the 'Queens's Westminster Rifles' cap badge.
Pocket watch history has taught us a lot about the importance of time, and it's about time that the pocket watch was popular once more. Fashion from the past has come back, and along with it, pocket watches, watch chains, and all things time-keeping related. Be sure to keep up with the trend.
Louise Snowdon – Website Content Contributor / Sales Professional
Louise joined AC Silver with a passion for the world of antiquities and jewellery. Louise also assists the marketing team by representing the business on many social media outlets.