Although many of our customers are drawn towards luxurious items more suited for a 'special occasion', many also like to wear their jewellery on a day-to-day basis. When it comes to daily wear, it is important that you choose a ring that compliments your fashion choices and can be paired well with other jewellery. Criss cross rings manage to walk that sleek line between being eye-catching and suitable to wear for any occasion!
This style is contemporary and has recently increased in popularity with the help of celebrities and fashionistas! This ring type can often be found in white gold or even a mix of white and yellow gold crossing over. Some examples are encrusted with diamonds, whereas many designs stick to the more sleek and simple look. Needless to say, this is a design that could suit many different styles and occasions.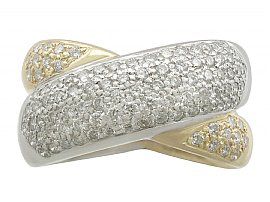 Criss Cross Promise Rings
One popular use of this design is as a promise ring. Promise rings are mainly used as a pre engagement ring: a promise of devotion and an upcoming marriage. In recent years however, it has also become fashionable to present a promise ring as an engagement ring (read more about promise rings).
Criss cross rings work well for this purpose as many believe they symbolise a unity between two people. The two lines represent the crossing of paths, and the merging of lives; no longer are these lives running side by side, but they are now intertwined, illustrating a strong bond. This criss cross ring meaning makes it perfect for a promise ring, or even an engagement ring!
How to Wear Criss Cross Rings
As this style is fairly modern, there is no long running tradition that dictates how they should be worn. Great news: we can make the rules ourselves!
Laid back and minimalist look: Wear your criss cross ring on otherwise bare hands- this way it will stand out but your jewellery won't be too overbearing.
More bling: These rings lend themselves well to stacking, and it's common for a few to be worn at once. They also pair well with midi rings further up the finger.
Pair it up: Pair criss cross rings with equally refined and elegant pieces; simple diamond stud earrings for example, or a tennis bracelet glittering across your wrist. I think that refined contemporary styles suit criss cross rings perfectly, but the choice is yours!
Similarly to the rest of your jewellery collection, criss cross rings will require love, care and attention. Make sure you clean your ring regularly with a gentle cloth and occasionally soapy water (see more on how to clean white gold) and store in a safe place.
After researching this gorgeous style I know I'm desperate to jump on board with this fashion, are you?
Delilah Kealy-Roberts – Sales and Digital Assistant
Delilah joined the AC Silver team as a Sales & Digital Assistant in 2017 after completing her degree in English Literature at Leeds University. Delilah possesses a passion for jewellery and antiquities combined with an interest in blogging and social media.