A quaich is a traditional Scottish drinking cup, common in the 17th and 18th centuries. It is a distinctive kind of shallow, two-handled drinking bowl or cup.
The quaich is said to have originated from the Scottish Highlands, where clan chiefs prized them as a token of hospitality. For centuries, they have been used around Scotland as a cup of friendship.
The Quaich Design
Traditionally, the quaich was made from wood, but now you can come across many made of silver or pewter.
In a similar manner, some quaich are highly decorative, whereas others are rather plain. There may be a personal engraving added to the quaich to signify a special event, perhaps when the quaich was initially used.
There are a few different designs for the quaich. Perhaps the most common one is a solid base quaich. Quaichs can also be made with glass bottoms, so that the drinker could still see everyone while they took a sip. Another style of quaich is those that are made with a double glass bottom, which could hold a lock of a loved one's hair so that the owner of the quaich could drink in their loved one's honour.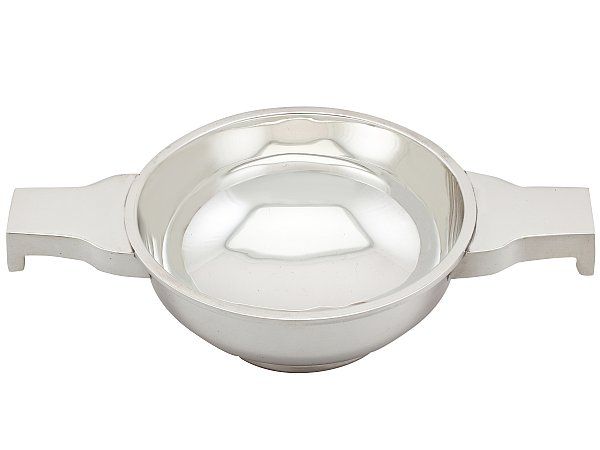 What does a Quaich Contain?
The quaich is usually filled with a beverage, the most common being whisky or brandy. Some of the large quaichs were used to hold ale. It has been suggested that the largest quaichs could hold up to one and a half pints of ale.
How do you Pronounce 'Quaich'?
Most people initially think it's pronounced quai(sh) as in quiche. Note: this is not how it's pronounced. The closer pronunciation is Quaich as quake with a hard 'k'. Then, there is the Scottish pronunciation, which has a more clipped sound then the hard 'k' articulation, the sound is actually made from the back of the throat and sounds the same as the 'ch' in loch.
What is the Quaich Ceremony?
A quaich ceremony is simply when a quaich is shared at an event, for example at a wedding, or traditional Scottish events such as Burn's Night. The quaich is passed from person to person. It is often referred to as the love cup for that very reason: each person takes a handle in turn to take a drink, showing that you trust one another to share the cup. It has been suggested that the real reason for holding the quaich with both hands when drinking is to ensure that no one present at the ceremony is holding any weapons in their hands when you meet them.
Resources
https://cullodenbattlefield.wordpress.com/2017/03/17/the-story-of-the-quaich
https://www.telegraph.co.uk/news/2017/01/25/quaich-scottish-cup-friendship
Rachel Atkinson – Digital Assistant
Rachel is AC Silver's Digital Assistant helping the website and marketing team with many digital tasks including blog post creation and social media assignments.