When you're going to pop the question to the special person in your life, you want to go all in and treat them the way you know they deserve to be treated. It's important to be practical, however, and not everyone can afford to be spending tens of thousands on a single piece of jewellery.
Smaller diamonds are not only more purse-friendly, but they also happen to be a very chic and minimalistic choice that a lot of women prefer. In this spirit, we've gathered together just 5 of our engagement rings that are under £2,000 to give you some inspiration.
Five Stone Diamond Engagement Ring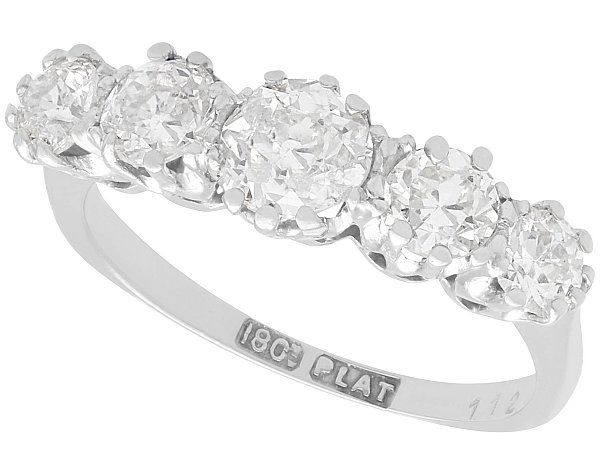 Our first entrant is this beautiful five stone ring. Even if the uppermost limit to your budget is two grand, that doesn't mean you should be limit for how blingy you want your engagement ring to be. This ring has not one but five diamonds, in varied sizes, featuring detailed grading information for both the central stone and the four supporting stones too.
Crafted in 18ct white gold with a platinum setting, this ring is stylish and sturdy, and is sure to last a happy lifetime. Five stone rings are a very popular ring style, and there's no need to think they may be out of your budget if you like the aesthetic of them. This engagement ring is antique, coming out of the 1920s, and it has that timeless look to it that's too good to resist – a showstopper for more than 100 years.
Diamond Solitaire Engagement Ring
The diamond solitaire ring is undoubtedly the most iconic engagement ring style. Originating in the mid-20th century, this ring type is perfect for someone that wants a simple, understated engagement ring. These rings are very flexible for any budget, allowing you to scale up or down as needed – if you've got room in your budget, you can choose to sport a single, sizeable diamond, or you can have a focal diamond with small accenting stones.
This example of the classic style shows a yellow gold band with a white gold setting; the white gold setting allows the diamond to appear larger, handy for anyone shopping on a budget. This particular ring is not a mid-century example – hallmarked with the date letter for 2001. Perhaps this makes it the perfect ring for couples who have known each other since this special year – or even just a good choice for someone looking for a ring with minimal wear.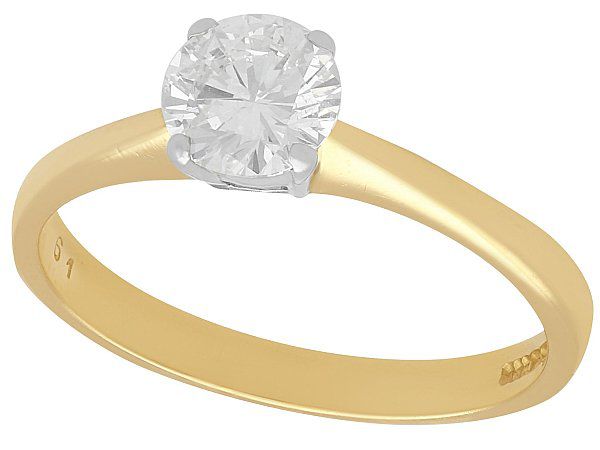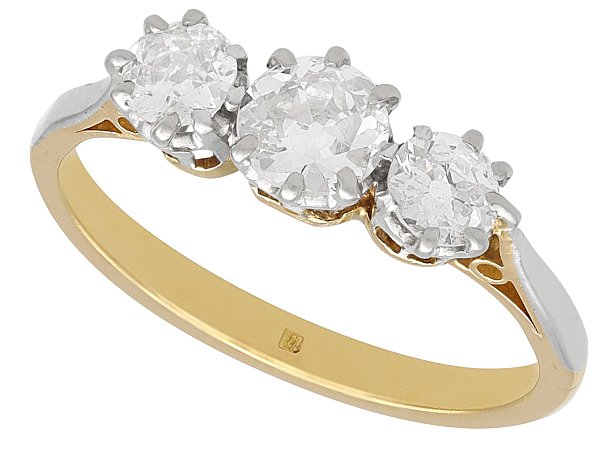 Diamond Trilogy Engagement Ring
Similar to the five stone and solitaire ring style, trilogy rings – also known as three stone rings – are an exceptionally popular engagement ring choice. Usually, the central stone is larger, while the remaining stones are similar in size, however this is not a hard and fast rule (in case you were hoping for something a little more funky). This trilogy ring features three claw-set diamonds. Claw settings, or prong settings depending on who you ask – are a timeless way of setting gemstones that allow heaps of light to enter them, creating a brighter and more sparkly finish.
The platinum setting on this engagement ring ensures the security of the stones – a crucial step that will often push an engagement ring over the 2k threshold.
You should consider a trilogy ring if you find solitaires a little too predictable and five stone rings a little too overwhelming. Trilogies have become increasingly popular in recent years, and create a subtle but effective spread over the finger that's both elegant and glamorous.
Unique Yellow Gold Solitaire Engagement Ring
Everybody's tastes are different, and this antique 1930s diamond solitaire ring is a testament to that sentiment. The stone itself is collet set – also known as bezel set – meaning that it is situated within a tight circle of metal. This setting style doesn't allow as much light to enter the gemstone, but it also ensures your diamond is held as securely as possible. With this particular ring, it almost doesn't matter about the diamond being there: the band is the star of this show!
The engraving decoration on this ring is floral in nature, creating a beautiful visual that takes this ring to a new level of versatility. This ring is perfectly suitable for a man or a woman, falling in line well with the recent increase in engagement rings for men. The band has a pleasing width to it that makes it unique without being over the top.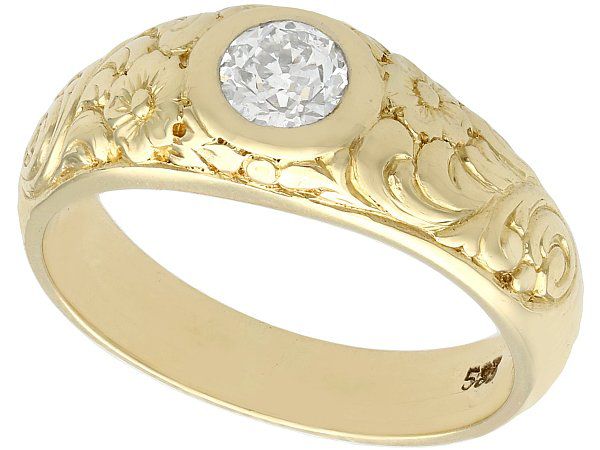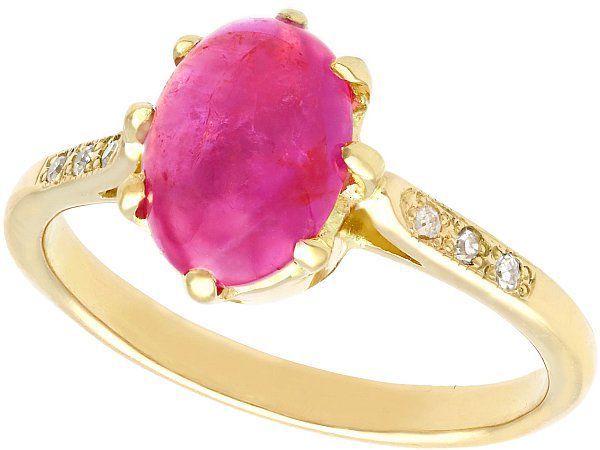 Pink Star Ruby and Diamond Engagement Ring
Something completely different comes in the form of our last entrant. This engagement ring features an oval cabochon cut star ruby as its feature stone. This is the ideal choice for anyone who likes the idea of an engagement ring with a coloured gemstone rather than the basic diamond. The yellow gold claw setting around this central stone creates a contrast with the pink colour that makes every little detail of this piece fantastic.
There are still a few small diamonds on the band of this ring to create a touch of sparkle that easily qualifies this ring as an engagement ring. Rubies are a great choice for a colourful engagement ring; they're generally durable enough for regular wear, and they add the perfect level of romance to an engagement ring through their rich colouring.
If you didn't see something in this round-up which appeals to you – don't fret – as we have an abundance of engagement rings that sit under the 2k barrier which could be exactly what you want. Check out our extensive engagement rings category to see what else we have in store for you.
Marushka Frandgie – Sales Assistant / Digital Content Editor
Marushka joined AC Silver in 2014 bringing hands on experience in jewellery retail and management in addition to a Master's Degree in Media and Journalism.