Silver salvers were once to be found in the home of any respectable host or hostess. They are flat, handle-less platters which appear in a variety of forms and styles. These range from circular to rectangular, to the less common octagonal shape. Salvers may feature one to four 'feet' that are used for support. They were used to present food and drink in a rather ceremonial fashion at social gatherings- quite the party piece! Salvers could also be used for the presenting of a letter or card by a servant. But what is the history of the salver, and how can you spot the difference between a salver and a tray? Read on to find out.
History of Salvers
Have you ever attended a dinner party and suspected that your host may be attempting to poison you? Hopefully this is not the case, however once this was not such an outrageous suggestion! In medieval times, specifically in noble households, there was a fear of poisoning among many royal guests. To combat this fear, servants tested food for poison before it reached the royal table (ethically questionable, yet effective). Once this process had been taken place, the food could be served to the noble guests. The food was presented upon a silver salver, which was used to signify that the food had been successfully tested. The word 'salver' is derived from the Latin 'salvare' meaning 'to preserve or save'. The 'salver' was then the 'savior' of many a nobleman in the medieval times.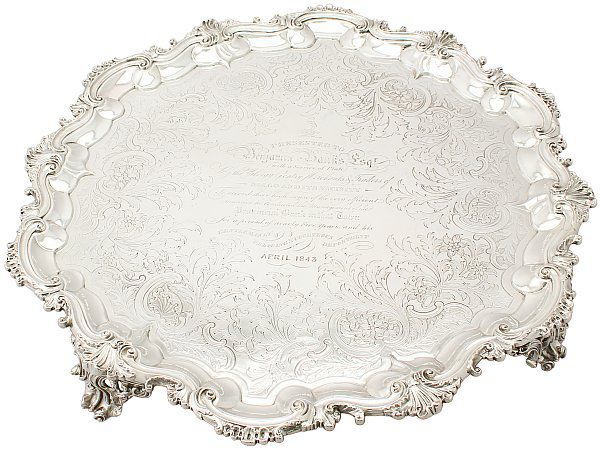 Salvers vs Trays
You may be wondering, what is the difference between a salver and a tray? After all, they look pretty similar. This is a fair question, especially since their functions are also quite alike. A tray is a flat, shallow container that is used for carrying or displaying food and drink (or related accessories). The word tray derives from the Middle English word 'treg' which means 'flat board with low rim'.
The main difference between salvers and silver trays is an obvious one; trays have handles, and salvers do not. Trays are also often much larger than salvers. This is because in the 19th century, the upper classes favoured weighty tea services that featured numerous accessories. Initially, handles were just added to large salvers to accommodate this trend. However, eventually the tray replaced the salver as the ultimate tea ware accessory as it was much larger and had sturdy handles.
To add further competition into the mix, there is also another antique accessory called the waiter. This mimics the form of the salver; however it is smaller, with a diameter of less than 25cm/6".
Can you guess which of these items is the salver, the tray and the waiter?
At AC Silver, we are pleased to offer a fine range of vintage and antique silver trays, salvers and serving waiters for sale. Our diverse silverware collection includes pieces made in English sterling silver to trays produced in continental silver. Our range includes examples from the Victorian, Edwardian and Georgian eras in addition to vintage Elizabeth II pieces. This impressive antique Chinese Export Silver salver would make the perfect addition to any home. Practical as well as stylish, it could be used to serve up (non-poisoned!) food and drink as easily as it could be a home for waiting mail.
So there you have it- the shocking story of the silver salver! These antique pieces have the perfect history to add to their character, which makes the perfect fun fact to share at a dinner party. What's your favourite style of silver salver? Let us know below.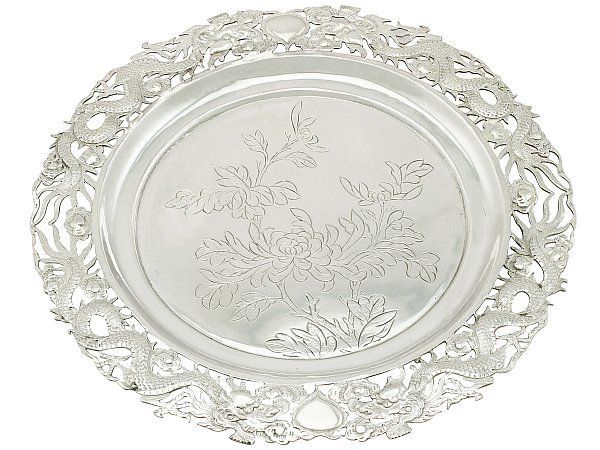 Alice Wilson – Digital Assistant (Social Media)
After completing a degree in English Literature in 2018 Alice joined the AC Silver as a Digital Assistant. Alice is responsible for keeping our social media accounts fun and fresh for you all. In addition she will also entertain you on our blog with some creative posts.