The illustrious ruby gemstone is the gem of love. Due to its romantic connotations, it seems more than an acceptable choice of engagement ring.
When it comes to picking a suitable ruby engagement ring, there are a multitude of choices. One way to reduce the options is to narrow your budget.
With this in mind, let us explore some of the ruby engagement rings that we have left us rather captivated…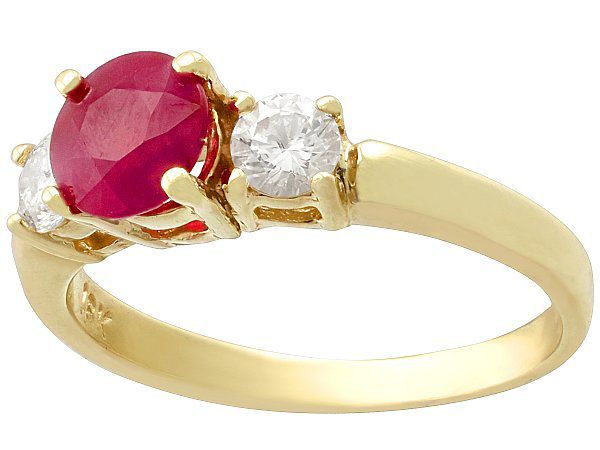 1. The Ruby Trilogy Ring (£1,495)
This impressive diamond and ruby trilogy ring has been crafted in 18ct yellow gold and screams 'marry me'.
With its feature round mixed cut, 1.32 carat natural ruby to the centre of the design flanked on either side by two modern brilliant round cut diamonds.
Not to mention the meaning of the trilogy is as romantic as the ruby itself.
"You are my life – My past, present and future are with you"
2. The Pink Ruby Ring (£1,695)
Avoid the obvious ruby colour and go bold with this impressive cabochon cut pink star ruby ring. The ring shoulders are accentuated with some subtly placed diamonds to the shoulders to add a little bling to the gold shank.
The shimmering star effect of this ruby will certainly catch the eye of not only its owner, but anyone in their presence.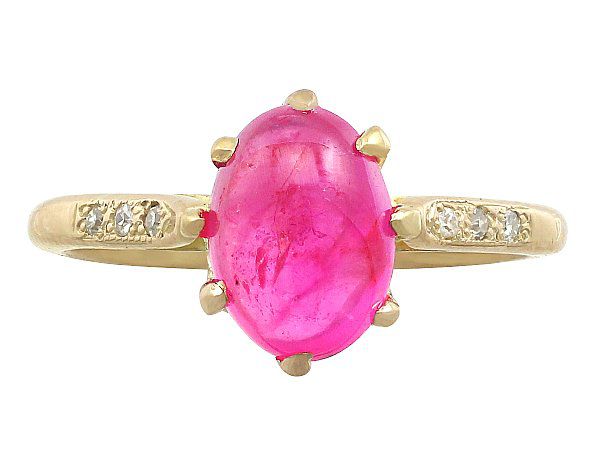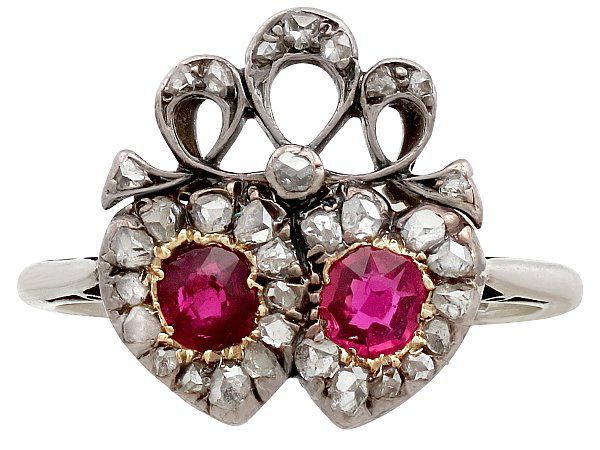 3. The Heart Shaped Ring (£2,450)
What better way to express your love than presenting a heart-shaped engagement ring.
This stunning heart-shaped Victorian ring has been crafted in 18ct white gold. The two feature rubies are bordered by twenty-three Dutch cut diamonds, varying in size.
The Victorians certainly knew how to portray love and romance!
4. A Ruby Ring with a Twist (£2,950)
The twist design on this fine piece is ornamented with a feature 0.60 ct Old European round cut diamond and a 0.70 ct round mixed cut ruby, individually eight claw set in 18 ct yellow gold.
The 18 ct white gold setting is embellished with a total of six graduated pavé set Old European round cut diamonds to complete the design.
Twist rings are a very sought after styles of engagement ring. Not only do they look incredible decorated in diamonds and gemstones, but their significance makes them perfectly suited to such an occasion. The 'twist' of the ring is symbolic of the entwining of two lives.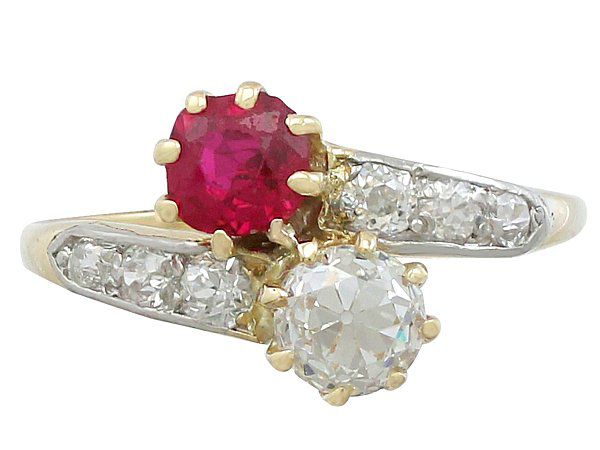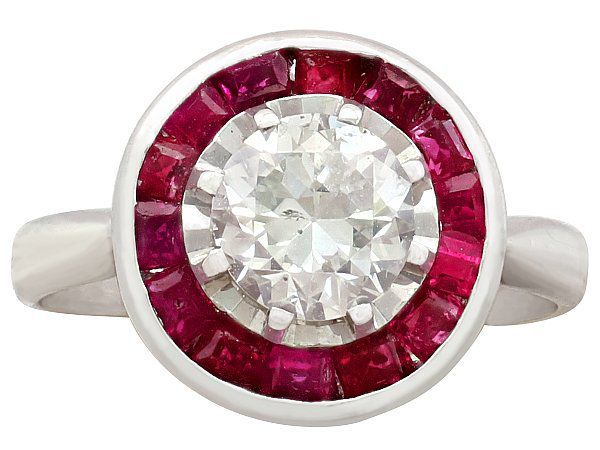 5. The Ruby Accented Ring £1,950
For many the idea of not having a diamond feature stone can be a bit daunting, therefore why not opt for slightly different ruby and diamond combination?
This impressive 1950s vintage ring has a circular frame which displays a feature 0.92 ct modern brilliant round cut diamond eight claw set in relief. The diamond is encircled by fourteen channel set square cut rubies.
Rubies are a very good choice of engagement ring. As coloured gemstones for engagement rings continue to grow in popularity, there is no better time to invest in a ruby engagement ring. This is the perfect way to add some personality to an engagement ring; the pop of colour adds a twist to tradition whilst still remaining a timeless piece.
Bethany Massey – Digital Assistant (Content Creator)
Having graduated university with a BA in English Literature and an MA in Creative Writing Bethany then joined the AC Silver team as a content creator. Bethany spends her days writing content for the AC Silver blog and other luxury goods/antique blogs.