The beauty of Georgian silverware is undeniable. From lavish baroque pieces to romantic neoclassical ornaments, the Georgian period certainly has a lot to offer.
Although many people swoon over the elaborate designs of antique Georgian silverware, they might also wonder how to incorporate these items into their homes. You may think that antique silverware is best suited to a historic mansion. However, it's easier than you'd think to merge together Georgian antiquities and modern interior design.
What is Georgian Silver?
First off, let's talk about what exactly we mean by Georgian silverware. The Georgian period incorporated a lot of different styles and spanned many years, after all. Some consider the Georgian period to have lasted from the moment King George I took the throne in 1714 to the death of George IV in 1830. Many, however, consider the 'true Georgian period' to have come to an end after George III's reign in 1830. Within this stretch of time, there were numerous artistic styles. Namely, rococo, baroque, neoclassical, and chinoiserie.
The Georgian period also gifted us many renowned silversmiths who created items that are still highly collectable today. Among the most famous are Paul de Lamerie, Hester Bateman, and Paul Storr.
Georgian silverware is famed for its stunning and intricate designs and it can wonderfully complement modern interiors. Read on to find out how to add some spectacular pieces into your own scheme.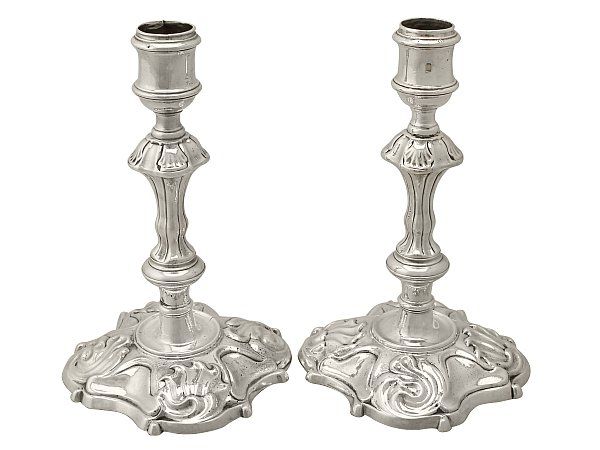 A Grand Centrepiece
Silver candlesticks are a fantastic way to add a true sense of historic grandeur to your home. They can work as understated ornaments, fitting well into the scheme of your living room, or they can take centre stage at your dinner parties, illuminating the table and making your guests feel like they've stepped back in time.
The Georgian era has plenty to offer in terms of elegant lighting. You could opt for a grand set of candlesticks if you want to make a statement, such as this 1742 set by Philip Garden.
A Subtle Touch
If you want to add a simple nod to the Georgian era without making it the centre of your interior scheme, there are plenty of subtle ways to do so. Bottle labels and other barware are one great way to add a touch of Georgian grandeur to your home.
Bottle labels sit around the necks of your bottles to signify their contents. They won't take up any extra space, or detract from key features of your interior design, but they will add a bit of history and serve as an interesting feature whenever you host a dinner party. These sterling silver bottle tickets by Hester Bateman are a great example. They were crafted circa 1785, but they would work wonderfully in any modern kitchen.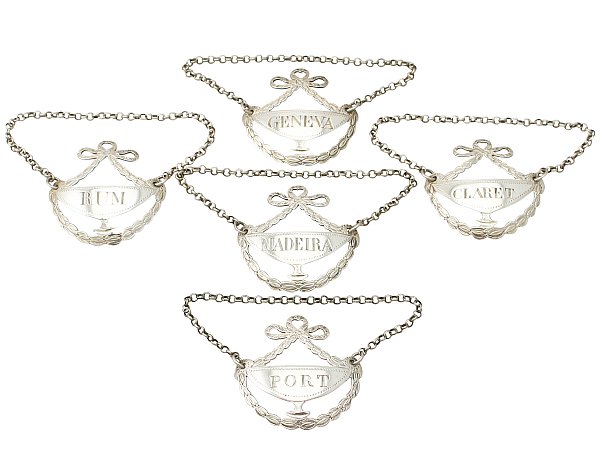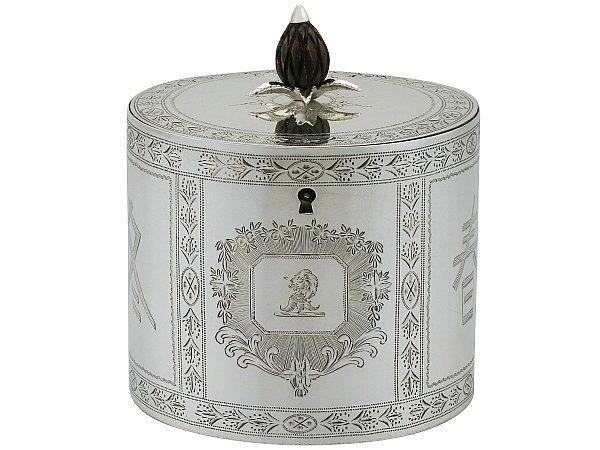 Timeless Teaware
Here at AC Silver, we have some fine examples of antique Georgian teaware to offer. Tea caddies, for example, are a great option to add a touch of Georgian history to your home. Antique tea caddies double up as gorgeous ornaments and practical containers. Not only do they serve as perfect places to store your tea, but Georgian tea caddies will work as wonderful centrepieces and historic talking points.
This impressive sterling silver locking tea caddy, for example, would make a fabulous ornament. Its sleek cylindrical shape would fit seamlessly into a modern scheme.
There are plenty of ways to incorporate Georgian silverware into your modern home, whether that be a subtle nod or a breath-taking display. If you'd like to give it a try, check out our full selection of antique Georgian silverware.
Delilah Kealy-Roberts – Sales and Digital Assistant
Delilah joined the AC Silver team as a Sales & Digital Assistant in 2017 after completing her degree in English Literature at Leeds University. Delilah possesses a passion for jewellery and antiquities combined with an interest in blogging and social media.