Pear cut diamond rings are undeniably stunning. Their elongated shape is flattering on the finger and their impressive sparkle is second to none. Many couples are opting for this popular and gorgeous cut for their engagement ring. Even if you've already chosen this beautiful diamond cut, there are many other factors to consider. If you've already fallen in love with the dazzling pear cut, read on to find out more about how to wear a pear-shaped engagement ring and which metals work well with pear cut engagement rings.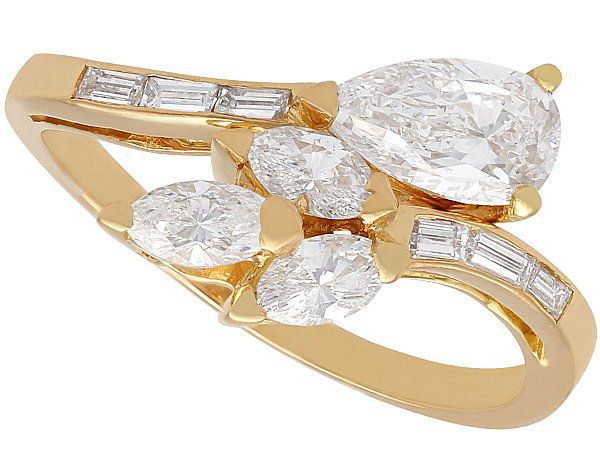 What is a Pear-Shaped Engagement Ring?
First things first, what exactly is a pear shaped engagement ring? Rings of this style feature a pear cut diamond, which looks like a teardrop shape, or a mix between a marquise cut and an oval cut diamond. Despite its similarities to these shapes, the pear cut is actually a variation on the popular round brilliant cut — which is why pear cut diamonds are so sparkly! The shape consists of a rounded bottom and tapered top which comes to a point at the apex, and can also be referred to as a pendeloque cut or an elongated teardrop cut. The diamond cut resembles and delicate drop of water, and is an elegant and flattering choice due to the elongated shape. Pear cut diamonds are also beloved for their particularly radiant sparkle — one of the many appealing features of this stunning shape.
Pear-Shaped Engagement Ring History
Despite the pear cut's sleek and modern aesthetic, it actually has a long and rich history. Pear cut diamonds date all the way back to the 1400s when the cut was first designed in Belgium. In 1475 Lodewyk van Berckena, a famous Flemish diamond cutter, invented the polishing wheel — an invention destined to change the face of diamond cutting forever.
Because of the wheel (otherwise known as a 'scaif') it was possible to cut rough diamonds with much more precision and symmetry. Right after inventing the wheel, the same diamond cutter created the first pear cut diamond. Although some features of the pear cut have evolved and changed over the years, the number of facets (58) has remained the same.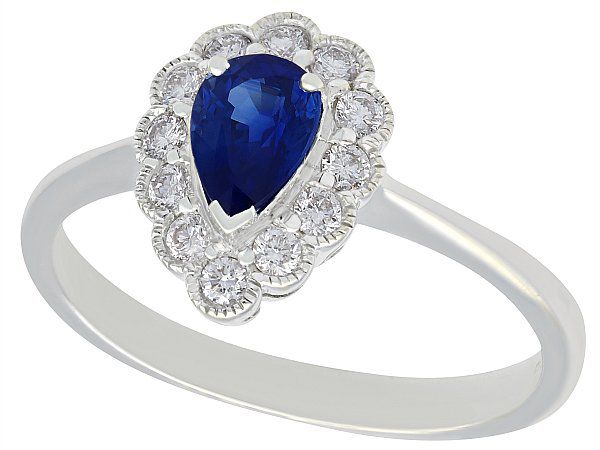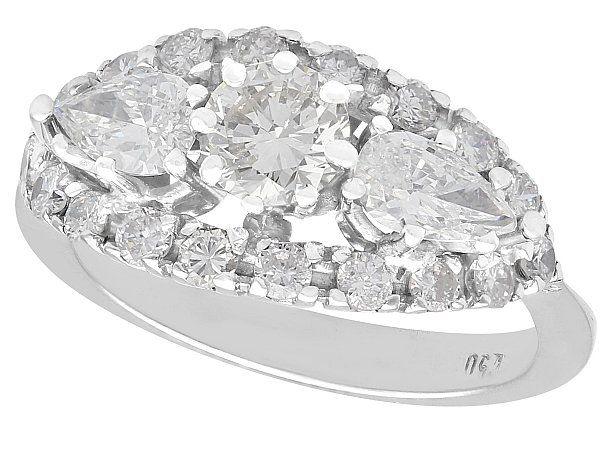 How to Wear a Pear-Shaped Engagement Ring?
As this diamond shape is asymmetrical from bottom to top, people are often curious about the correct way to wear it. The most common way that people choose to wear pear cut diamond rings is with the tip of the diamond pointing upwards towards your fingernail and the rounded part of the diamond nearer the base of your finger (as if the pear is sitting the right way up).
This way, the pear cut diamond resembles a falling water droplet and looks sleek and elegant on the finger. However, if this way doesn't feel quite right to you, there's no harm in mixing it up a bit! Flip the diamond ring the other way around if that feels more natural to you — it's all about personal preference.
What Metals Work Well With Pear Cut Engagement Rings?
Although all metal types are sure to look fabulous with a pear cut diamond, different metals and settings will give slightly different effects. There's definitely no right or wrong when it comes to picking the best metal for your engagement ring, so it all comes down to personal style. As well as considering which metal type suits pear cut diamonds, you should also consider some other factors when picking the metal of your engagement ring. For example, think about what metal you tend to choose for your other jewellery pieces; are you more of a gold or a silver person normally? Also, consider your skin tone when making the decision. While yellow gold tends to suit people with warmer pigments in their skin town, those with cooler-toned skin normally suit silver metals better such as white gold or platinum. If you're a fan of rose gold, you're in luck – every skin tone looks fabulous with rose gold jewellery, so you can't go wrong.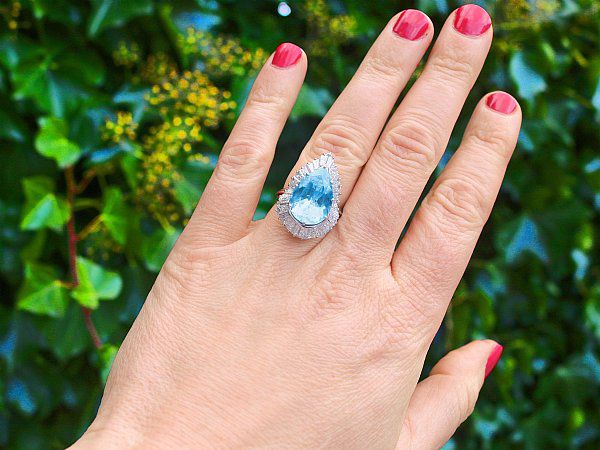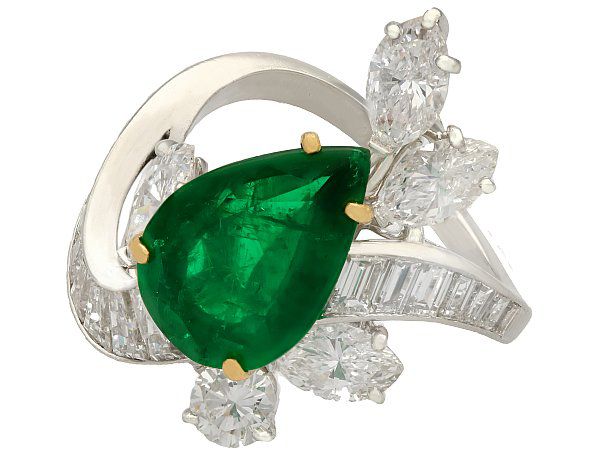 What Settings Work Well with Pear Cut Engagement Rings?
When it comes to picking the setting for your pear shaped diamond, it's best to think about a style that offers protection to the gemstone while also accentuating the beautiful shape of the pear cut. Halo set pear engagement rings are ideal for this. Halo settings, which feature many smaller diamonds surrounding the central stone, work well to draw attention to the elegant shape of the pear-shaped diamond while keeping to gemstone nice and secure. For a slightly simpler option is you're looking for a more stripped-back design, collet settings and claw settings also look beautiful with a pear cut diamond.
What Should You Look for in a Pear-Shaped Engagement Ring?
There are multiple giveaways of a perfect pear cut diamond. For one, you should look for ultimate symmetry between each side of the diamond. To check the symmetry for yourself, simply draw an imaginary line down the length of the diamond and compare the two halves. If each half mirrors the other one perfectly, from the shoulders to the point, you've found a gem with excellent symmetry! According to GIA, there are also a number of things that you definitely don't want to see in a pear cut diamond. These include high shoulders, flat wings, bulged wings, and undefined points.
Another thing to consider when picking your perfect pear-shaped diamond is the gemstone's length-to-width ratio.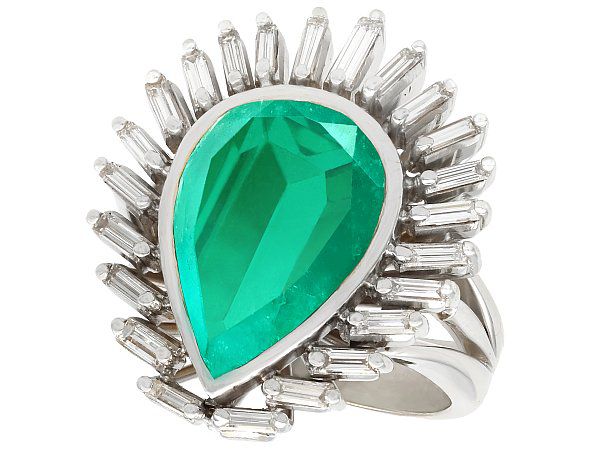 Experts say that the best length to width ratio for a pear cut diamond is with the range of 1.50-1.75:1. However, although you can get stuck on specifics, the most important thing to look out for is that the piece looks beautiful to you. Although there are plenty of guidelines for what to look for in a pear cut diamond, it should always come down to personal choice and finding a ring that makes your heart skip a beat.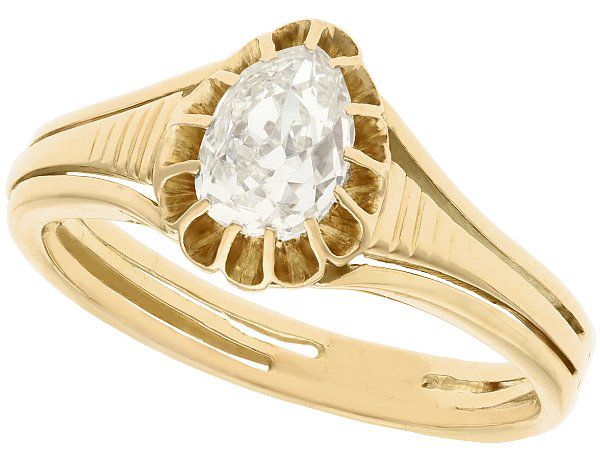 Pear-Shaped Engagement Rings in Yellow Gold
For a traditional look that works wonderfully if you're a fan of antique jewellery, a yellow gold setting would be perfect for your pear shaped engagement ring.
Yellow gold evokes romance and nostalgia and is a very popular engagement ring choice.
For a gorgeous and traditional pear cut design in yellow gold, check out this stunning Victorian solitaire ring.
An antique style like this one has a unique flair that would be suitable for men or women, regardless of your style
Pear-Shaped Engagement Ring in Rose Gold
Rose gold engagement rings a perfect if you're looking for something a little unusual and extremely romantic.
A pear cut diamond will look wonderful in a rose gold setting, but if you choose this metal, it's wise to choose a diamond with an H colour or higher so that it will still appear very bright.
The mixture of colours from the pear-cut aquamarine to the rose gold band and the bright pink rubies makes this a very playful choice for an engagement ring. Pinks and blues alongside one another are always a beautiful choice that's sure to stand out.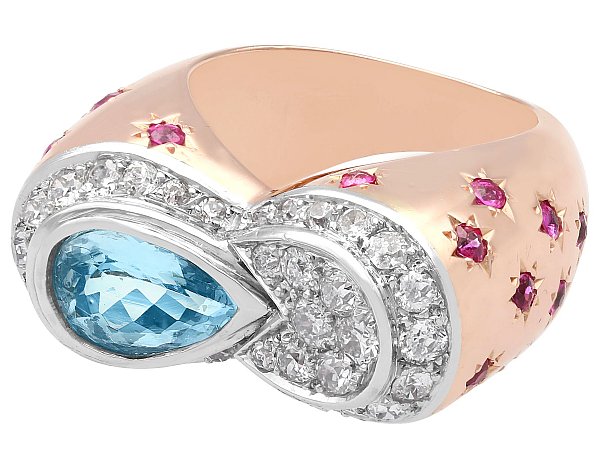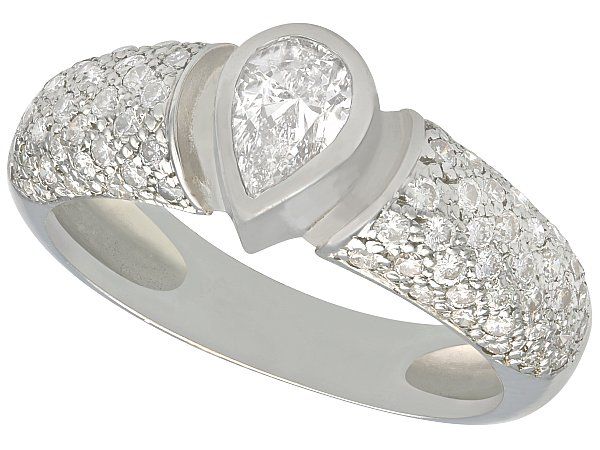 Pear-Shaped Engagement Ring in White Gold
Pear cut diamonds look undeniably sleek and sophisticated when set in white gold.
This metal is perfect for a more modern look.
White gold pear cut engagement rings are sure to dazzle, but if you're looking for even more sparkle, choose a ring with diamond-encrusted shoulders or shank like this gorgeous vintage white gold ring.
The unique setting on this ring allows the feature pear-cut diamond to stand out against the rest of the supporting diamonds.
Pear-Shaped Engagement Ring in Platinum
Like with white gold, engagement rings with platinum settings are perfect if you're looking for a sleek, modern look.
Both white gold and platinum are perfect choices if you want your pear cut diamond to appear particularly bright and dazzling.
This vintage diamond twist ring in platinum is a great example of how much pear cut diamonds can sparkle!
Having two pear-cut diamonds set at a slant like this makes this ring a real cocktail statement, whether it is worn as a cocktail ring or as an engagement ring.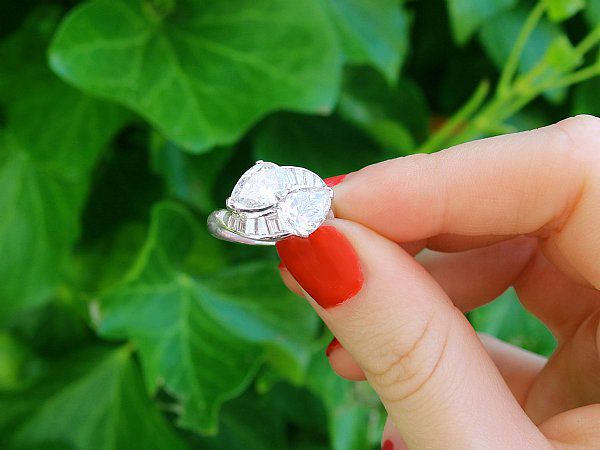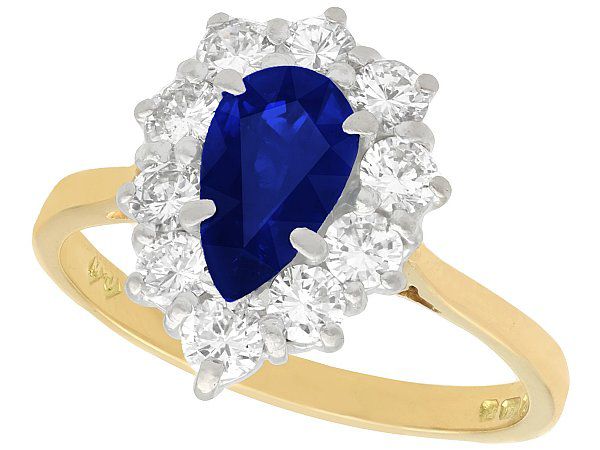 Pear-Shaped Gemstone Rings
There are also no rules dictating that your pear shaped engagement ring necessarily has to feature a diamond at all! Other gemstones also look stunning in this cut, as it showcases their bright colours fabulously. Sapphires, for example, suit the pear cut beautifully.
For example, this stunning yellow gold pear cut sapphire and diamond cluster ring. Sapphires have become a popular engagement ring alternative to diamonds over recent years, especially when set in cluster designs. Why not go for a twist on this style and choose a pear shaped sapphire cluster ring? Symbolising sincerity and faithfulness, sapphires are a great engagement ring choice if diamonds aren't for you.
There are plenty of things to consider when searching for the diamond engagement ring of your dreams! However, pear cut diamonds are guaranteed to look fantastic whichever metal and setting you choose. For more inspiration, browse our complete collection of engagement rings.
Delilah Kealy-Roberts – Sales and Digital Assistant
Delilah joined the AC Silver team as a Sales & Digital Assistant in 2017 after completing her degree in English Literature at Leeds University. Delilah possesses a passion for jewellery and antiquities combined with an interest in blogging and social media.