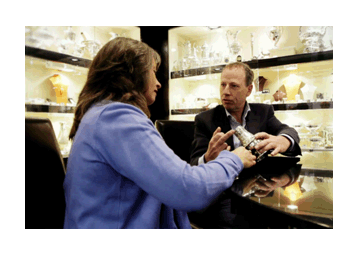 I have asked a few customers to describe their buying experience when dealing with Andrew Campbell of AC Silver.
I would like to thank these customers who took the time to write testimonials for my web-site.
These customers are contactable to verify the authenticity of their testimonials:
2013
---
Dear Andrew,
Ring arrived safely a short time ago and is now back to its former glory with the small stone replaced. Sizing looks fine and I am sure it will fit my daughter when she is old enough to appreciate it. Meantime, I will keep the ring safe for her in its lovely box and packaging.
Once again may I comment on your beautiful jewellery and how pleased I am with this ring.
Your customer care has been par excellence and a very refreshing experience.
Sincerely
MC
Renfrew, Scotland
May 2013
---
Dear Andrew,
For a Saturday morning, what an exciting and intriguing careful unwrapping of this exquisite vase proved to be. It is every bit as delightful as it promised to be.
And special thanks for its accompanying storage bag and polish and perfect paper-work. I took back my unkind thoughts of my mother's grubby storage bags when I read the instructions!
Thank you.
MG
New South Wales, Australia
May 2013
---
Dear Andrew,
Just to let you know that my beautiful ring has arrived safely.
Thank you so much; it is just as described, and I love it!
Kind Regards
KW
Sydney, Australia
May 2013
---
Dear Andrew,
I just wanted to thank you and say how absolutely delighted and overwhelmed I was when I received the exquisite Japanese ink pot yesterday, it truly surpassed my expectations.
When you said in your email 'I'm sure you will be delighted and this item comes highly recommended', I kept an open mind however on receiving the ink pot yesterday I was absolutely impressed by the incredible beauty and detailing of the craftsmanship of this work of art and in the honesty of your comments. Your service and on-going follow up and attention to detail has been incredibly impressive and a rare thing these days with so many companies and businesses being automated, may I say it has been an absolute pleasure dealing with your company and look forward to future purchases and with total confidence.
The overtime I worked to afford this item has been the best time spent and I shall truly treasure and feel quite privileged to be the custodian of this most beautiful work of art.Thank you again to you and your team!
Best Wishes.
RD
Kensington, Western Australia
May 2013
---
Dear Andrew,
What can I say? The ring is utterly beautiful. I am absolutely delighted. Thank you so, so much for your help in choosing it. It fits perfectly too. I have been wearing it about ten minutes and can't take my eyes off it. It's the perfect ring. You made the experience of buying a pleasure. Please say to Ashley she was right - stunning. Can hardly believe it is mine!
Thank you again.
TD
Bournemouth, UK
May 2013
---
Dear Andrew,
Yesterday I received the earrings – a truly amazing piece of jewellery. The lily of the valley motif is so delicate and the sparkling diamonds catch immediately the attention - I´ve never dreamt of having anything so beautiful. The earrings seem to be alive in the sunrays.
Thanks for great communication and for enabling me to become the happy owner of both the watch and the earrings. The only problem is that I´ll never want to wear any other earrings! :-)
Best Regards.
OK
Brno, Czech Republic
April 2013
---
Dear Andrew,
Ring arrived safely today. Thank you.
All I can say about the ring is "simply stunning."
What young girl could fail to fall in love with it! The diamonds sparkle just as much in reality as they did in the video on your website. I can't enthuse enough about the ring it is truly BEAUTIFUL and meets everything I desired in a ring. Antique, good stones and a design which stands the test of time.
The packaging is a lovely added touch and the accompanying important documents containing all the relevant information necessary for insurance purposes etc. extremely useful. Your professionalism tempered with just the right level of customer service/advice has been exceptional and made purchasing the ring a delightful experience.
Many Thanks
MC
Renfrew, Scotland, UK
April 2013
---
Hello there,
The ring arrived today as promised in wonderful condition and beautifully wrapped. It's obvious you take great care in your products. I'm very pleased with your site and will definitely return. Tracking a FedEx package is easy and I highly recommended this mode for delivery.
LG
San Diego, California, USA
April 2013
---
Dear Andrew,
just received the silver cockerel sugar box and it's awesome, thankyou so much for great communication throughout and very well packed and detailed invoice etc. Hope to do future business! Love your shop,
All the best and kind regards
CW
Clacton On Sea, UK
April 2013
---
Dear Andrew,,
I received the watch this afternoon and it is really an amazing piece of jewellery. I have a small golden watch and everybody has always been saying how beautiful it is, but it cannot hold a candle to this item. I do not know which word would be the best for description of this watch – various words come to my mind: exceptional, wonderful, fantastic, breathtaking, awe-inspiring, fabulous…I could continue for a long time and it still would not be able to fully capture the sheer beauty of the filigree details and the star-like sparkles of diamonds. I cannot wait to see the watch in the sunrays tomorrow – I am sure the effect will surpass all expectations.
What is definitely worth mentioning is the wrapping. The bag was certainly nice enough, but the real shock came during unwrapping the burgundy cloth – it looked almost unreal and I felt like a queen being presented the work of the best royal goldsmiths. The whole experience made the first moments of my ownership of the watch even more memorable.
I could continue writing about how impressed I was with our quick and friendly communication on personal level, prompt delivery (24 hours from your receival of payment – I didn´t even know that it is technically possible to get it so quickly), and last but not least with your website – it was almost as if I were in your shop and you showed me the watch. The video presentation of all your items is a great idea, especially when it is not possible to see them in person. Everything fully matches the quality of your product and its presentation. I was very impressed.
Moreover, Google maps enabled me to look at your shop in the virtual world – now I can see in my mind the terraced houses in your street with the church nearby and I also watched your video on Youtube – it was pleasure to meet you.
Best regards,
OK
Brno, Czech Republic
April 2013
---
Dear Andrew,
The cuff links arrived today, thank you very much! They are stunning, and I am so looking forward to giving them to my husband for our anniversary.
I must add that I am hugely impressed with the impeccable service you have provided from, the presentation and packaging to the detailed valuation report. I will certainly being using your website again, and will be highly recommending that other friends and family do likewise!
Many thanks again and best wishes,
RH
York, UK
April 2013
---
Hello
I have just received the pendant, it's perfect.
Thank you for the speed of service.
Have a good day.
JB
Saint Malo, France
April 2013
---
Dear Andrew,
I am writing this email to tell you much I love the ring! I collected it today and it is stunning.
Many thanks
UP
Glasgow, Scotland
April 2013
---
The most dedicated seller ever met, MUCH exceeding London Silver Vault shops.
TP
Hong Kong
March 2013
---
Dear Andrew,
I have eventually got home after many delays and opened my parcel. The preserve dish is stunningly beautiful and I am very pleased indeed.
Many thanks again for your trouble.
SL
Western Cape, South Africa
March 2013
---
Dear Andrew,
I just wanted to let you know that I have received the salt dishes. They are stunning. I also wanted to thank you for the silver cloths and pouch and for the good wrapping. I was also impressed by the detailed report besides the receipt, which I would certainly need for my insurance.
I am very happy with the service offered and advice given and I will look at your website more often in search of items that I might need.
Thank you for now and Happy Easter to you and your family.
JT
Malta
March 2013
---
Dear Andrew and Staff,
Thank you so very much for the time, care and attention you showed me when I was buying my gorgeous vintage diamond watch. Though I was spoilt for choice, I really couldn't go beyond the stunner I finally chose, with its 3.36ct of sparkle. The typical Art Deco architectural design, and the superb condition made it THE choice but above all, the manner in which the purchase was handled by you and your team, made the real difference. Your very personal service with is diligent after sale commitment is second to none; you're stuck with me now!
Kindest regards
BP
Blaydon, Tyne and Wear
March 2013
---
Dear Andrew,
I confirm the safe arrival of one trophy and base. Also an envelope containing the valuation documents arrived too. We are most delighted with the purchase from you; the trophy is lovely in every aspect and will make a delightful memorial cup for my late father.
Thank you also for all your emails allowing me to know where we are, regarding our purchase from your goodselves. Wonderful back-up service if I might say!
RH
Dorset, UK
March 2013
---
Dear Andrew,
The ring has arrived safe and sound, and is even lovelier than it looked in the photographs.
Thank you very much for an excellent and helpful service. I won't hesitate to purchase from you again in future and will definitely recommend you.
Kind Regards
HC
Derbyshire, UK
March 2013
---
Hello Andrew,
Have seen the ring for the first time this evening and it is absolutely stunning. It fits perfectly and we are so so thrilled.
The ring is presented so beautifully too. Clearly you cherish your fine jewellery (and no doubt your silverware too) and your customers.
I'm so pleased to have found you
Kind Regards
CT
Basingstoke, Hampshire, UK
March 2013
---
Hello Andrew,
Thank you so much for the swift and safe arrival of my vintage diamond watch, it's even more lovely than I imagined it would be!
Thank you also for the pretty packaging and paperwork. I'm thrilled.
Sincerely
AH
Saratoga, New South Wales, Australia
February 2013
---
Dear Andrew,
I have received today the mustard pot. I must say that I am really happy because it is truly beautiful, to the point that I have decided to keep it for myself - it would be wasted as a present!
I will keep looking through your website to see if I find other items that I like, and will then contact you again.
For the time being, I thank you for this excellent experience, not only the quality of the item, but also the packing, and your communication which is always clear and precise.
Best Regards,
PA
Hong Kong
Febrary 2013
---
Dear Andrew,
This is to confirm that I received the cufflinks as well as the related documentation. The cufflinks are absolutely stunning. I am very happy with them.
It has been a pleasure doing business with you.
Thank you and best regards.
MO
New York, USA
February 2013
---
Just a courtesy mail to advise you that the cutlery arrived, undamaged and in perfect condition. My wife hasn't seen it yet, but I am absolutely delighted with it.
I felt a bit like Howard Carter, trying to get to Tutankhamen's inner sarcophagus, but it was worth the effort, to see such a lovely box of utensils.
Thank you once again for your excellent service.
Best Regards,
H McP
Greenock, Inverclyde, UK
February 2013
---
Dear Andrew,
The little chest arrived yesterday and we were both delighted with it. Thank you for enclosing the insurance report and a storage bag.
As ever, it has been a pleasure doing business with you and we look forward to it again in the future.
All the best
LN
London, UK
January 2013
---
Dear All
Just a short message to let you know I find your website and the quality of your merchandise simply wonderful and compelling. I will not hesitate in making the journey down from Glasgow soon to view, and hopefully purchase one of your older pieces.
Again my sincere good wishes, it was a real pleasure viewing your site.
Best wishes
PT
Glasgow, UK
January 2013
---
Mr Campbell,
I just wanted to let you know that the cluster ring that my son bought for his fiancé is absolutely beautiful……they were thrilled. Thank you so much.
TC
Myrtle Beach, Southern California, USA
January 2013
---
Dear Andrew
I just want to let you know that I received the watch this morning... Thank you so much for a beautiful piece and your excellent customer service. I am very happy with the watch... Thank you!
Happy New Year!
WW
Pleasanton, California, USA
January 2013
---
Dear Andrew
The item arrived today safe & sound. I could not be more pleased. A magnificent work of art in perfect condition. It is evident the bowl has been cherished and well cared for throughout the years. An iconic example of Jones' style and workmanship.
Your professionalism and attention to detail; from purchase to shipping, to documentation, to storage bag, have been exemplary. It has been a pleasure doing business with you and I will check your online store often for items of interest.
BL
Franklin, Tennessee, USA
January 2013
---
Dear Jane,
Glad to report elephant has been received safely this morning . Delighted with it , nice quality and fine condition, sure my wife will be equally delighted .
Also like to commend you and Andrew Campbell for your excellent service . As a shopping experience just like visiting a West End jewellers or Saville Row tailors where service is still important.Who says shopping online is an anodyne experience.
Many thanks again ....don't forget me if comprable elephants should wander your way.
DC
Petersfield, East Hampshire, UK
January 2013
---
Dear Andrew
The pepper grinder arrived safely today. Thanks for the excellent packing. Also, thanks so much for the complementary storage bag, polishing cloth, and valuation document. It is amazing that this exceptionally beautiful grinder in such superb condition was actually made in 1900. It is pristine inside and appears to have been used little, if at all. I am extremely pleased with it and look forward to great pleasure in having it on my table.
Cordially
LEA
Washington DC, USA
January 2013