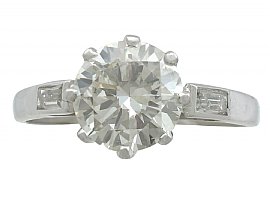 AC Silver is pleased to offer a magnificent collection of vintage diamond solitaire rings and antique diamond engagement rings, including many fine traditional solitaire and engagement rings set in platinum, white gold, yellow gold and rose gold.
The collection includes exceptional examples from the Victorian era, the Edwardian era and including rings designed in the Art Nouveau and Art Deco styles that are classic examples of antique diamond engagement rings, and vintage diamond rings.
We are also able to offer our customers a wide selection of vintage diamond engagement rings, as well as antique and vintage diamonds in contemporary settings.
Our truly vast selection of antique and vintage diamond engagement rings features diamonds of every cut and style, whether you prefer a modern brilliant cut or a charming antique diamond - we have curated an impressive variety of pieces from many eras and in numerous styles.
Browse our collection of solitaire rings below
---
You have viewed 24 of&nbsp162 products
Load more
Loading...