Russian Wedding Rings
What is a Russian Wedding Ring?
Also known as trio, rolling or trinity ring, Russian wedding rings are recognised for their unique interlocking design. The bands tightly weave together leaving no empty space, which adds texture and creates a multi-tone design. The bands move as one and are worn as a single piece of jewellery. Typically, created by a combination of yellow, white and rose gold, using a mixture of metals to creates a tricolour effect. Originally, the rings consisted of smooth bands which didn't include any gemstones. This is until 1924 when Cartier unveiled their take on the Russian Wedding Ring, which saw the addition of diamonds, many Russia wedding rings nowadays include gemstones.
Why is it called a Russian Wedding Ring?
The reason for this name is the ring was first popularised in 19th century Russia. Commonly worn as a wedding ring by Russian brides. The ring is commonly engraved with short messages to the interior of the band, creating a secret link by the bride and groom. As newlyweds leave the ceremony, guests throw grains of seeds in the air above the couple for their happiness and prosperity. However, Russian wedding rings aren't just associated with Russia today, this design has become popular all around the world and are still common to find today, for those who prefer a more unique wedding ring.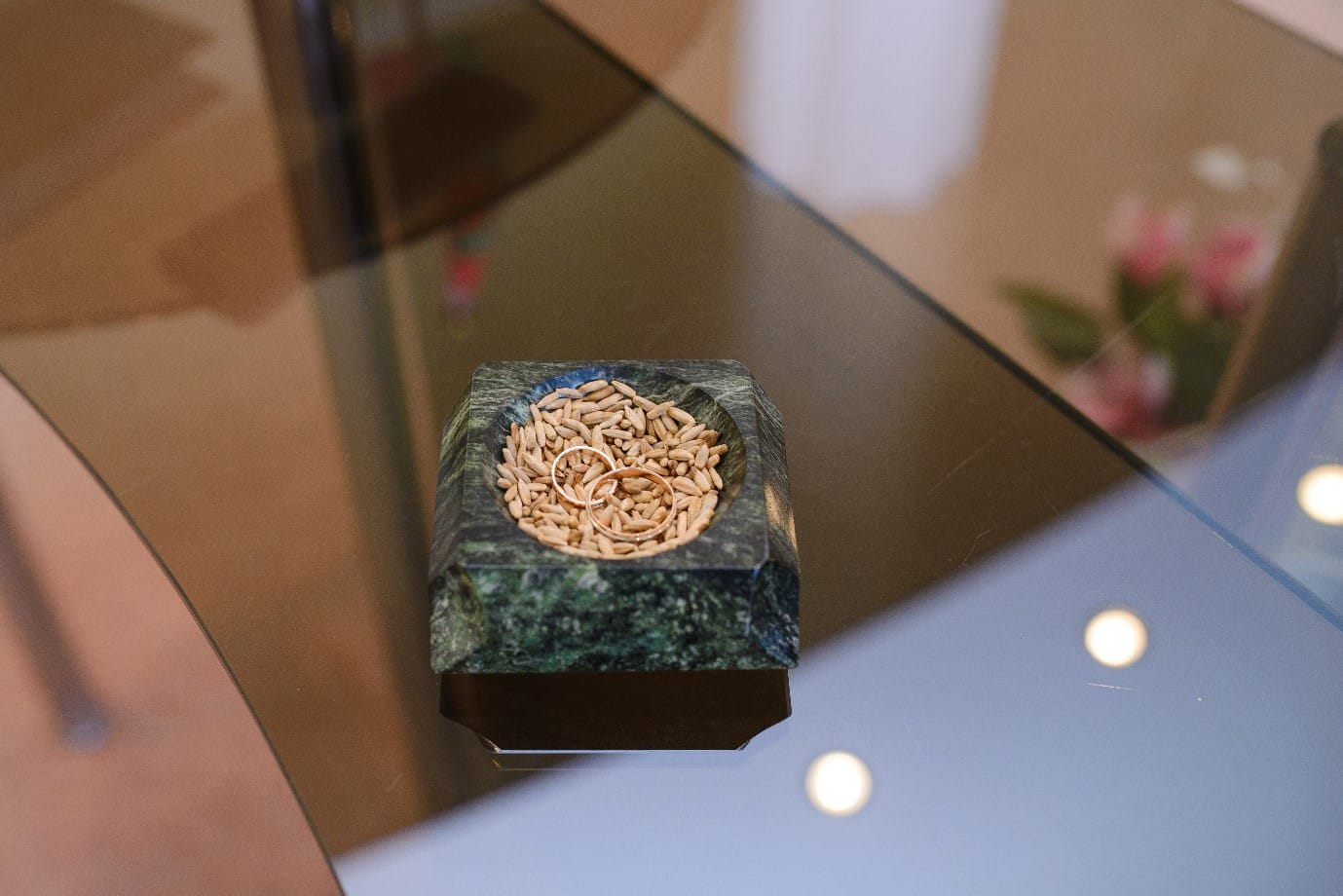 Symbolism of Russian Wedding Rings
The Russian wedding ring symbolises more than the original roots of Russian marriage. In religious terms, the ring represents, the Father, Son and Holy Spirit of the Catholic church, coming together to form the Holy Trinity. Others, believe the ring symbolises the past, present and future by the colours of the gold used. As the strongest of metal, yellow gold signifies strength of the union. Since white gold is a softer metal, it is believed to represent flexibility and fluidity. Due to the colour rose gold symbolises true love. This creates a symbol of eternal love, when all three colours are combined. Others, also believe white gold symbolises friendship, and the ring is often gifted to celebrate friendships.
How to wear a Russian Wedding Ring?
Apart from being recognized as the typical wedding ring in Russia, the ring is also worn to commemorate many other occasions. Such as, Mother's Day, Valentine's Day, a new birth or a graduation. Russians traditionally wear the wedding ring on their right-hand wedding finger. However, in many parts of the world it is now common to find this ring worn in different ways, on both hands and on different fingers. Stacking rings has recently become popular trend, these rings will often be seen today being worn this way.
Russian Wedding Ring Types
The Russian wedding ring is commonly recognised for its tricolour interlocking design. However, over time the design has changed and adapted slightly. You are more likely to see different variations of this classic design today which include the addition of diamonds and different gemstones, one type and colour of metal being used opposed to a mixture of the three metals and only having two interlocking bands. The rings still have the same twist design, giving them the distinctive classic Russian wedding ring look.