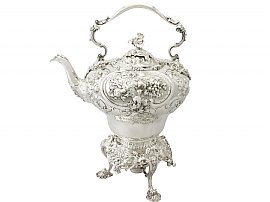 Andrew Campbell purchases items of silver and jewellery from the general public, any item however has to be a fine example of its type.
If you have a specific item you wish to sell, the preferred method of contact is via email to sell@acsilver.co.uk. You need to attach images, including clear images of all the hallmarks, and your asking price. We cannot consider items unless you provide an asking price.
Andrew will only respond if he intends to appraise your item(s).
If you haven't had a response within one week of sending your email, we suggest you contact your local auction house or consider using internet mediums such as eBay to sell your silverware and jewellery.
---
Valuations and Hallmark Queries
Andrew Campbell only provides complimentary valuations for items sold by AC Silver.
Due to the high volume of emails, Andrew is unable to respond to individual requests relating to independent valuations or hallmark identification for personal items.
For hallmark identification the following sites may provide an insight:
For valuations, either visit your local auction house or the following websites:
---
Do you wish to view a particular piece at AC Silver retail store in Jesmond, Newcastle Upon Tyne?
Due to space limitations within the retail store at St Georges Terrace, we are unable to display the complete inventory held by AC Silver.
If you have seen a specific item of silver or jewellery on the website and wish to view it (and/or similar pieces) personally in store, please contact us by phone or email to ensure we have your item(s) available for the day you intend to visit.
This service puts you under no obligation whatsoever to purchase any item, but to avoid disappointment we would like to guarantee the item(s) selected will be accessible for your appraisal.