The Moonstone Gemstone
One of June's three birthstones, the moonstone is most known for its adularescence and captivating glow. Over the centuries, moonstones have held different meanings to various civilisations. For as long as this gemstone has been known, it has had connotations with magic and mystical symbolism. Today, the moonstone remains a highly coveted gemstone and is often used in luxurious jewellery designs, especially antique Art Nouveau pieces.
For a glamourise and mysterious aesthetic, moonstone jewellery is an excellent choice. Read on to find out more about the symbolism and history of one of June's three exquisite birthstones.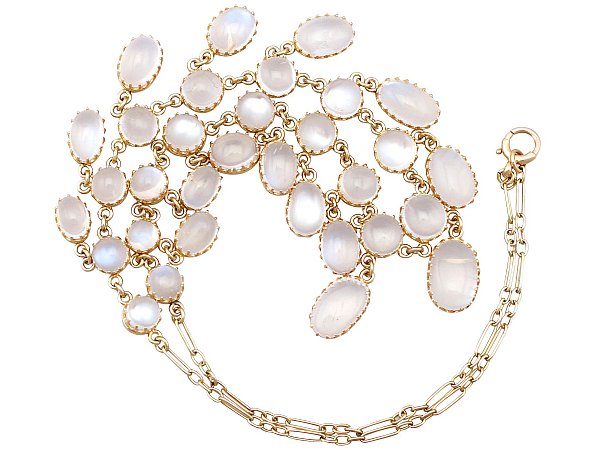 What is a Moonstone?
The moonstone is part of the feldspar group of minerals and is made up of a sodium potassium aluminium silicate. This gemstone is sought after due to its impressive adularescence – a glowing light that appears to radiate from the gemstone giving it a captivating luminous appearance.
Moonstones are composed of layers of albite, an aluminium silicate that is rich in potassium. When a moonstone is formed, the adularescence is created by scattered light making its way through the layers if the forming stone, ultimately creating a bluish lustre.
Most commonly, moonstones are light grey or pale blue in colour, but they can come in a wide variety of shades and tones. Moonstones can range from colourless to brown, yellow, green, pink, blue, and grey. They also vary in clarity, from transparent to translucent. The various types of moonstone include...
Blue moonstone: the most desirable variations of moonstone have the most intense blue colour and the most impressive blue moonstones traditionally come from Myanmar. As time has gone by, however, blue moonstones have become increasingly difficult to locate.
Pink moonstone: pink moonstones usually have a pale peach tone. They range from translucent to opaque and can often contain a cat's eye or star effect.
Green moonstone: green moonstones are relatively uncommon in jewellery making, but their pale green tone is beautiful to behold. They often have a slightly hazy appearance and sometimes yellowish tones.
Rainbow moonstone: rainbow moonstones are usually pale and milky in tone, but unlike other moonstone varieties, they have a patchy appearance.
The History of the Moonstone
Thanks to its mysterious nature, the moonstone has a plethora of origin stories that are rooted in ancient myths and legends. In Hindu mythology, it is believed that moonstone is made from solid moonbeams. The Hindu tradition isn't the only one to associated moonstones with moonlight either; this gemstone's glowing adularescence gives the illusion of shimmering moonbeams.
The moonstone was once known as "adularia." This name was given to the gemstone by the residents of Mt. Adular (now St. Gotthard), a city in Switzerland that was once a rich source of high-quality moonstones.
In terms of jewellery making, the moonstone grew in popularity over the 19th century, at which point it became a popular material in Arts and Crafts designs. During this period, moonstones were often incorporated into silver making as well as jewellery designs. This gemstone became even more acclaimed during the Art Nouveau era in the late 19th and early 20th century. Throughout this time, famous designers such as René Lalique and Louis Comfort Tiffany incorporated moonstones into their romantic and whimsical jewellery designs.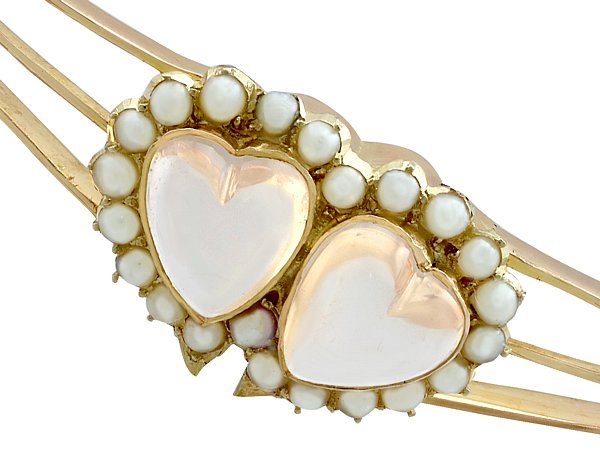 Later in the 20th century, when the hippy, "flower child" movement became popular, moonstones saw another surge of popularity. These ethereal gemstones perfectly complimented the hippy aesthetic.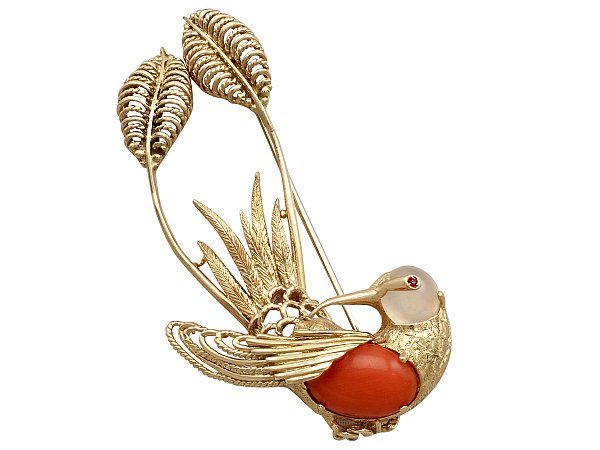 The Symbolism of the Moonstone
Ever since this adularescent gemstone has been associated with the moon, moonstones have been believed to hold great energy and power. Moonstones are often associated with feminine power, and they are thought to bring out passion, and power in the wearer. Due to its believed relation to the waxing and waning of the moon, this gemstone is thought to evoke tranquillity yet also re-energize the mind.
In addition to this, moonstones are thought to be exceedingly positive gemstones, that will help to wash away any negative thoughts the wearer might have. The colourful rays of gold, blue and purple, that moonstones appear to emit, are thought to embody positivity and powerful energy.
Anyone who wants to tune into their feminine side, and wear a piece of jewellery that encourages intuition, balance, and positivity should consider choosing a moonstone necklace, bracelet, or ring for their next jewellery purchase. Equally, moonstone jewellery makes the perfect June birthstone gift, for anyone who enjoys a birthday in the height of summer.
If you think a piece of moonstone might be exactly what you're looking for, discover our full range of exquisite moonstone jewellery online at AC Silver, along with the rest of our antique and vintage jewellery collections.