British silver hallmarks were introduced and first used in 1327. After this date, it was an offence to sell any precious metal without the appropriate hallmarks.
The majority of hallmarks consist of four or five symbols which provide precise information: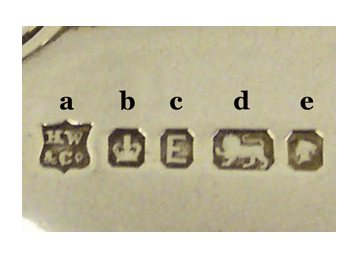 Hallmark Recognition:
a – Maker's Mark
b – Assay Mark (Early Sheffield)
c – Date Letter
d – The Sterling Mark
e – The Duty Mark (monarch's head)
1 - The Sterling Mark
For pieces assayed in England, this is depicted as a lion passant - a lion seen from the side.
For pieces assayed in Scotland, this is depicted by a thistle.
For pieces assayed in Ireland, this is depicted by a crowned harp.
This confirms the silver content of .925 (925/1000).
2 - The Assay Mark
This identifies where the item was quality tested and assayed.
There have been eleven Assay Offices used over the centuries, but only four are currently in operation in the UK.
Assay Offices still in operation:
London:

Leopards Head, 1327 - present day

Edinburgh

Castle (pointed towers), 1457 - present day

Dublin:

A Harp, 1637 - present day

Birmingham:

An Anchor, 1773 - present day




Sheffield:

The York Rose, 1975 - present day

A Crown, 1775 - 1975
(following the formation of the Irish Free State in 1922 Dublin became subject to the laws of the Republic of Ireland, and not those of Great Britain)
Other Assay Offices:
Glasgow: A Tree, closed 1964
Chester: A Shield with Sheaves of Corn, closed 1962
Newcastle Upon Tyne:Three Castles, closed 1884
Exeter:A Castle (traditional towers), closed 1883
York: Half Leopard's Head/Half Fleur De Lys, or Half Rose Crowned/Half Fleur De Lys, or A Cross charged with Five Lions Passant, closed 1858
Norwich: A Castle over a Lion Passant, closed 1702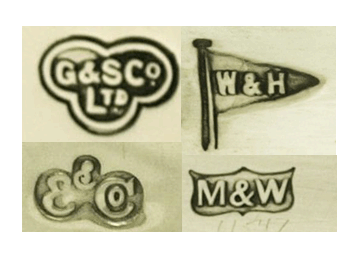 3 - The Date Letter
This mark denotes the year the item was assayed.
Not only does the date 'letter' change with the year, but also the 'shape' surrounding the letter. (NOTE: There may be instances where consecutive letters denote the same year; pieces in a canteen of cutlery, for example, may have two date letters such as M and N, yet all the pieces were made in the same year).
4 - The Maker's Mark
Normally this consits of the maker's initials written in a particular font, surrounded by a particular shape.
Visit our dedicated maker marks area where you can view our products by maker
5 - The Duty Mark
This is depicted as the monarch's head and was used to show that duty had been paid on the item.
The Duty Mark was used between December 1784 - April 1890.