History of the Dish
A dish is an open, relatively shallow container which can be made from a multitude of materials such as glass, pottery, metal or wood. There are many different styles, sizes and shapes of a dish and it can range from ornamental centerpieces to serving dishes.
The style, appearance and cost of a silver dish, often matched the economic, social and political conditions of the time. The function of the dishes also varied across the periods, where the common factor of the silver dish was originally for holding food. This can be made clear by the name for certain dishes: bread dish, fruit dish, strawberry dish, bon bon dish, preserve dish, caviar dish, etc.
Certain types of silver dishes were created in response to popular food dishes at the time, with some food dishes originating from the French dining experience. For example, in the 16th Century Hors d'oeuvres became very popular. Hors d'oeuvres were originally a type of canape such as a small toasted bread with a savoury topping and were typically served before a meal. Around that time, the Hors d'oeuvres presentation dishes were created, simply to cater for the new food trend.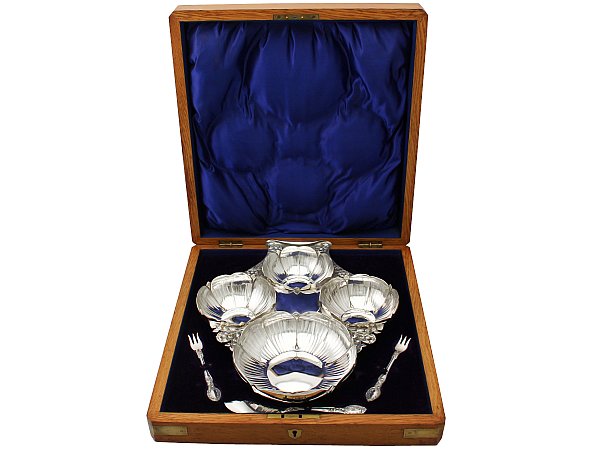 Another dish that emerged in response to popular food dishes were sweet dishes and bon bon dishes. As the quantity of sugar imported into England increased, desserts became fashionable, and the spice plates of the 1500's were replaced with shaped and embossed sweetmeat dishes.
During the 17th century, dining habits changed and smaller dining chambers replaced the huge eating halls. Silver was fashioned into items such as forks, dinner plates and dishes. Salads were introduced, and fairly flat dishes with scalloped rims were often made in sets of eight to contain the dressed leaf. Oval serving dishes were used to serve entrees or hold vegetables at the dining table.
With the introduction of centrepieces (epergnes) in the mid-18th century, shaped and decorated dishes adorned centrepieces, providing en-suite receptacles for each piece. Another dish that was introduced in the late 18th Century was the breakfast dish. The meal would be preparedfor a family in the kitchen and then served in the breakfast dish from a side board in the dining room; this allows a family to appreciate the hot meal at their leisure.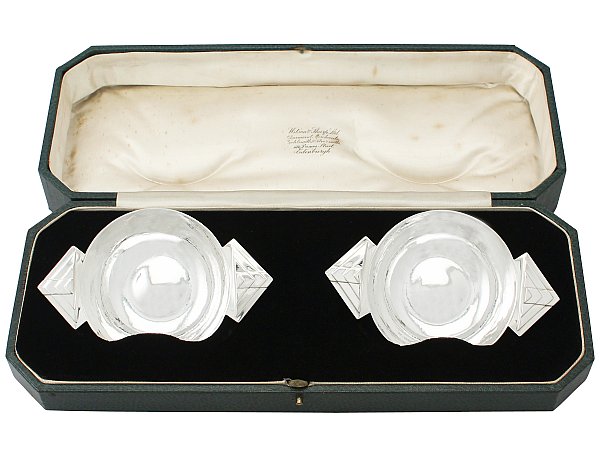 In the early 19th century, dining habits altered again, and large items such as centrepieces were removed from the table and servants now passed dishes to the diners.