Earrings are one of the most varied types of jewellery. There are different types of earrings for every style and occasion, making them a popular gift year-round. Here, we will take a closer look at some of the choices there are when it comes to choosing earrings.
Stud Earrings
A diamond stud is a design that suits every lobe, haircut, and style. The stud earring can be worn day to day, ideal for work and home-time. Larger examples of the stud are also suitable for evening wear, provided they have enough presence for the occasion.
Like other types of diamond jewellery, diamond stud earrings come in a variety of cuts, with the most common being the round cut. These antique diamond earrings (above left) are set in a contemporary setting, showcasing the Old European Cut stones.
The larger diamond earrings (above centre) showcase Modern Oval Brilliant cut diamonds in a contemporary setting.
On the far right, the antique and contemporary earrings have the benefit of featuring vintage stones in a contemporary setting. This adds security to the structure of the earrings, as well as retaining some vintage style from the stones themselves.
The Decorative Stud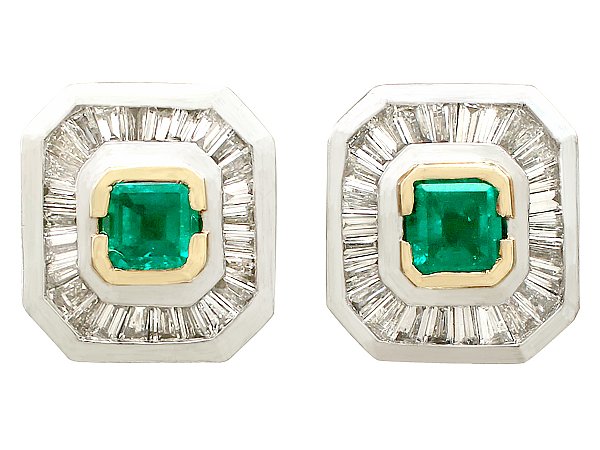 The decorative stud is a suitable evening-wear version of the stud earring. Most of the more embellished studs in our collection are Art Deco designs, with this pair being a perfect example.
The green of the central emeralds is contrasted against the sparkling of the diamonds, creating a sophisticated, yet also understated style. The mixture of metals featured in this pair also add something unique, elevating them above everyday jewellery.
The use of baguette cut diamonds also helps these earrings to have a timeless appearance. At once modern and vintage, their appearance also harkens back to the early twentieth century, when architectural designs reigned supreme.
The Cluster Stud
As cluster rings are popular, so are cluster earrings. This style can come in a range of shapes and sizes and can feature purely diamonds, or have feature gem stones as well. It is rare for examples to feature a variety of gemstones beyond one or two different stones.
The fire of the opal clusters heightens the overall appearance of the earrings, making them suitable for parties and formal events equally. Pairing an irridescent stone like an opal with diamonds creates sophistication that can also be more 'fun', hence these styles of earrings are very popular.
Spray designs are what is featured on the sapphire and diamond cluster. Here, the gemstones are spread out across an expanse of metal and claws that is almost reminiscent of a floral display. These earrings – despite dating to the 1950s – have a timeless aesthetic. They would be an excellent heirloom to pass through generations, perfect for maintaining elegance and grace.
The Drop
Drop earrings are an excellent way of elevating an othwise somewhat simple outfit into something suitable for any black tie event. Furthermore, drop earrings have an elongating effect on the face, lengthening and thinning features for those with softer, round faces.
This pair of antique earrings is an excellent example of the ever-popular Art Deco style. These earrings are set apart from others in that they boast an 8.53 total carat weight – not the everyday accessory.
Drop earrings compliment hairstyles that are both up and down, though a pair like these deserves to be displayed with no distractions.
For a softer look, explore the full range of drop earrings and find something to suit you.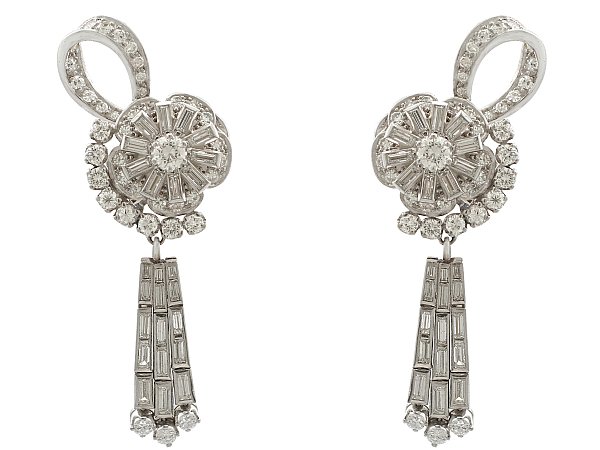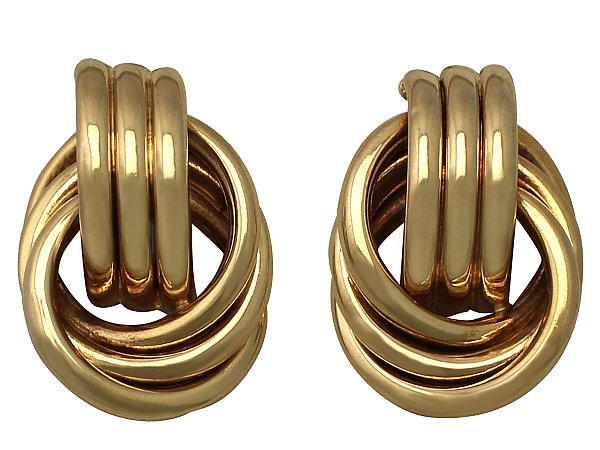 The Loop/Hoop
Loop or hoop earrings are ideal for those with harsh angles to their features. This is because the pleasing curves of the hoop/loop style soften any sharpness and leave the face appearing more rounded. This striking vintage pair crafted in 18ct yellow gold are an excllent example of the pleasing aesthetic found with hoop and loop style earrings.
The suitability of these earrings to any specific event varies with each example. The example given here are certainly more casual, but it is possible to find examples – often featuring diamonds or pearls – that are suitable for formal events also.
The type of earring you prefer can depend on your personality as well as events and occasions. Don't forget to take this into account when shopping for earrings to ensure you find what you seek.
Katharine Biggs – Sales & Digital Content Contributer
Katharine joined AC Silver as part of the retail team, and almost immediately became actively involved in the numerous internet media used to support sales. Katharine brings a young and fresh approach to the business and this is reflected in her blog writing style.