As someone who begged their mum for her ears pierced from the age of 8, I'd like to think my love of earrings is as strong as the next persons. Since joining AC Silver, my appreciation and knowledge of earrings has, unsurprisingly, grown and they will always be my go to piece of jewellery when I want to feel a bit more glam.
My type of earring selection would be dependant on my outfit and mood. What affects your decision?
There are so many different types of earrings that I thought I'd share my knowledge of them in a hope to aid you in choosing the right pair for you.
The Simple Stud – My go-to earring that suits everyone!
A diamond stud in my opinion would be a great choice – a design that suits every lobe, haircut and style! The stud earring is very versatile and can be worn for day or evening wear, so represent exceptional value!
Like diamond rings, stud earrings come in a variety of cuts, with our most popular being the round cut ones shown above. These antique diamond earrings shown on the left are set in a contemporary setting, which beautifully showcases the Old European Cut stones. The smaller, but equally as stunning, ones in the centre showcase Modern Brilliant Round Cut diamonds.
Why not stand out from the crowd though and opt for the gorgeous pear cut contemporary pair, on the right? I like that fact that the cut of these makes them look a bit more subtler than the round cut ones, making them more wearable in the daytime. Which way round would you wear them? It's the subject of much debate here at AC Silver.
The Decorative Stud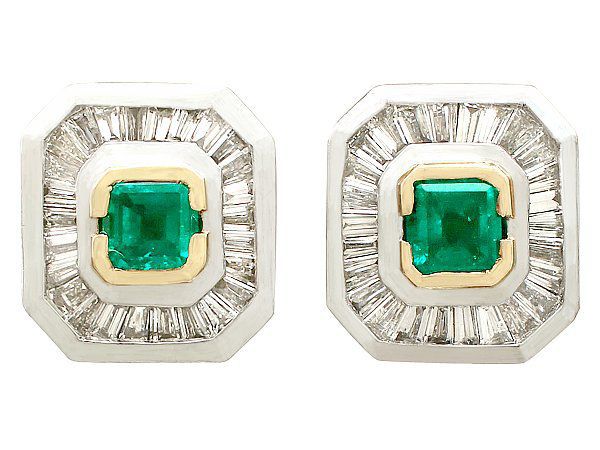 Perhaps you want to jazz your outfit up but drop earrings would be too much? The decorative stud is the earring for you in this instance. Most of our more embellished studs are Art Deco designs, with this pair being my personal favourites:
The shape of these contemporary diamond and ruby earrings are of a similar design to the ear cuffs that are very popular at the moment. The step cut emeralds are set beautifully alongside tapering baguette cut diamonds. This gorgeous pair of earrings will add that extra sparkle to any outfit.
The Cluster Stud
The same as the cluster ring is hugely popular at the moment, as are cluster earrings. This style can come in a range of shapes and sizes and can be purely diamond, or have feature gem stones as well.
These two sets of earrings are very different in style, but equally as beautiful. I love the circular shape of the diamond examples; they are timeless and would go with any outfit. The floral design of the tourmaline pair makes me long for summer; they would definitely be the pair I would wear at a summer wedding.
The Drop
The great thing about drop earrings is that they can transform a plain outfit (say a little black dress) into a showstopper. And for those women with rounder shaped faces, this style will work wonders in elongating your face!
This gorgeous pair is a new addition at AC Silver, and I think it's safe to say we all fell in love with them straight away. These antique diamond earrings are different from our other Art Deco style examples as they are solely diamonds – an impressive 3.02 carats!
The thing I love about drop earrings is that you can wear them with both your hair up or down, although I'd personally wear mine up in this instance to showcase them fully.
For a softer look, why not have a look at out full range of drop earrings?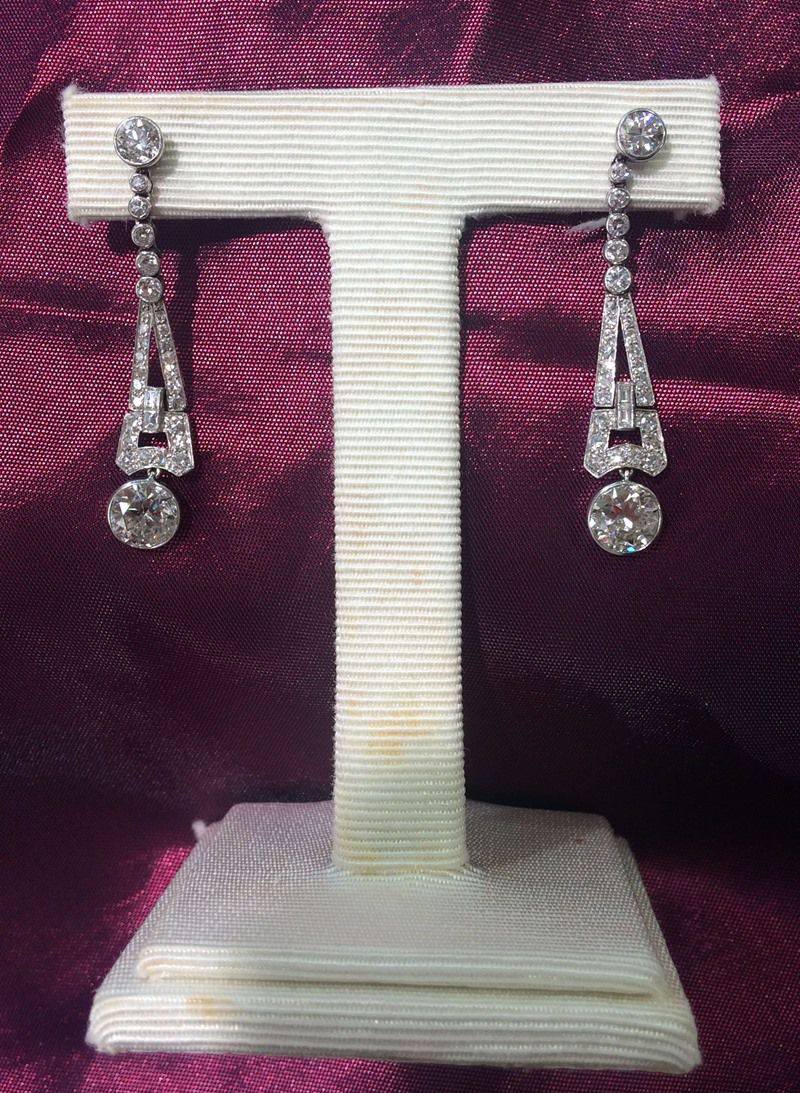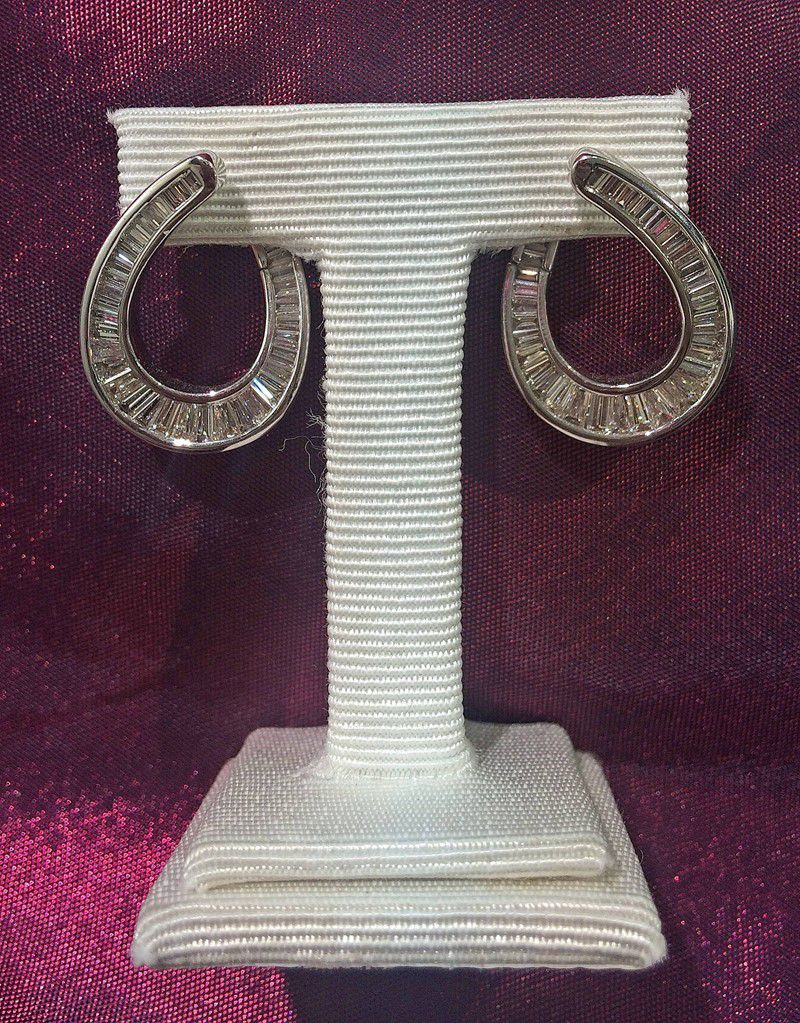 The Loop/Hoop
Loop or hoop earrings are great for women with squarer shaped faces as they bring the attention to the right place on your jaw line. This striking vintage pair displays thirty-eight baguette cut diamonds in each.
The thing I love most about these is that the style of the loop means the earrings are displayed forwards when worn, whereas traditionally a hoop earring would be worn side on. This design means they are fully showcased.
So which earring type is for you?
The type of earring you prefer can depend entirely on your personality. The loop earrings are perfect for an edgier look, whereas the antique diamond drop earrings would be more suited to someone who loves glamour. Or if you're like me and you mix and match what you wear, take your pick from our excellent selection and make the style work for you.
My favourite? Any antique diamond earring – I'm not picky! At the end of the day, jewellery choice is very personal, so go with your gut and pick the style you want.
Katharine Biggs – Sales & Digital Content Contributer
Katharine joined AC Silver as part of the retail team, and almost immediately became actively involved in the numerous internet media used to support sales. Katharine brings a young and fresh approach to the business and this is reflected in her blog writing style.