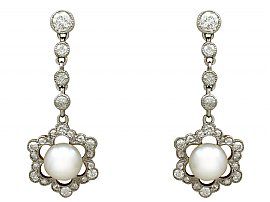 AC Silver is delighted to present an extensive selection of vintage and antique pearl earrings, all of which have been crafted in platinum or gold.
Featuring a range of styles, our pearl earring range has something for everyone. Elegant drop earrings, studs, and clip-ons, all featuring pearls and a variety of other stones such as diamonds and coral are all available.
Pearl is the birthstone for those born in June, making it an ideal gift for June birthdays. Pearl jewellery is also a very popular choice for bridal jewellery, whether you're shopping for the bride, a bridesmaid, or just a guest.