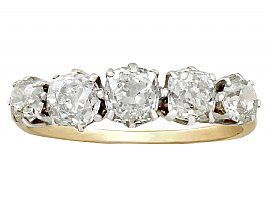 Here at AC Silver, we have many five stone rings available for purchase. Usually featuring a row of five diamonds, or often a combination of gemstonesand diamonds. Five stone rings are a wonderful gift for any occasion, such as a diamond five stone engagement ring, or a five year anniversary gift.
We have a selection of contemporary, vintage and antique five stone rings in a vast array of styles, including Art Deco and Art Nouveau rings. All of which have been selected by Andrew Campbell personally, and each item is in excellent condition.
All of our contemporary, vintage and antique five stone rings, come with a complementary valuation and independent diamond grading certification. We also offer an unrivalled after-care service for all of our customers, which includes complimentary ring sizing, regular maintenance and professional cleaning, and free, international, and fully-insured shipping - all included with your purchase.
---