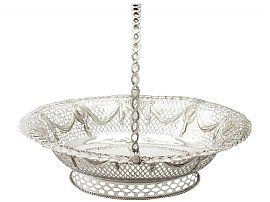 At AC Silver, we are pleased to offer for sale a large range of antique sterling silver baskets.
Our collection includes large silver antique baskets, which were intended to display cakes, breads or fruits at the dining. Smaller, more delicate silver baskets were created to hold sweets, patisseries and sugar.
Whether you are searching for a grand antique silver basket for display, or a dainty silver handled basket for everyday use. At AC Silver we have pieces suited to all styles and tastes.