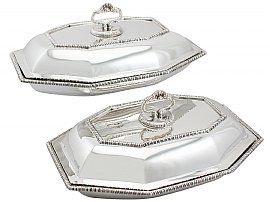 Here at AC Silver we have a large collection of antique and vintage silver dishes for sale.
Our selection of antique silver dishes varies in size and type; from meat platters, tazzas and tureens, to centrepieces, epergnes and cake stands.
Whether you require an item for display or for use during formal occasions, our range of silver dishes includes pieces from across the Georgian, Victorian and Edwardian eras, as well as more recent twentieth century styles.
All of our sterling silver serving dishes have been kept in presentation condition and are of the highest quality of their type.