Brooches- an antiquated accessory reserved for eccentrics, pensioners and the Queen, right? Wrong! If our extensive brooch collection doesn't give it away, we are firm advocates of what we consider to be one of the most fascinating and versatile pieces of jewellery out there. We're not alone in this thinking, as brooches have experienced somewhat of a renaissance of late, especially today in 2020. As such, we thought we'd delve into the history of this underrated accessory.
Brooch Basics
In the most basic of terms, a fashion brooch is a decorative accessory that is attached to clothes using a rotating pin clasp. Once upon a time, brooches were quite an exclusive item, crafted from the finest gemstones and metals. This meant that they could only be afforded by the upper classes, and consequently came to symbolise wealth and status. Luckily these days brooches are far more inclusive, representing only the brilliant style and taste of the wearer! But is there a right and a wrong way to wear them?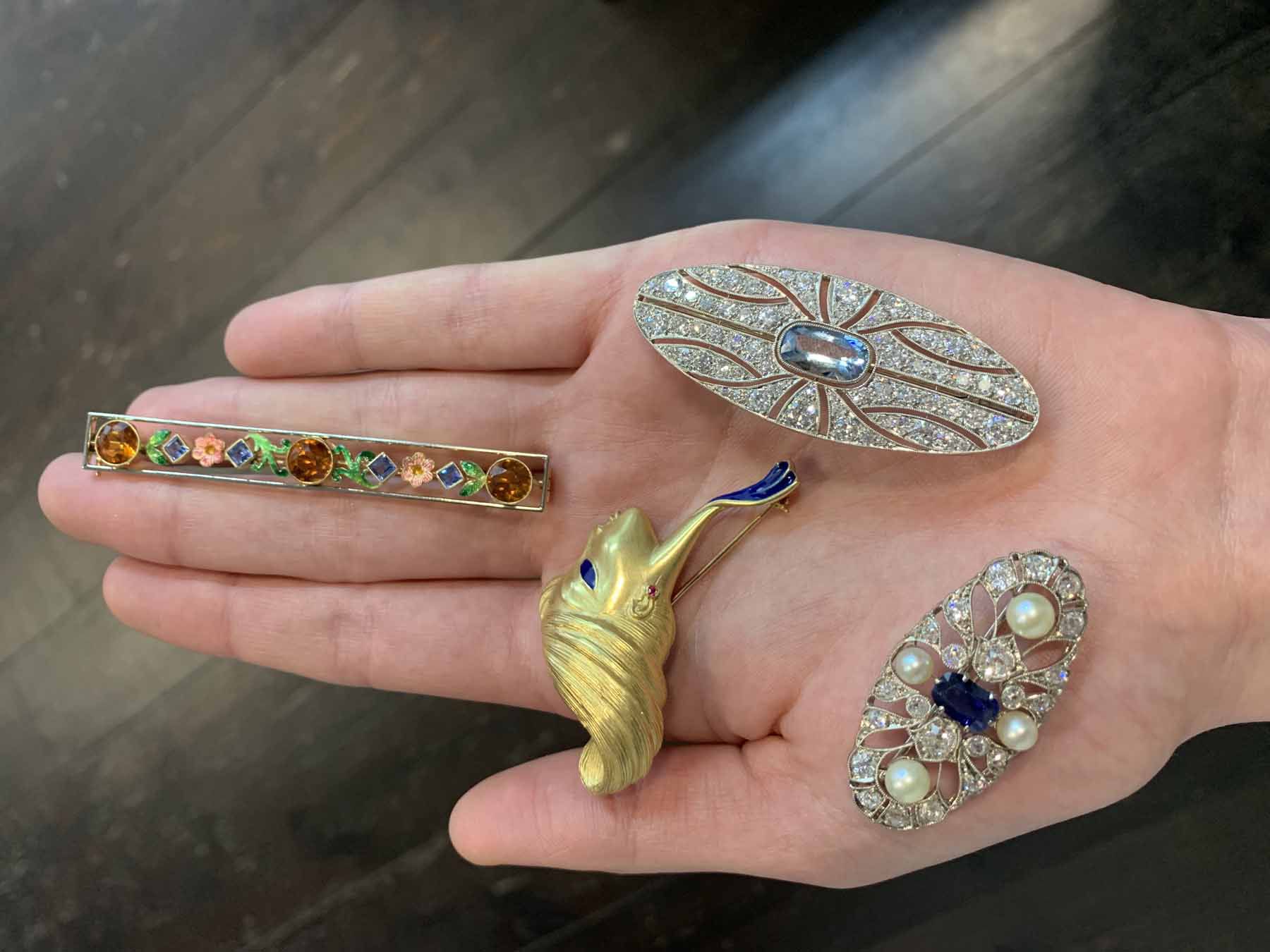 How to Wear a Brooch
Generally, we are firm proponents of creativity with jewellery, and brooches and pins are certainly adaptable. They can be worn in numerous different ways, personal favourites including on scarves, hats, and on the lower point of 'V' neck clothing. However, there is something to be said for tradition, and with such a rich and fascinating history behind them we feel it is important to honour the 'proper' way to wear a brooch.
What Side Should You Wear a Brooch?
Traditionally, in formal settings a brooch should only ever be worn over the left breast, to the viewer this would be a right brooch. The origins of this historic rule are slightly hazy, however most researchers agree that it stems from practicality. Back in the Roman times, togas were predominantly worn over the left shoulder. Although the tying and draping method that was used was relatively secure, pins could be used to confirm this- better safe than sorry! This practical use continued as time went on, until eventually historians suggest it is likely that brooches became a decorative piece in their own right.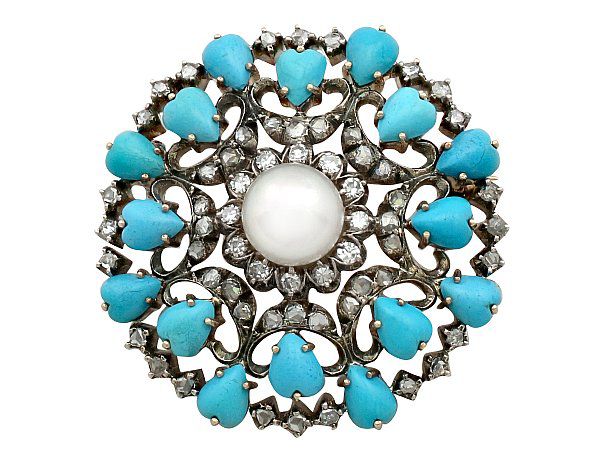 Other alleged backstories surround the history of the brooch. Some suggest that the brooch is a symbol of love, worn over the heart to represent the appreciation of a gift given by a lover. Aw! Unfortunately, most agree that the history of the brooch leans more towards the practical than the romantic, but the idealists in us like to think there is some truth behind this explanation of the tradition.
But why do we uphold this tradition in our modern, toga-less times? Well, brooches may not possess such a practical use as they used to, but it can still be beneficial to wear them on the left. Think about greeting someone. The right hand is traditionally used for a handshake, and the eye is automatically drawn to the left side of the other person's body, so where better to show off your brooch? Additionally, wearing a brooch on the left ensures that when you shake hands, the bulkier jewels are out of harm's way if you were to get a little more personal and give a kiss on the cheek.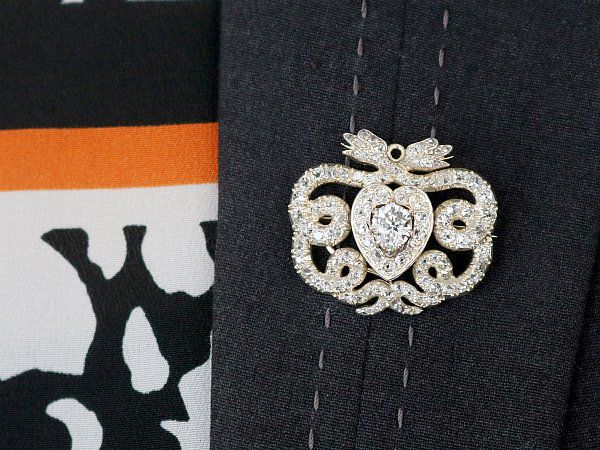 What Are the Differences Between Pins and Brooches?
Looking at pins and brooches, it can be difficult to tell what the differences between the two are. After all, they are both decorative pieces of jewellery that attach to clothing by use of sharpened metal on the back. However, they are categorically different, although definitions of how so differ. The general consensus is that:
A pin is smaller than a brooch
A pin has a straight unhinged pin on the back rather than a rotating clasp (since brooches tend to be slightly heavier)
How Do You Wear a Pin?
You'll be happy to hear that pin etiquette is nice and easy- just place it through the lapel. There is often a buttonhole on clothing that is there for this specific purpose. Although the wearing of a pin is simple, it does slightly limit how experimental you can get. Due to their design, pins cannot be worn as creatively as brooches; however the beautiful decorations you can find on them more than make up for this. Pins are unisex and as such can often be used to decorate men's suits, although there has been a rise in the trend of men adorning their evening jackets with brooches too!
How to Wear an Antique Bar Pin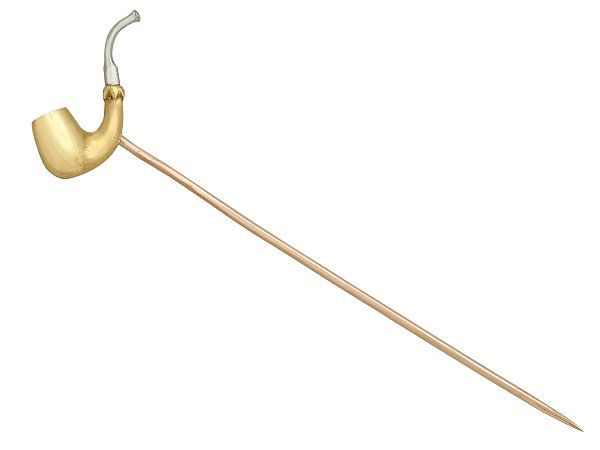 The term 'pin' is somewhat interchangeable between brooches and pins themselves. While pin brooches are typically the types of pins you see here, older examples of brooches have similar pin closures, and so the name pin stuck with both types of jewellery.
Bar brooches, however, are their own design. Bar brooches, or bar pins, are as simple as you think they are: bar shaped. The first designs of this kind were usually a single row of gemstones. The more advanced jewellery creation became, however, the more elaborate a bar pin was able to become. Everything from multiple rows of diamonds with bold centre stones to quaint rural scenes as you can see in this Victorian example.
How you should wear the bar pin depends mostly on its design and size. Antique pins like the adorable chick pin should be worn on the lapel of a jacket or at the decolletage of a jumper or blouse. Designs that are more linear 'bar' shapes, usually featuring precious gemstones and maybe a flourish such as fluted ends or a bow, can also be worn in these places. Equally, however, they might look good as a complimentary touch by being worn at the collar of a flowing dress or shirt. Acting as something of a bowtie, these brooches can be a point of stability and sparkle in an outfit, anchoring it in place.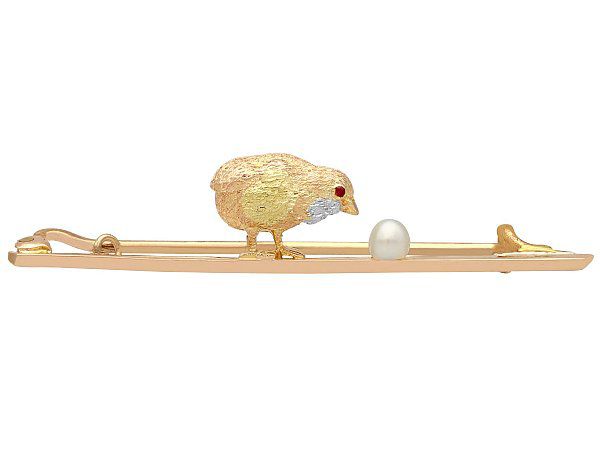 What to Consider When Buying a Brooch
Firstly, any brooch would make a wonderful addition to a jewellery collection. However if you want to make sure that you're choosing a piece that's right for you, here are some tips:
Consider your personal style. Antique and vintage brooches are wonderful as they have already stood the test of time. With brooches it's much better to choose something timeless to you than follow a trend- you want the piece to last!
Think about the colour of the brooch in relation to your other jewellery and clothing. If it's something you plan on wearing alongside your other everyday jewellery, you don't want any precious metals to clash.
Contemplate what size of brooch you would prefer. If you want to make a statement, then a large brooch is perfect. However, if you would prefer not to have too large a brooch, you can do this by going for a smaller, more colourful one.
Think about the various designs, here at AC Silver we have a certain affinity for a floral brooch, and animal brooches. So, do consider what kind of designs you like: floral, modern, animal, Art Deco- there are many options!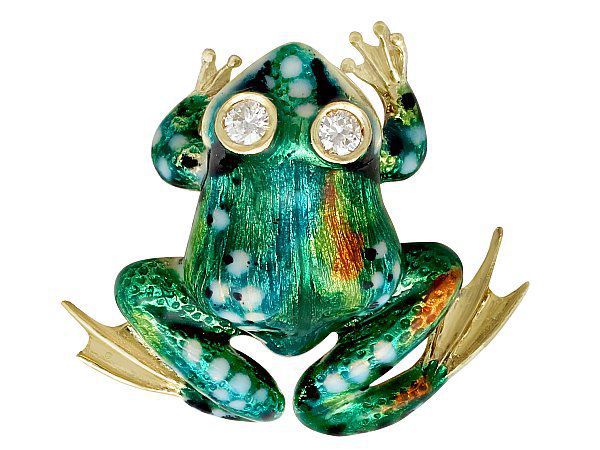 Whether you're a brooch fanatic or new fan, we hope this guide has answered some of your questions about these versatile accessories, given you some ideas, and maybe inspired you to try a brooch out. Do share with us any inspiration for how you style your brooches- we won't tell you off if it's not on the left breast!
Alice Wilson – Digital Assistant (Social Media)
After completing a degree in English Literature in 2018 Alice joined the AC Silver as a Digital Assistant. Alice is responsible for keeping our social media accounts fun and fresh for you all. In addition she will also entertain you on our blog with some creative posts.