At AC Silver we are pleased to be able to offer our customers a rather impressive selection of Art Deco brooches including large statement gemstone and diamond Art Deco examples.
This collection includes antique and vintage brooches which were crafted in the Art Deco period (1908-1935), in addition to more recent examples which have been 'inspired' by Art Deco style.
All of our items are in excellent presentation condition and are of the highest quality of their type which we have discovered.
History of Art Deco Jewellery
Art Deco jewellery comes chronologically directly after Art Nouveau jewellery.
France, and more specifically its capital Paris, were the epicentres of the Art Deco movement. The name Art Deco actually comes from an exhibition that took place in Paris in 1925 "Exposition Internationale des Arts D©coratifs et Industriels Modernes" (literally translated as the International Exhibition of Decorative, Industrial and Modern Arts). The exhibition which displayed a diverse array of furniture, sculpture, glass, ceramic, silver and jewellery attracted millions of visitors from all over the world. The impact was huge – the real originality and novelty of the bold new style with clean lines inspired new creations. The bases of the Art Dec move were defined then: elegant and chic, and these fundamentals are still clearly in evidence today.
Art Deco jewellery found its inspiration in various artistic movements: fauvism, cubism and an early wake of the Vienna Secessionists. The simple, linear expressions were adopted by all trend makers of the times, including couturiers such as Chanel. Significant inspiration also came from further away in the world; the Russian ballets and a wave of Orientalism provided shoots from which Art Deco continued to flourish. The shapes incorporated into the iconic style were uncluttered, architectural. Lines were geometric and symmetrical and pieces of jewellery were treated like sculptures. Some jewellers such as Janesich, Lacloche, Van Cleef and Arpels and of course Cartier created links between Europe and the West using shapes and colours inspired by exotic cultures
Learn more about Art Deco jewellery history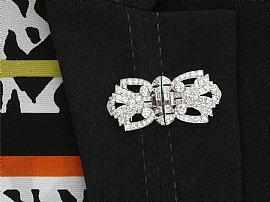 The Art Deco Brooch
The geometric lines and symmetry often found in Art Deco jewellery are highly popular in contemporary society, making the Art Deco brooch one of the most popular elements of antique jewellery in the 21st century. Shapes like overlapping rectangles and other interlocking geometric shapes are found in jewellery from the Art Deco period onwards, showing how timelessly popular it has been. The 1980s in particular saw a resurgence of the same shapes seen in Art Deco jewellery.
Another brooch style found in the Art Deco period is the double clip brooch. Often named the duette brooch, these are brooches that can be worn two ways.
The first way is as a singular, large brooch; and the second is split in two, as two smaller – usually symmetrical – brooches. Wearing a brooch was as second nature in the Art Deco period as wearing a coat, and double clip brooches epitomised versatility, wearable on jacket lapels, in hair, and even to accessorise a pair of shoes.
Useful Resources
Jewellery Trends from the Art Deco Era
Famous Art Deco Jewellery Designers
Reasons to Love Art Deco Jewellery