Last week I went to my godson's christening back home in France, and when I was looking for the perfect christening gift for my godson I realised there were a few minor differences between the English tradition and the French one. This sparked my thought processes, and I wondered "Is it different for every country?" and "Are the traditions changing with time?"
Faith
Christening a child means introducing him/her to the Christian family and faith; the child only becomes a Christian the day he/she is baptised. There is no such rite in Judaism or Islam because the child is born Jewish or Muslim, the denomination being directly transmitted by the mother in the first case and by the father in the latter.
Traditional French and English Christening Gifts
I had a very precise idea of what to give my godson as the tradition is quite clear in France: a child should get a medal or a bracelet from their godfather and godmother. So, I wanted to give him a typical christening bracelet we call "gourmette", but little did I know that there is NO such thing in England! You can find silver bangles here, but they are not even that common and anyway they are completely different to a "gourmette". A gourmette shall be given to a child engraved with his/her name and his/her date of birth or Christening day's date on the reverse of the bracelet.
Generally the child is presented with a special medal depicting a saint or even the Virgin Mary. Such medals can either be sterling silver, white or yellow gold (considering gold is more durable for jewellery it is – when possible – the preferred option.)
In England, the most traditional Christening gifts are silverware – silver spoons, egg cups, tankards, mugs, rattles, napkin rings – and if the baby is young enough bedding is a lovely option.
In Spain one of the traditions is to offer the baby's christening gown.
Personalisation Adds To The (priceless) Sentimental Value
All these Christening presents are great because they can be personalised: silver can be engraved with the baby's initials, a date or even a specific message.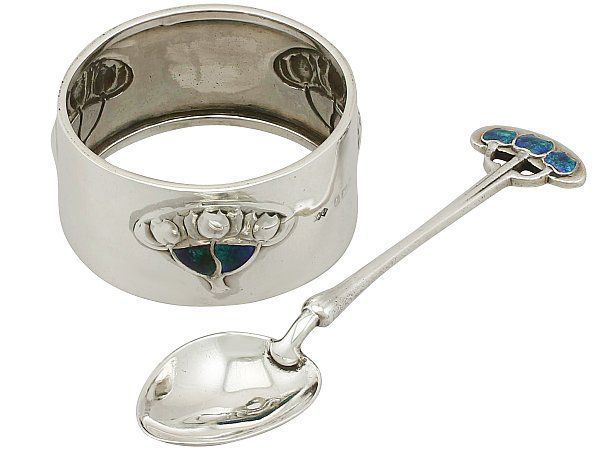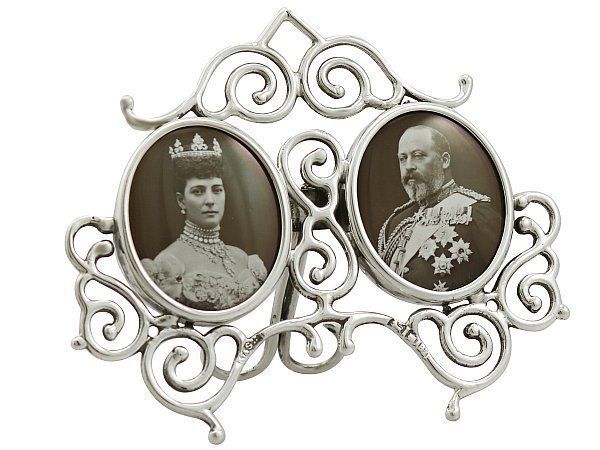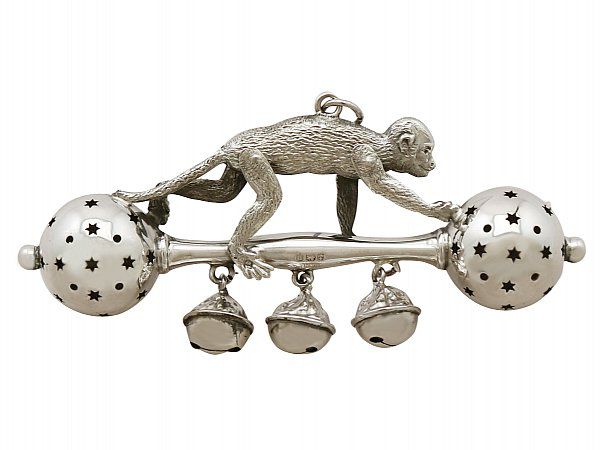 We have a large selection of Christening gifts in our AC Silver inventory too, here is a direct link to the specific category – full of unique and inspirational ideas! All these pieces are antique or vintage collectables, so in addition to being beautiful and individual, they have the potential to gain value over the years.
The only advice we would like to offer, is that if you decide to have an item personalised we recommend you have them hand engraved rather than machine engraved. Hand engraving means the engraving can be done to a more detailed specification and be in keeping with the age of the piece. Here is a bit more information about the hand engraving service offered at AC Silver.
Moving With The Times…
How we view the baptism of a young child has changed over the years so obviously the traditions have changed too and people tend to go for more "practical" gifts nowadays. Children are baptised when older (originally they were supposed to be baptised when they were only a few months old) therefore people have had to adapt and at times, be more 'imaginative' when thinking about an age-appropriate present. Money boxes are very popular; again sterling silver ones can be engraved to give a personal touch. Latterly silver photograph frames have been considered as tasteful, versatile and never fall out of vogue. They are, in my opinion, a great idea because in addition to being potentially engraved you can include a picture of your choice (talk about personal, thoughtful presents!) Photo albums are also a great idea if you have lots of pictures of the child that you can include, then you can create a little story and both the parents and the child will love it!
Do You Believe In The Tooth Fairy?
Lastly a new tradition that I think is really lovely, is tooth boxes. They can have a little fairy on top ( so you know, the tooth fairy can recognise it!) or in France they would have a little mouse on top, because (funny story) we don't have a tooth fairy in France but une "petite souris" (little mouse)
The Choice Is Yours
So, all in all there are many options when it comes to christening gifts, from the very traditional to more modern so fear not, there is a perfect, personal gift out there for you to give and I hope this blog gave you a few inspirations!
Marushka Frandgie – Sales Assistant / Digital Content Editor
Marushka joined AC Silver in 2014 bringing hands on experience in jewellery retail and management in addition to a Master's Degree in Media and Journalism.